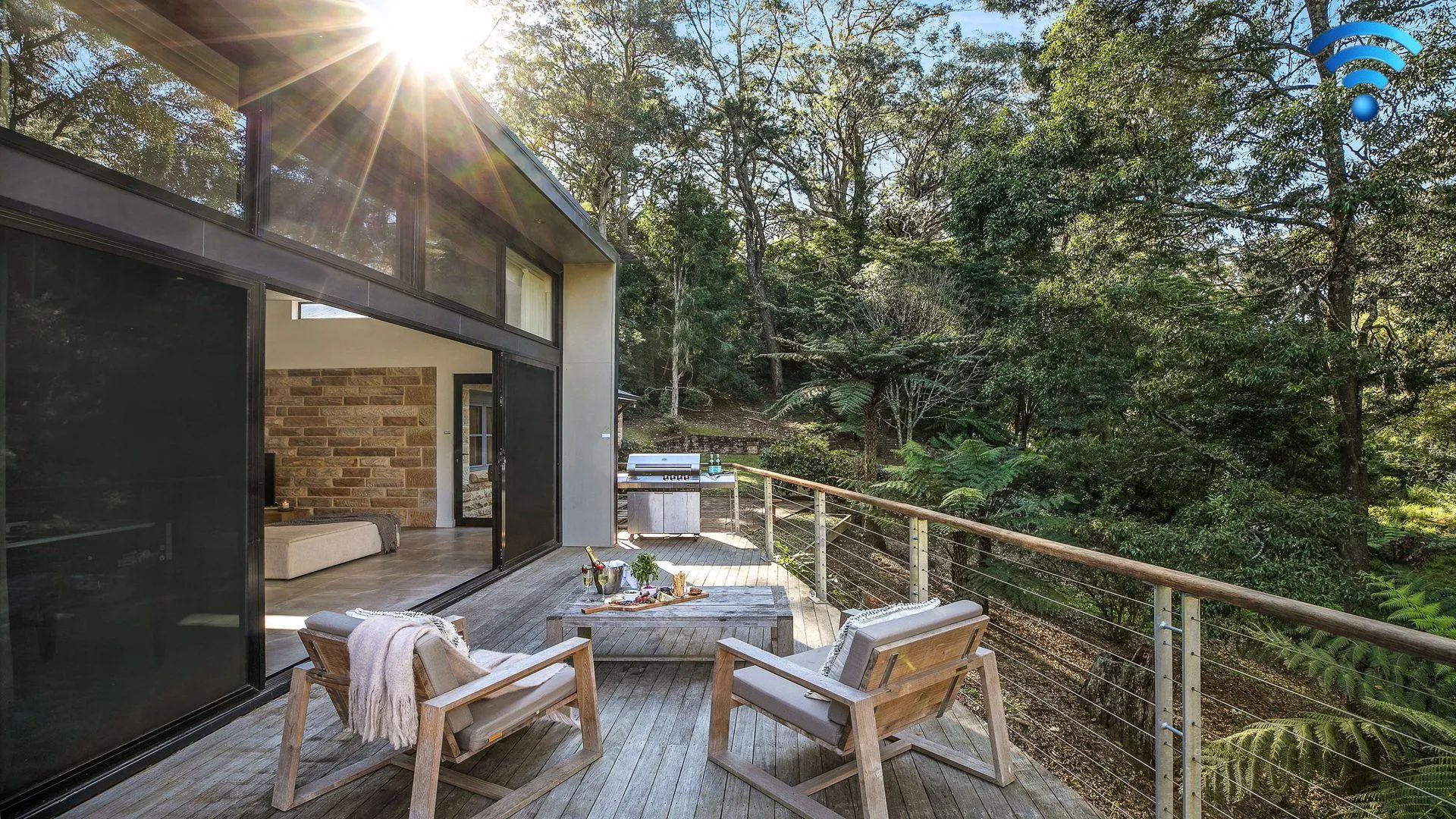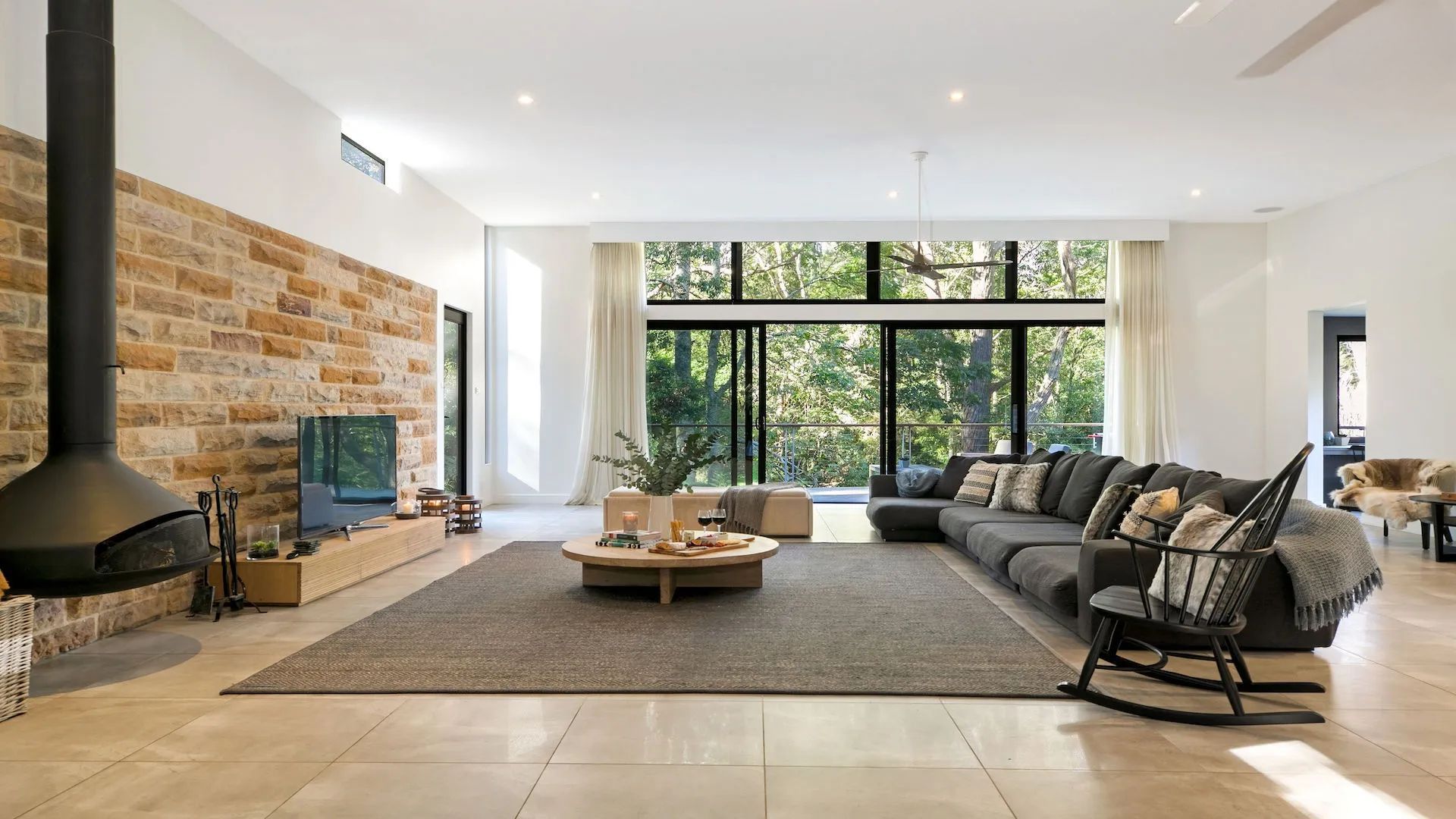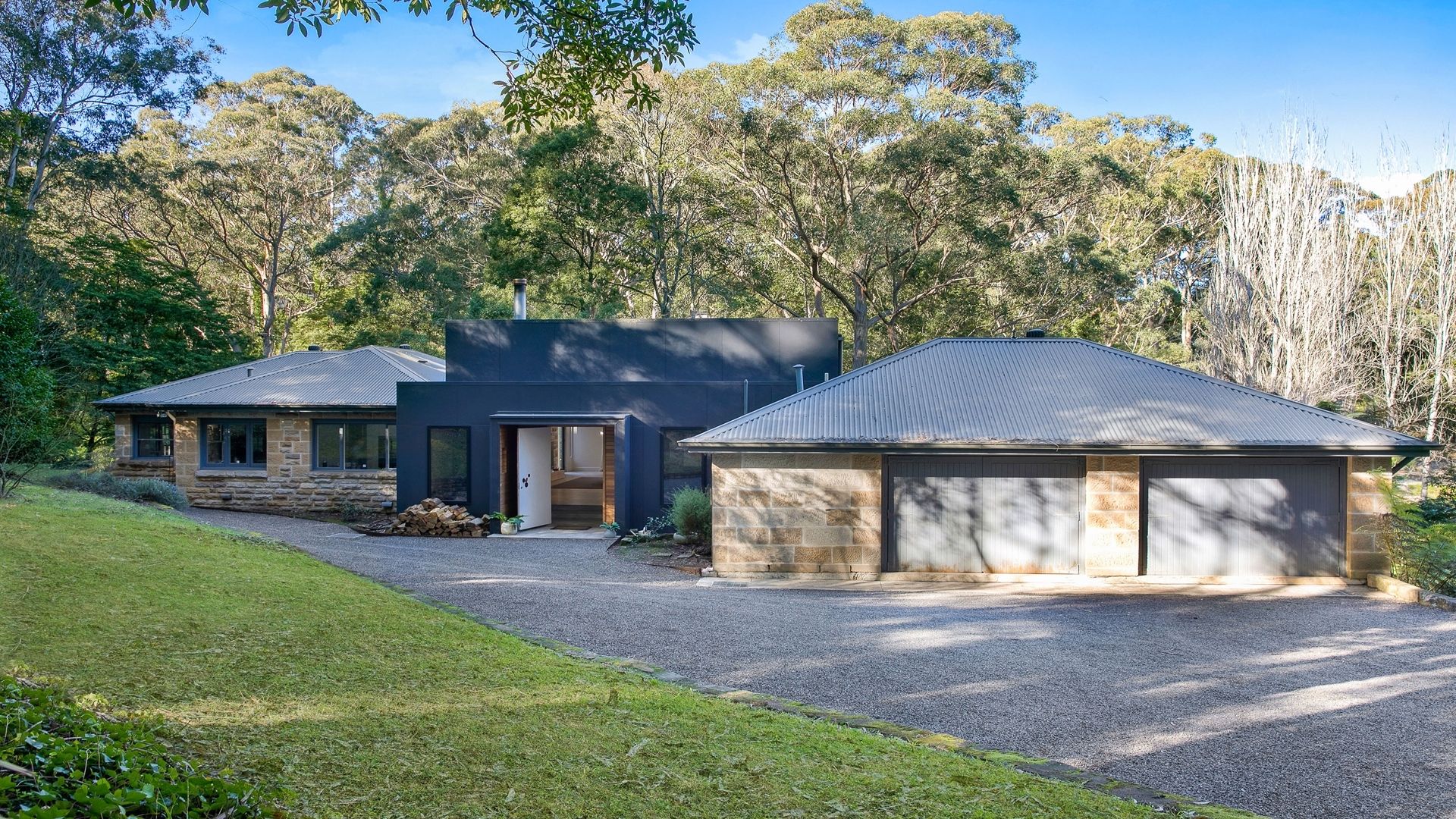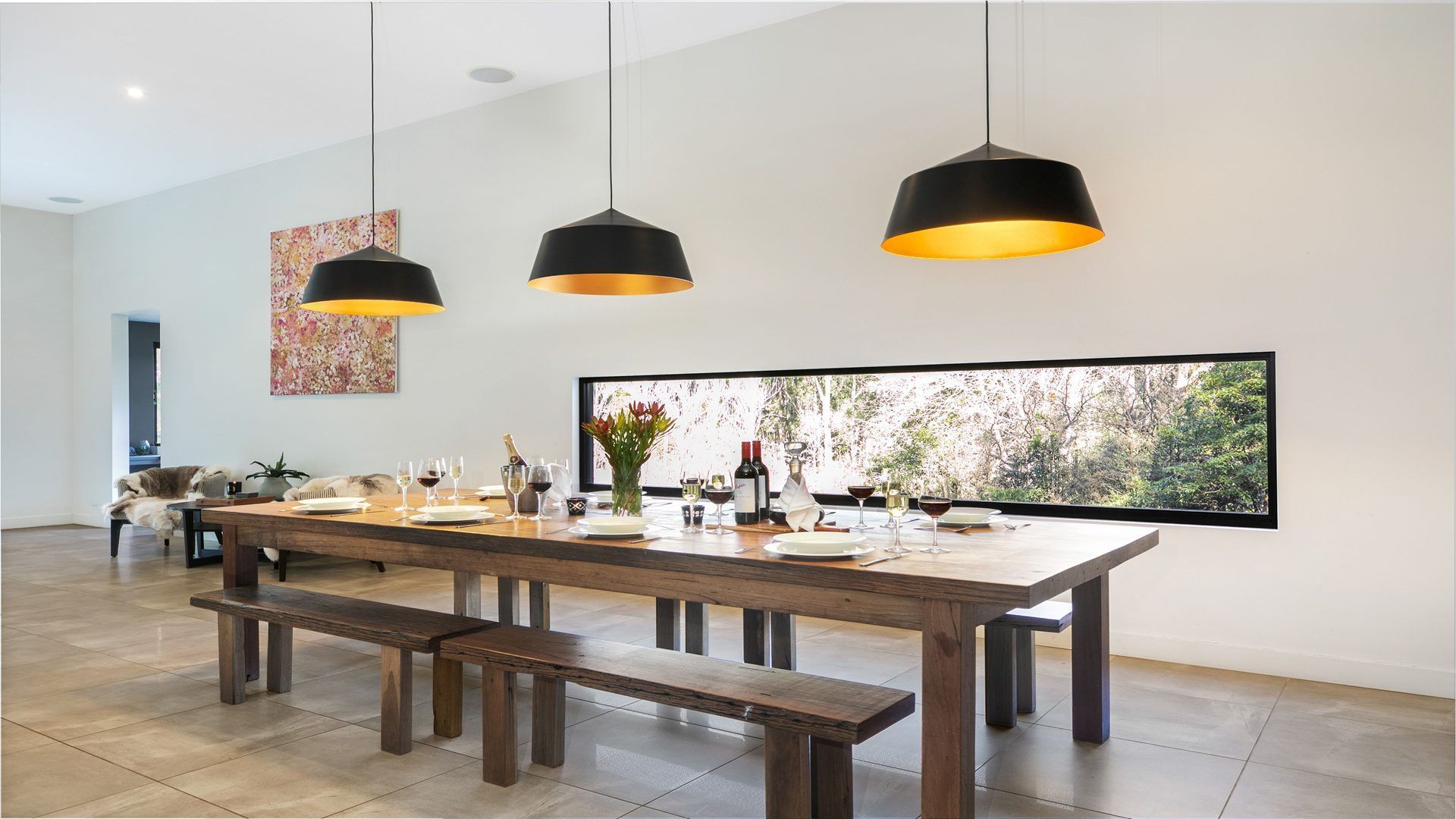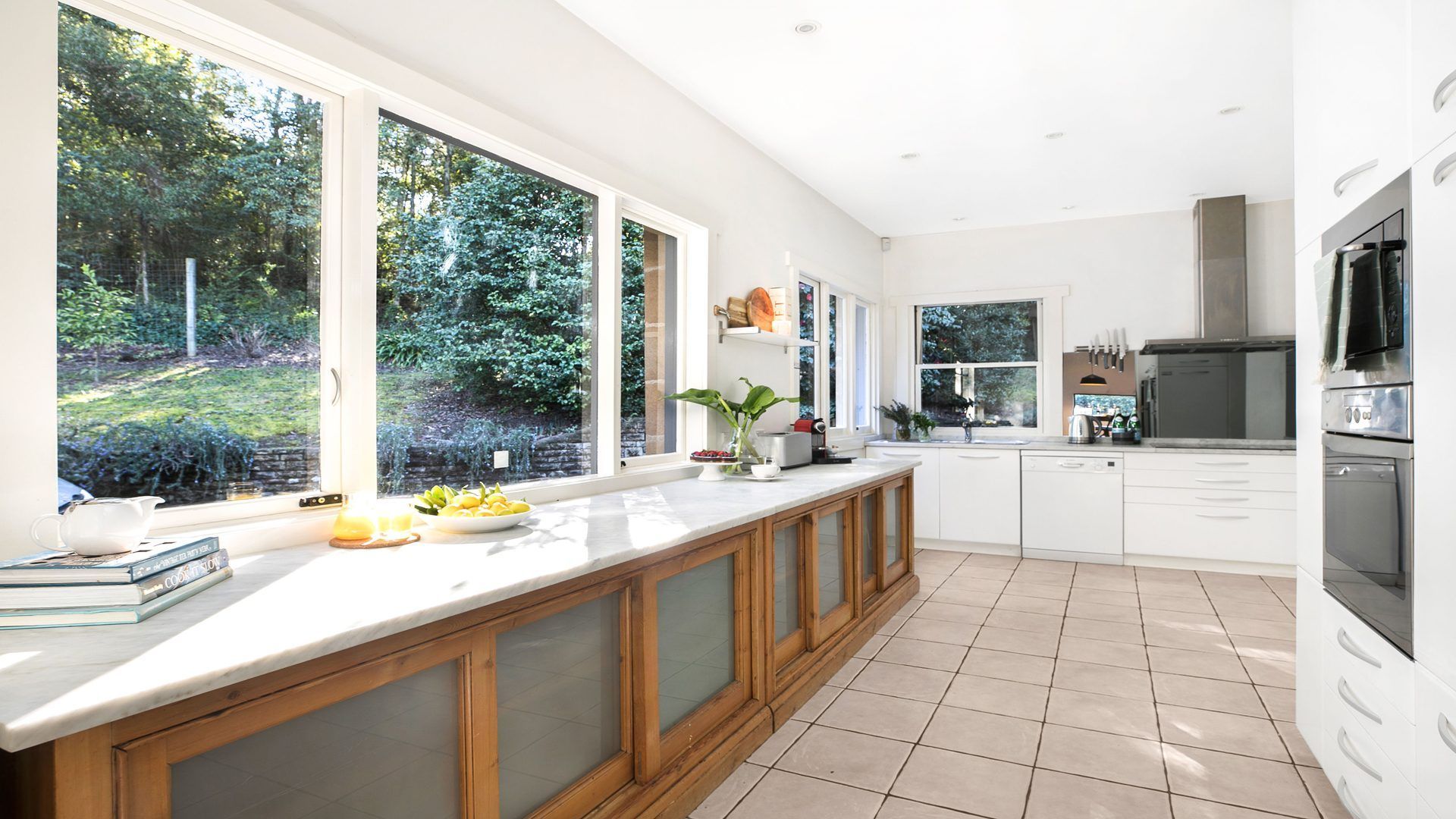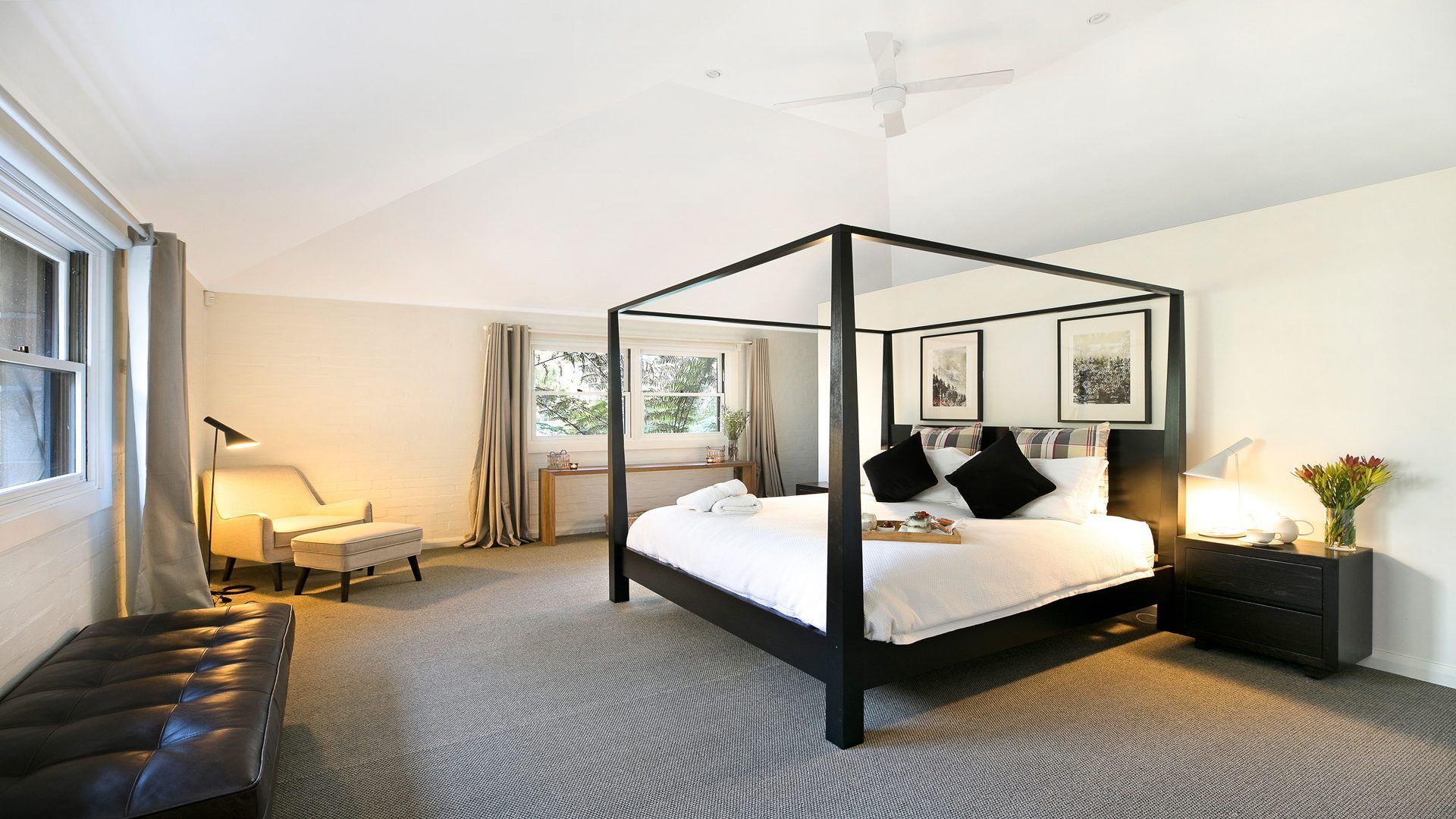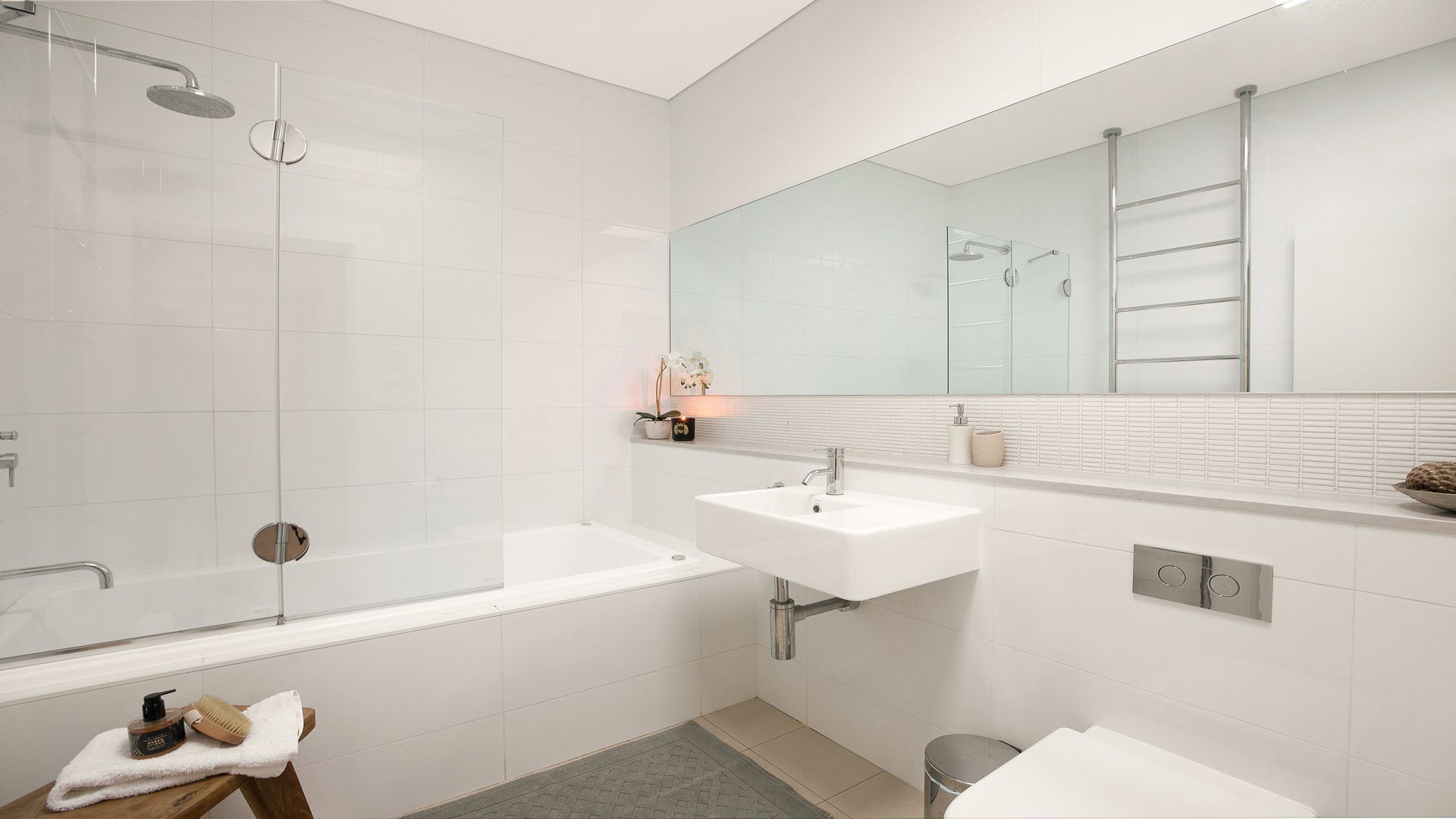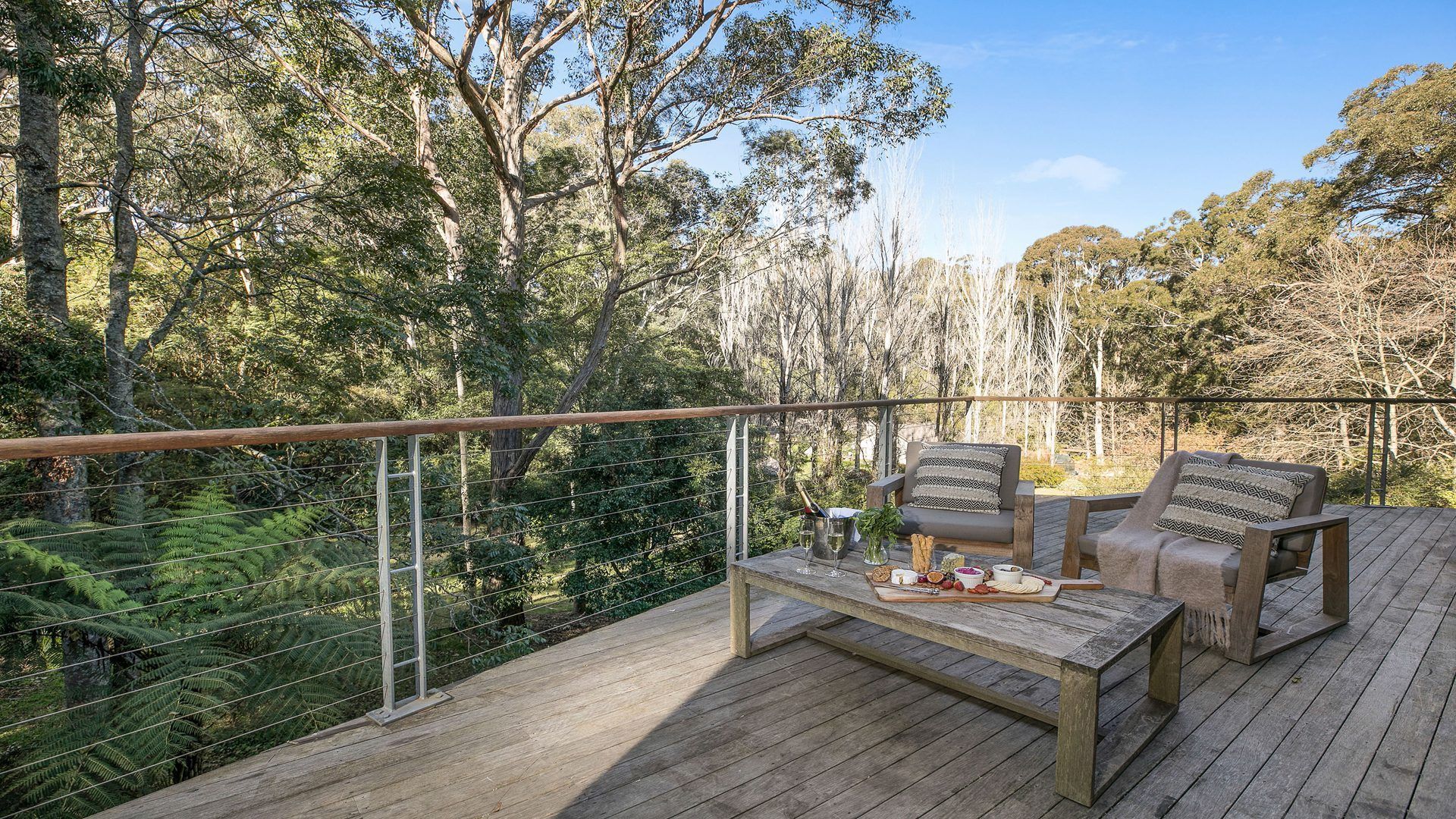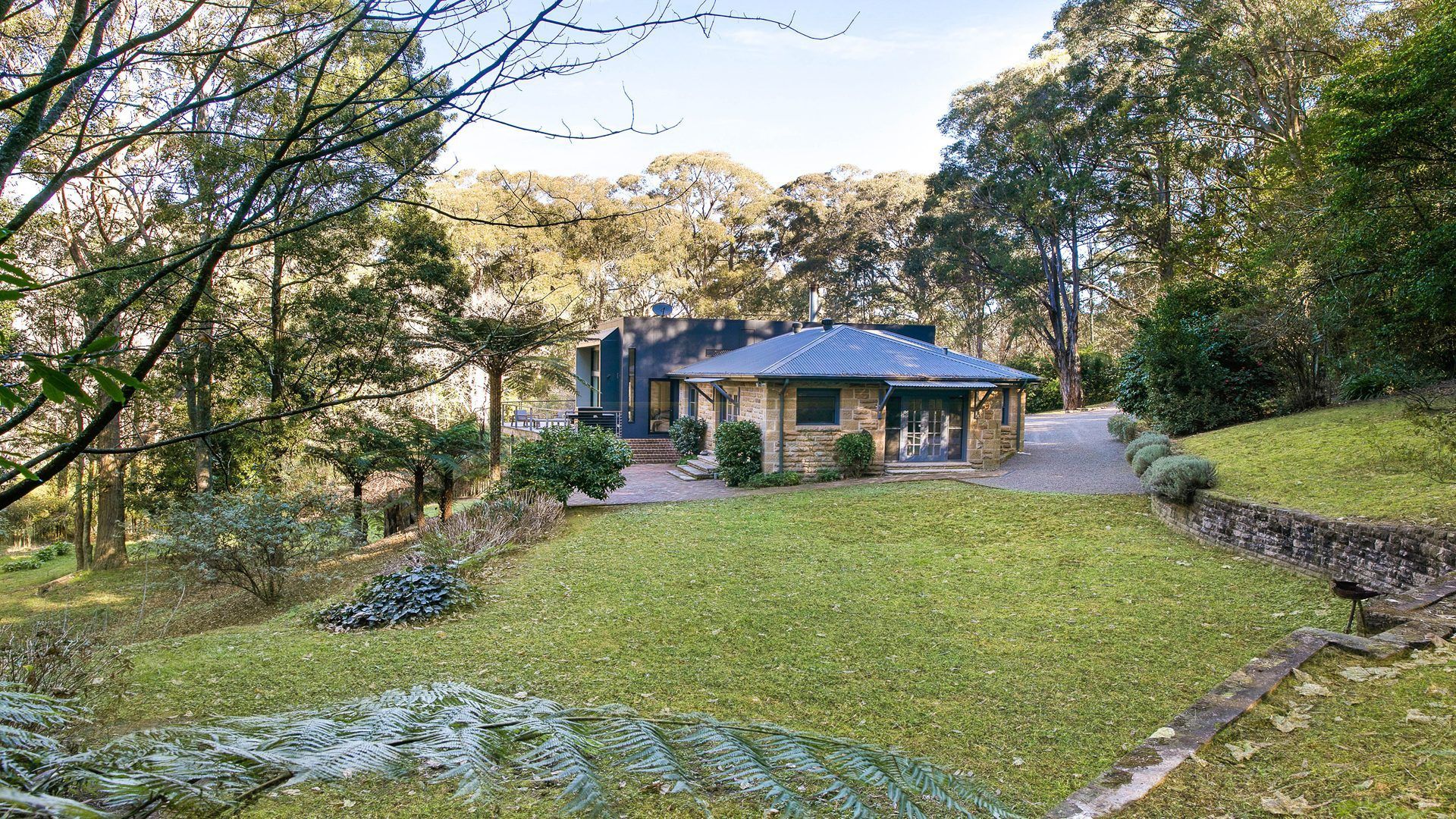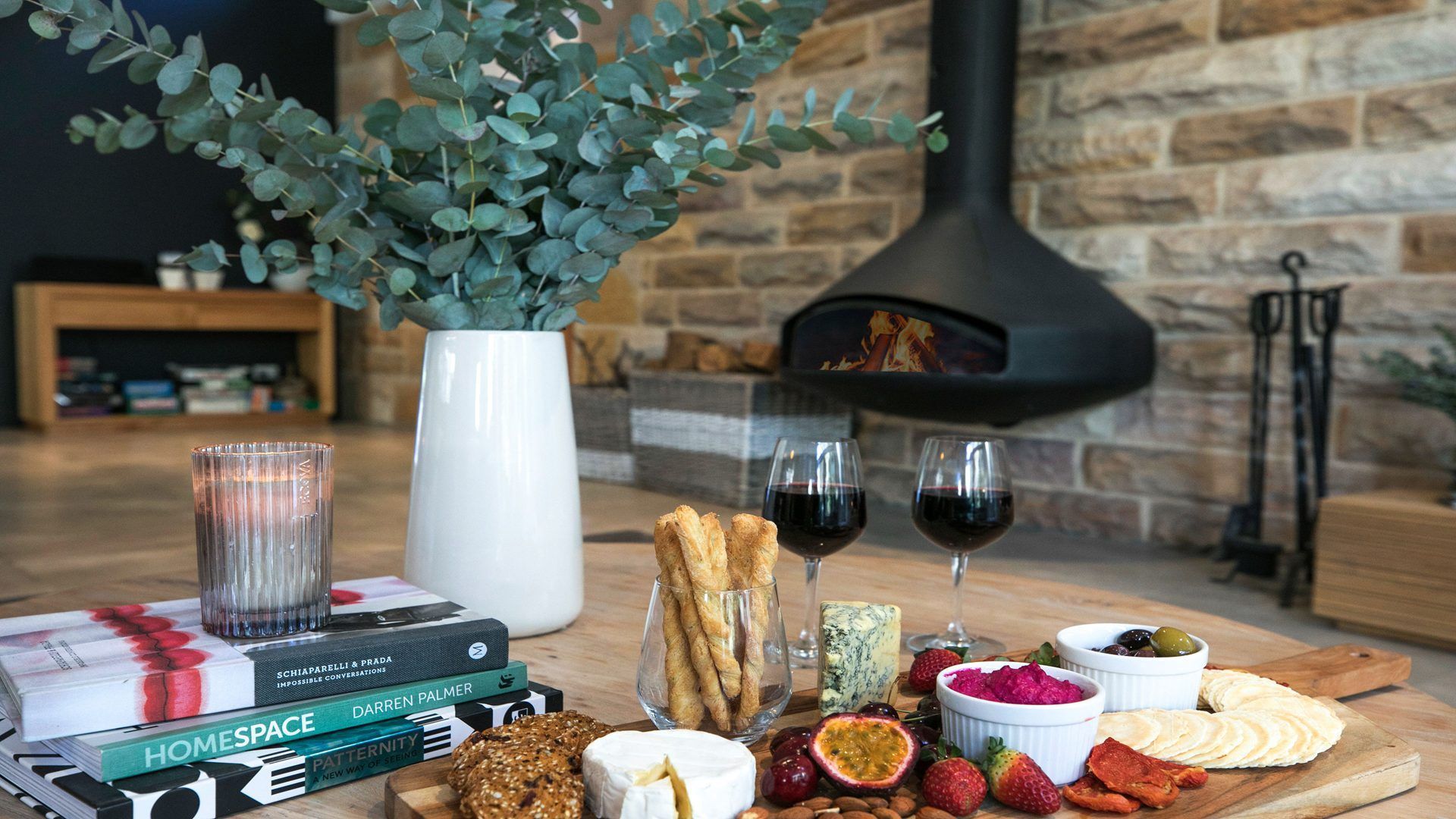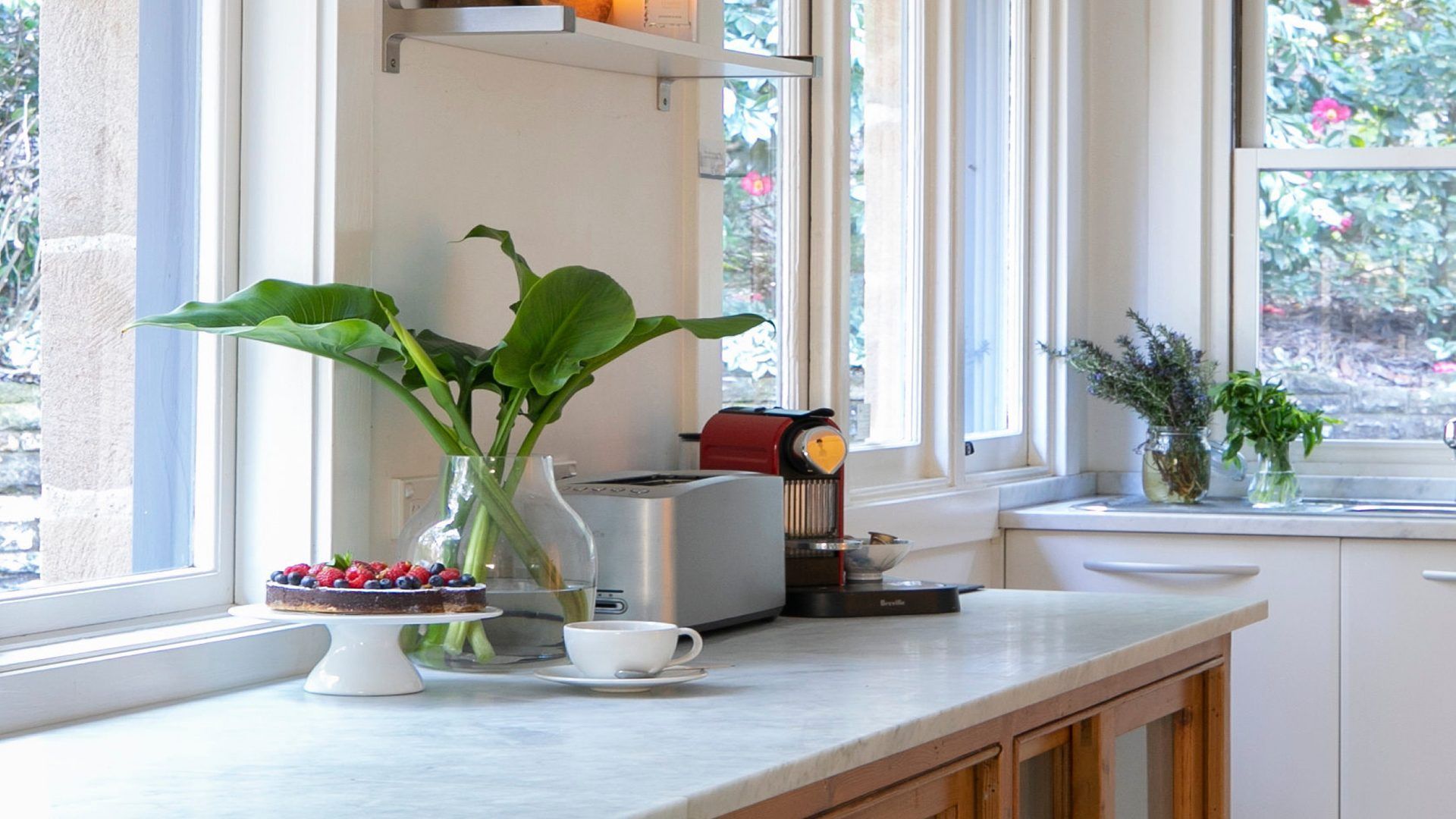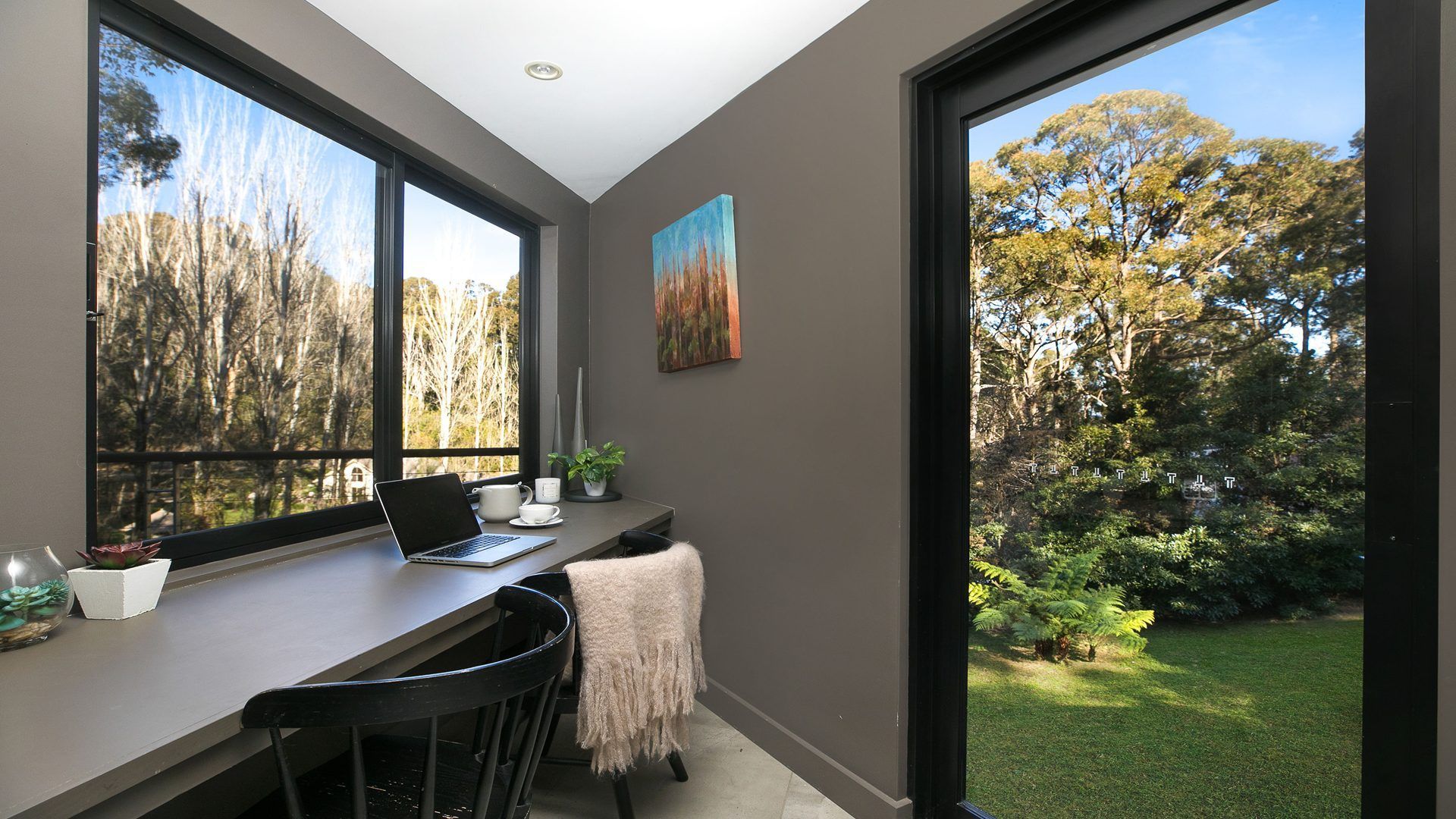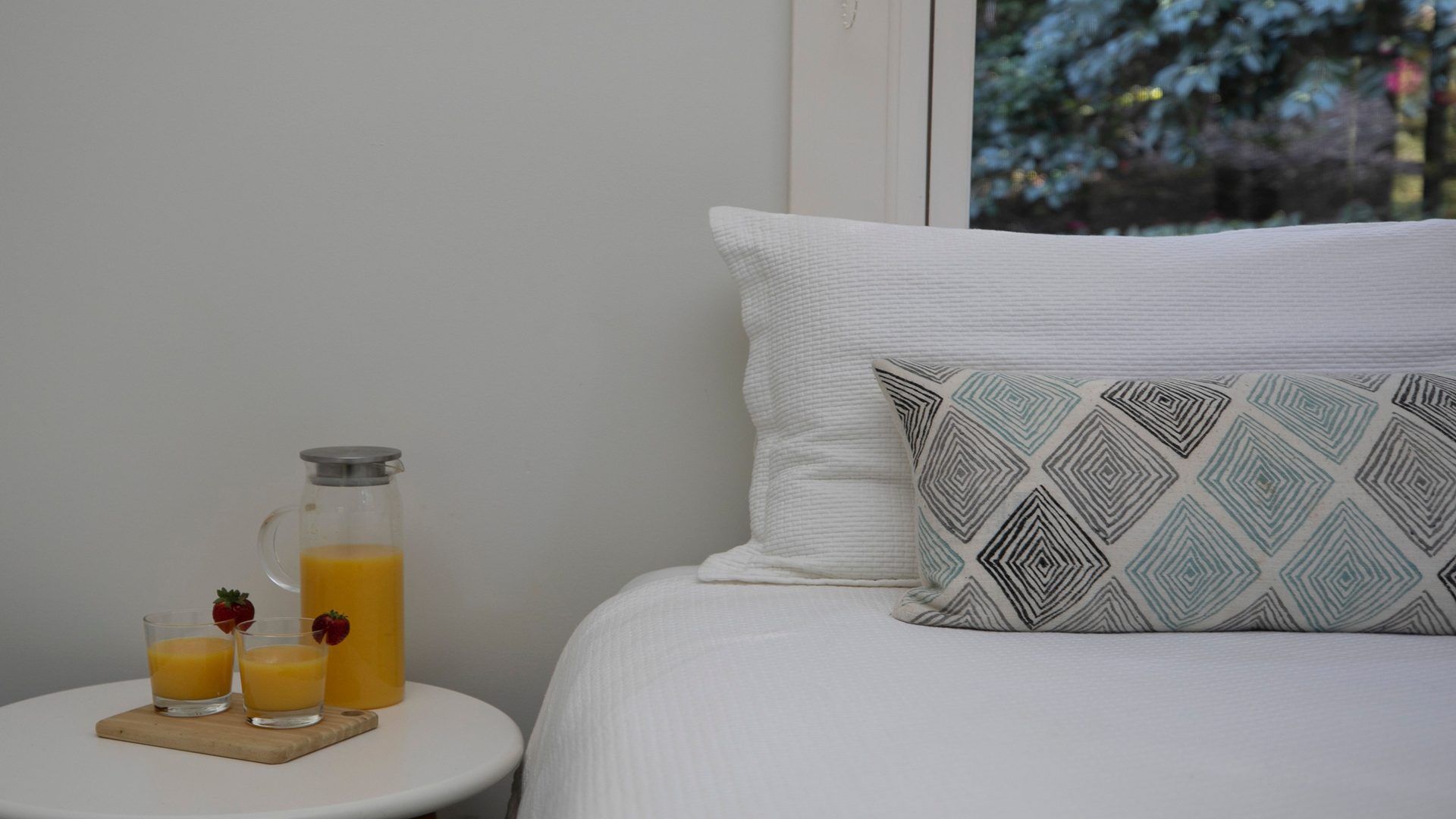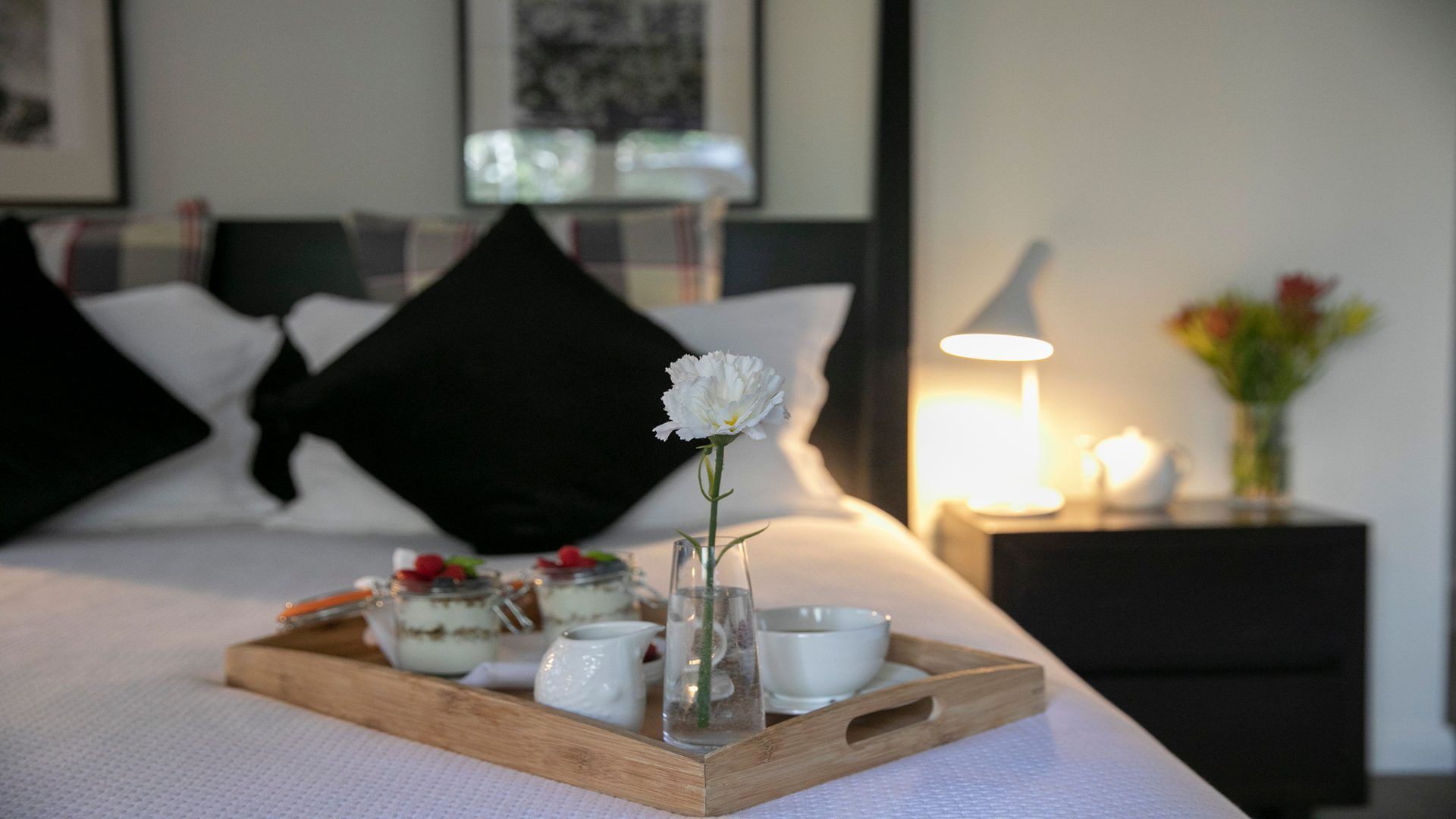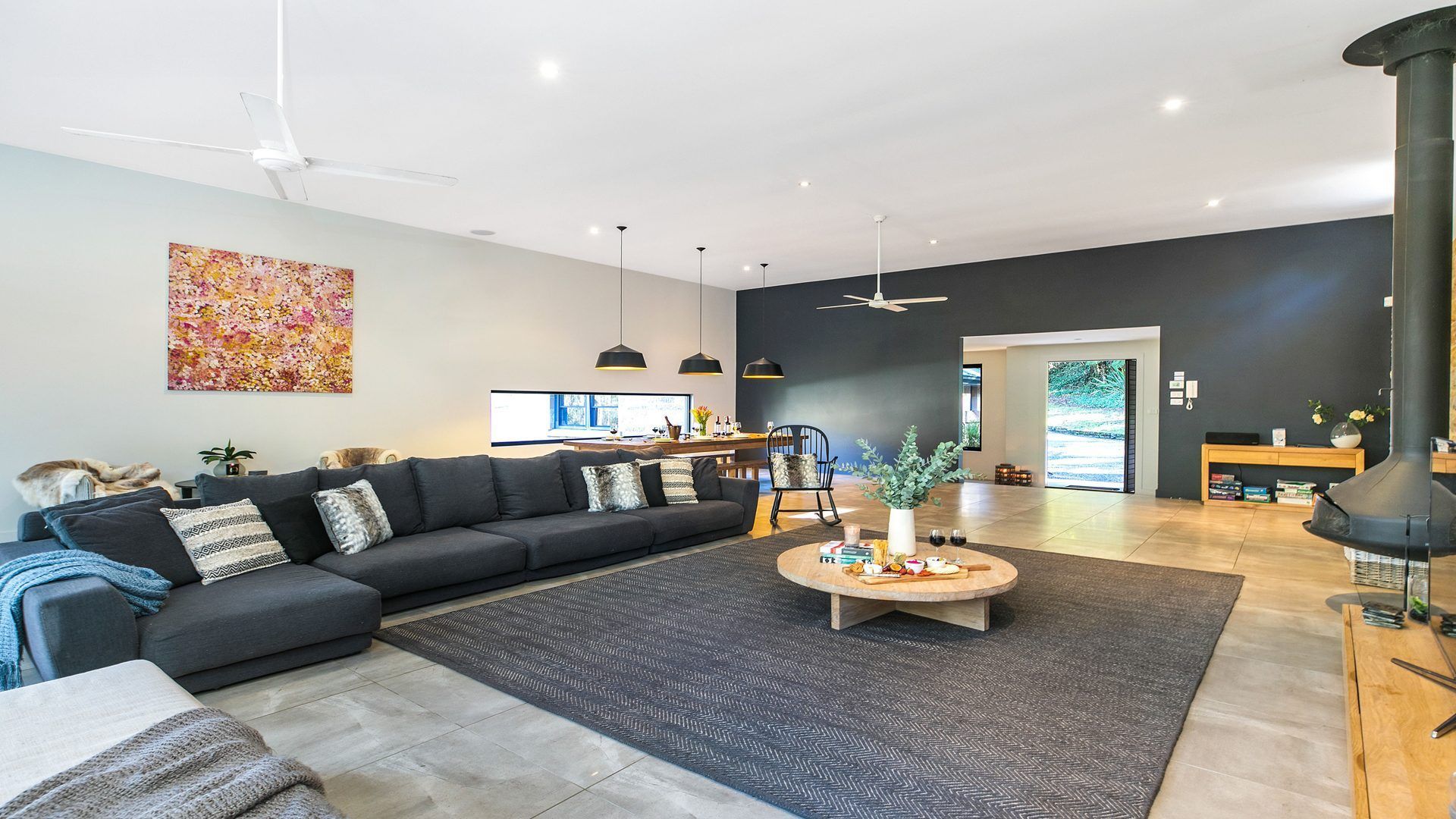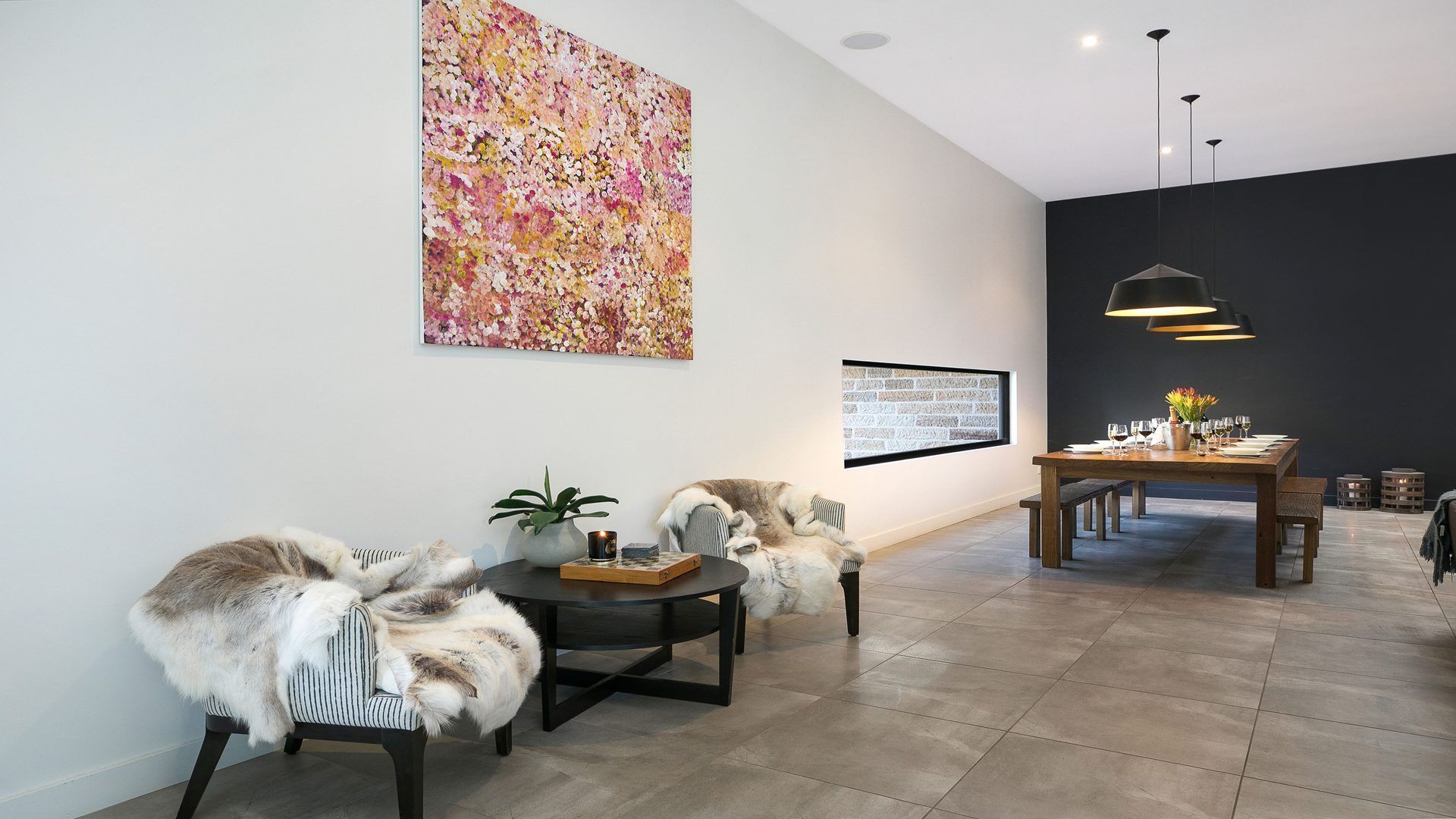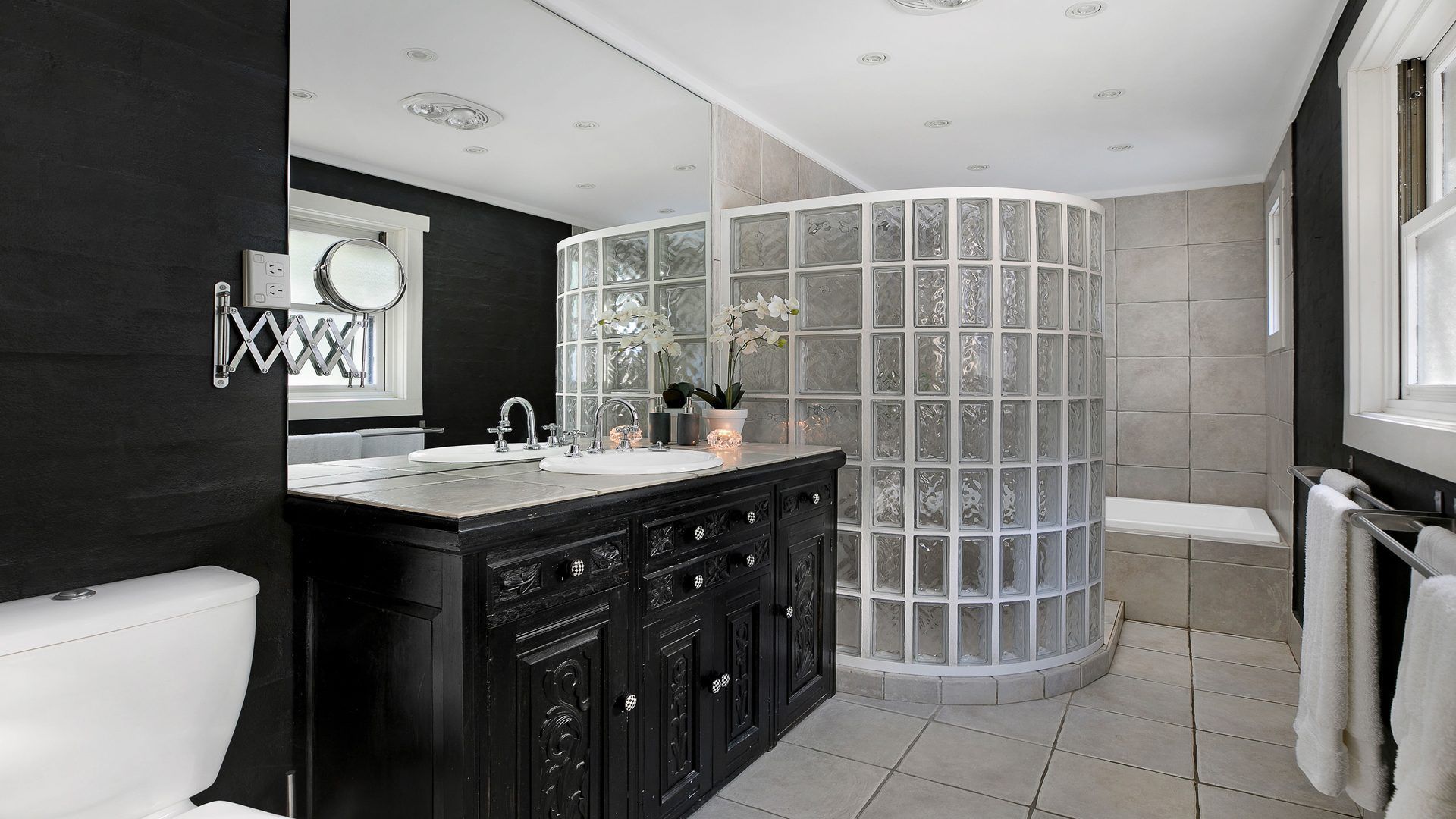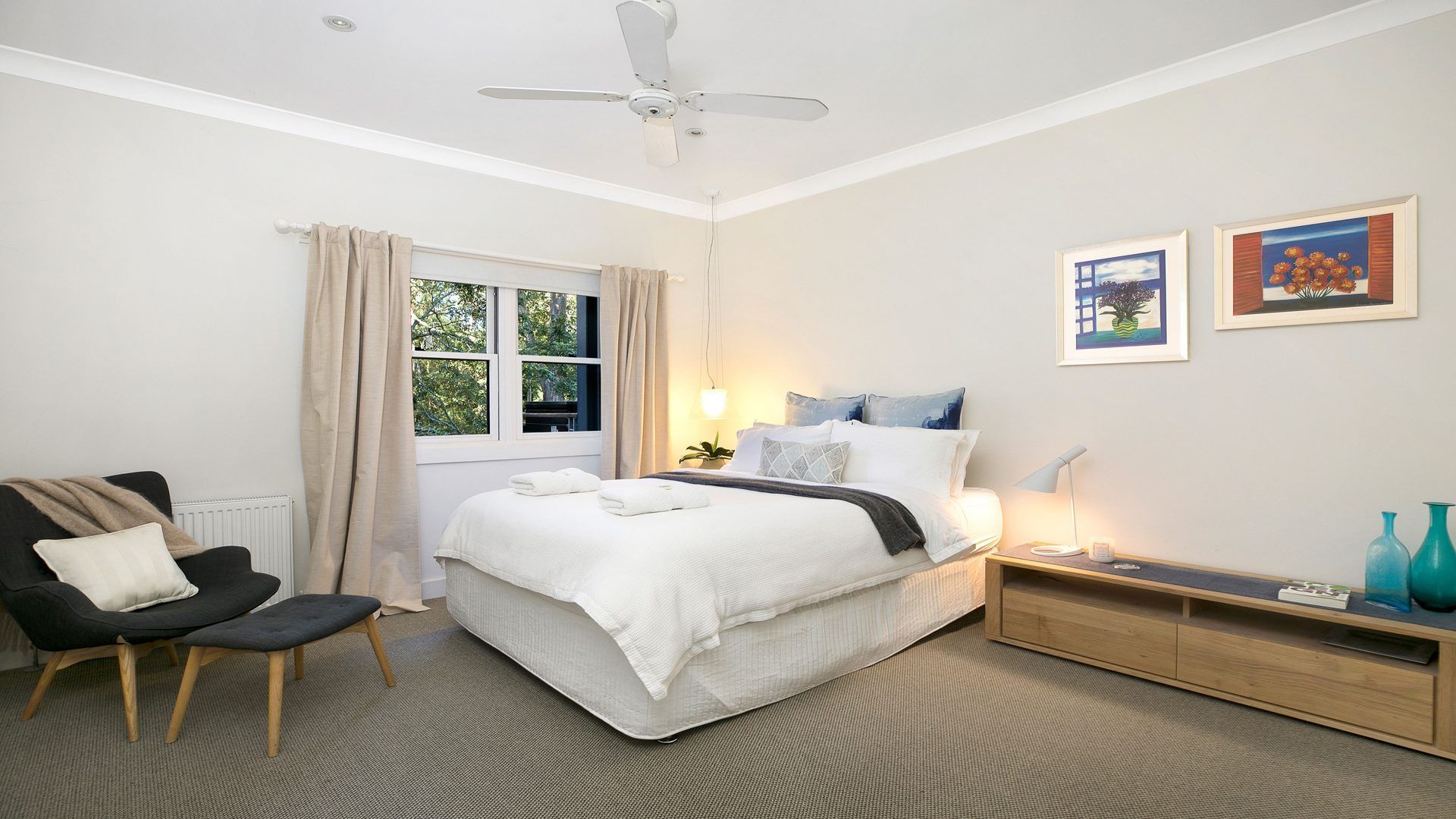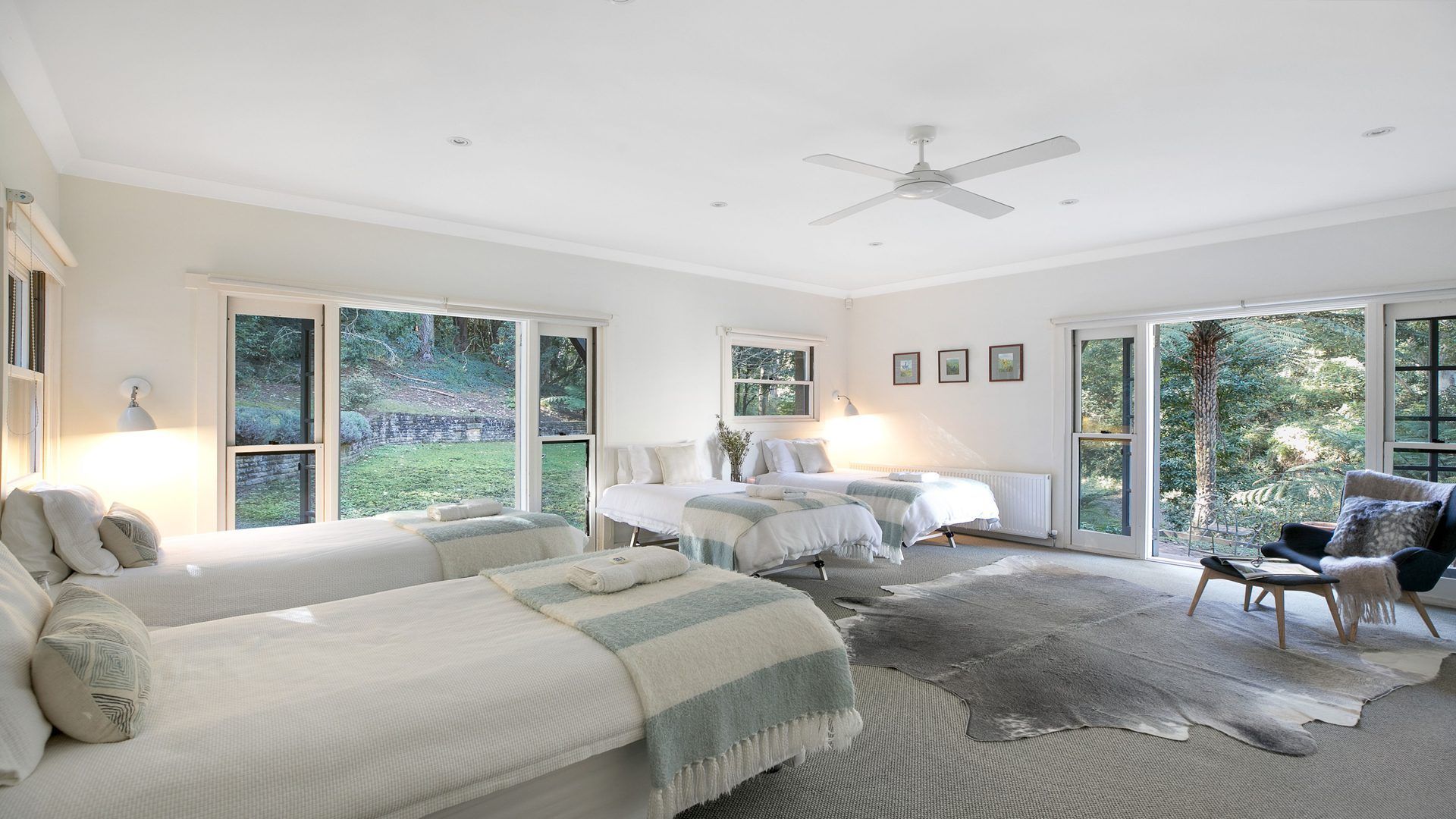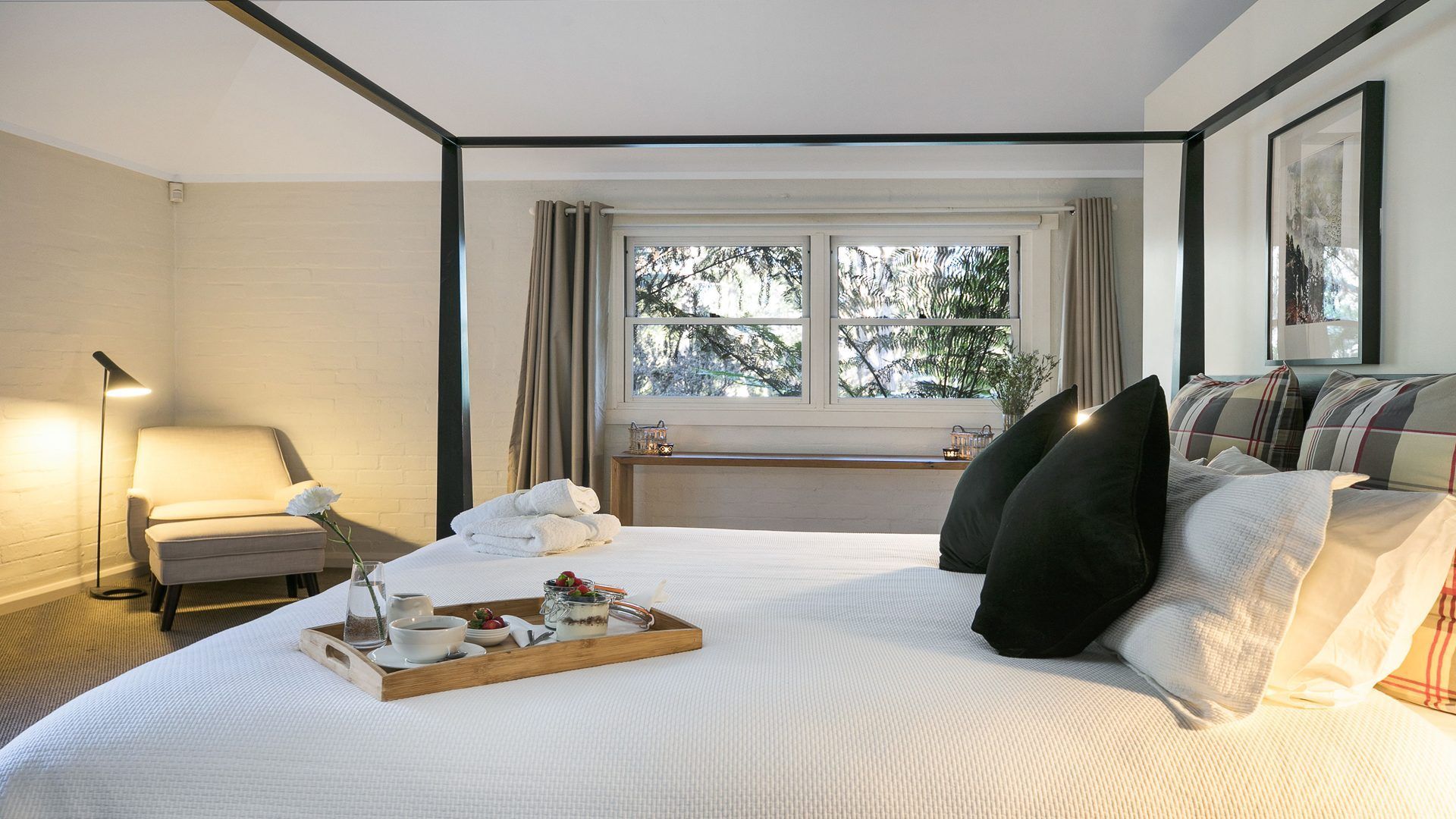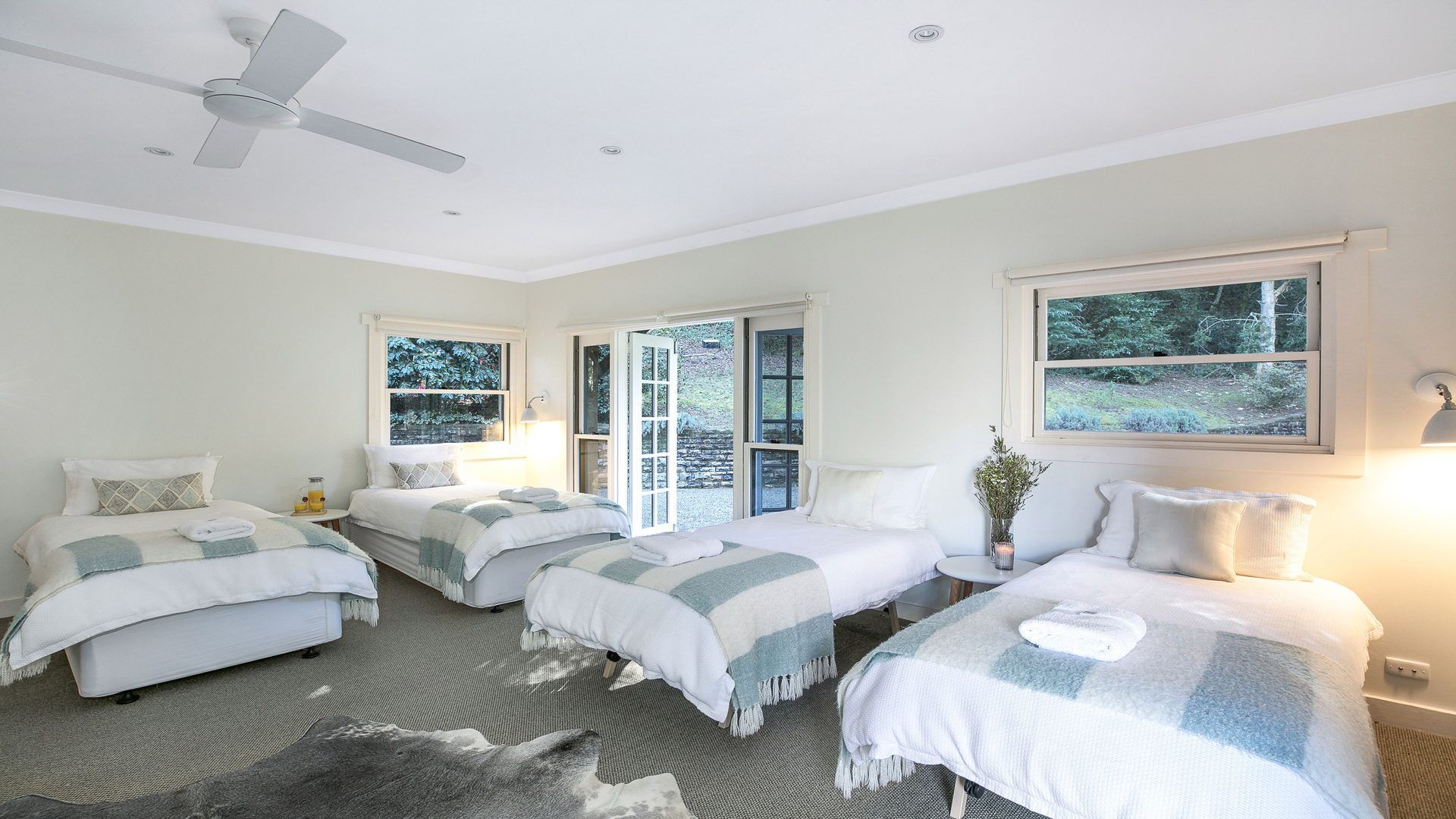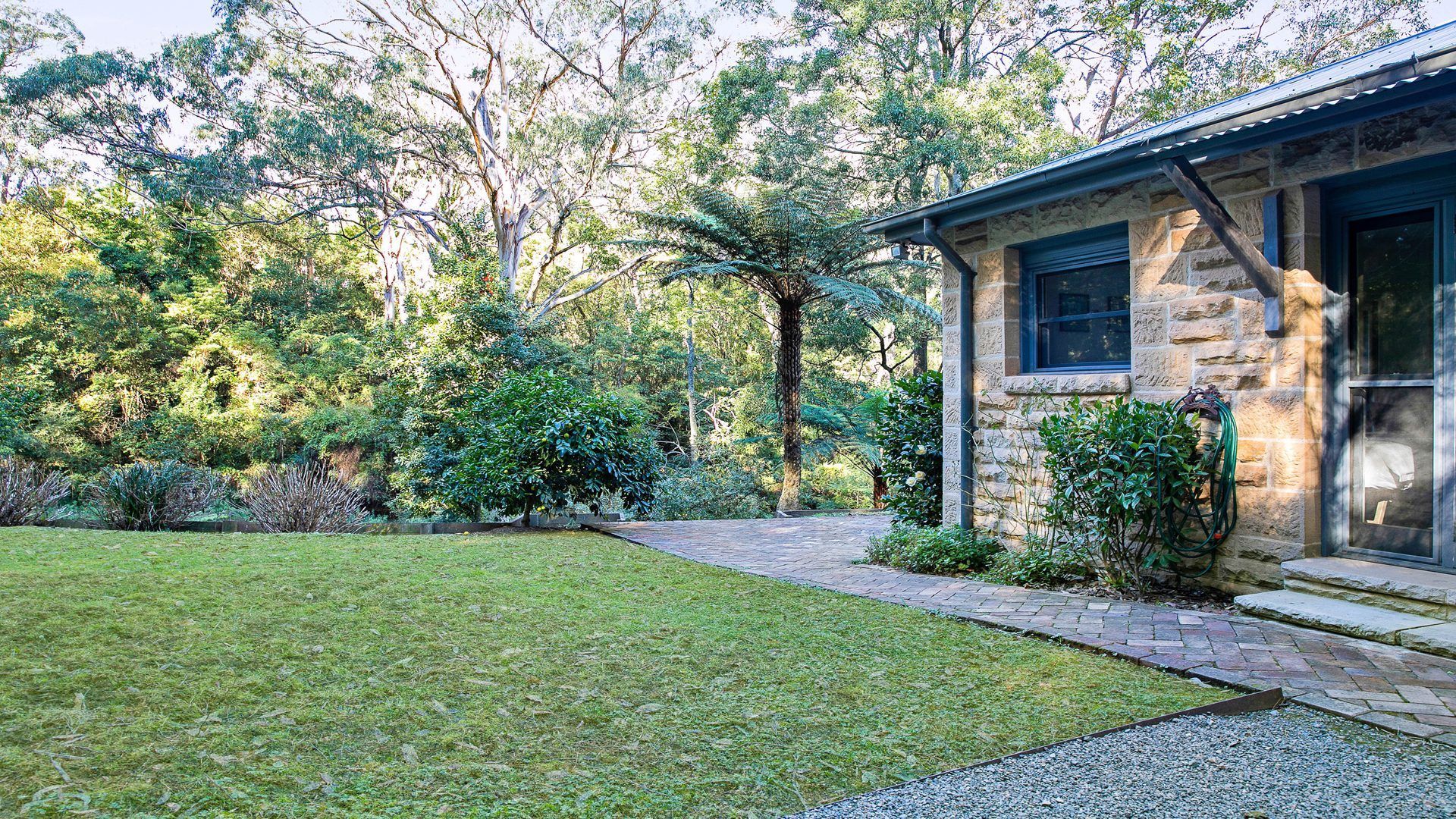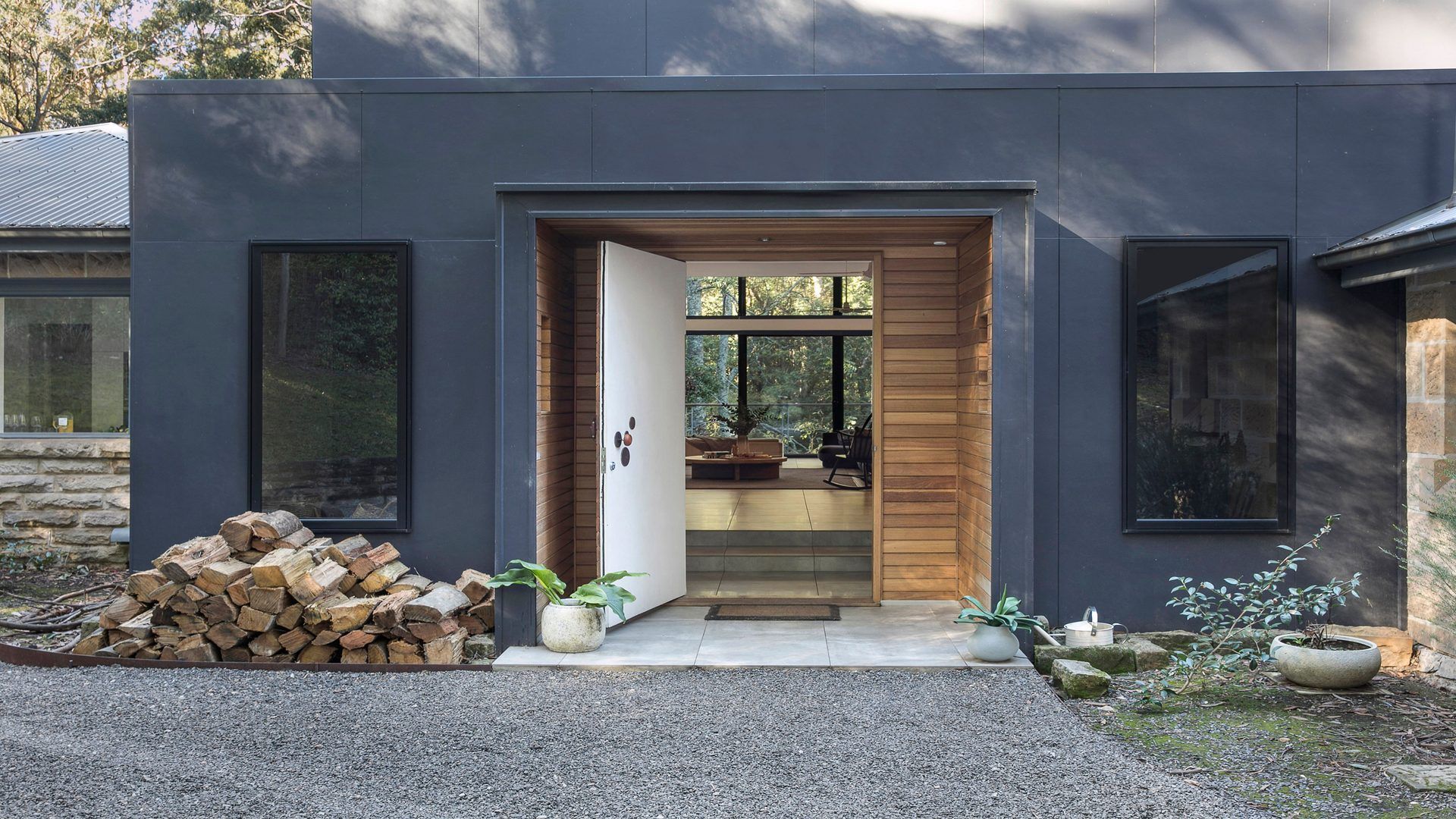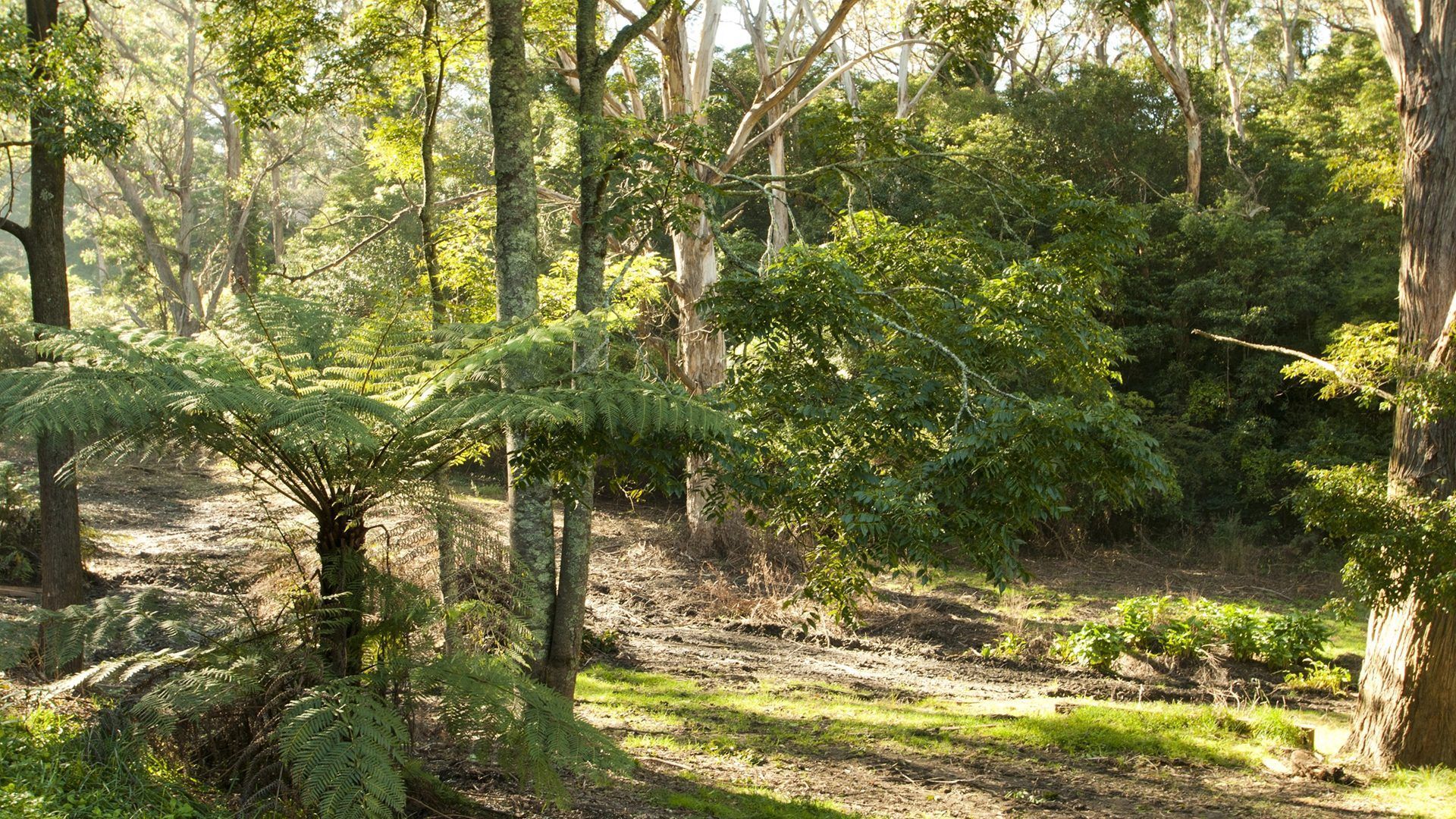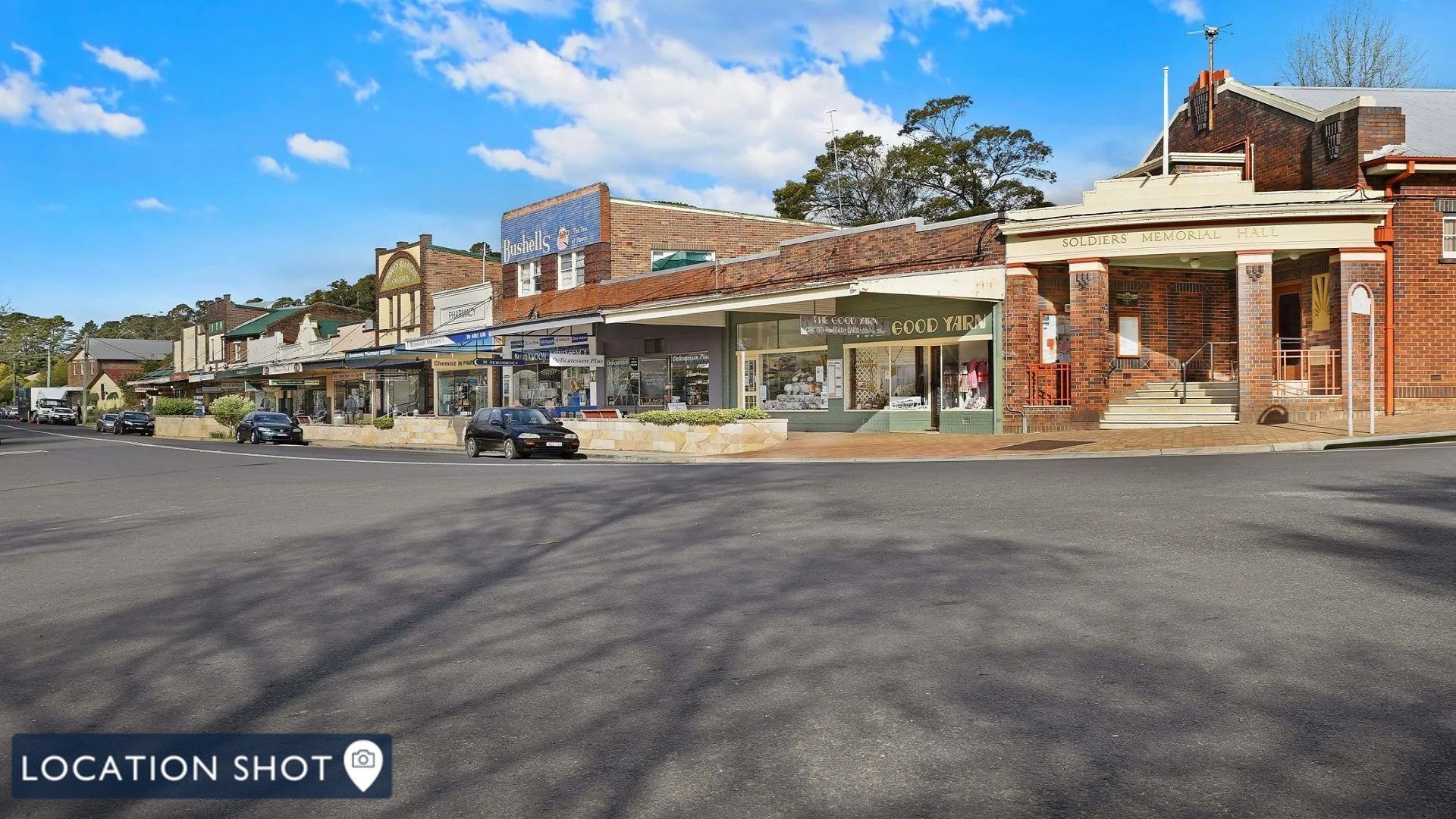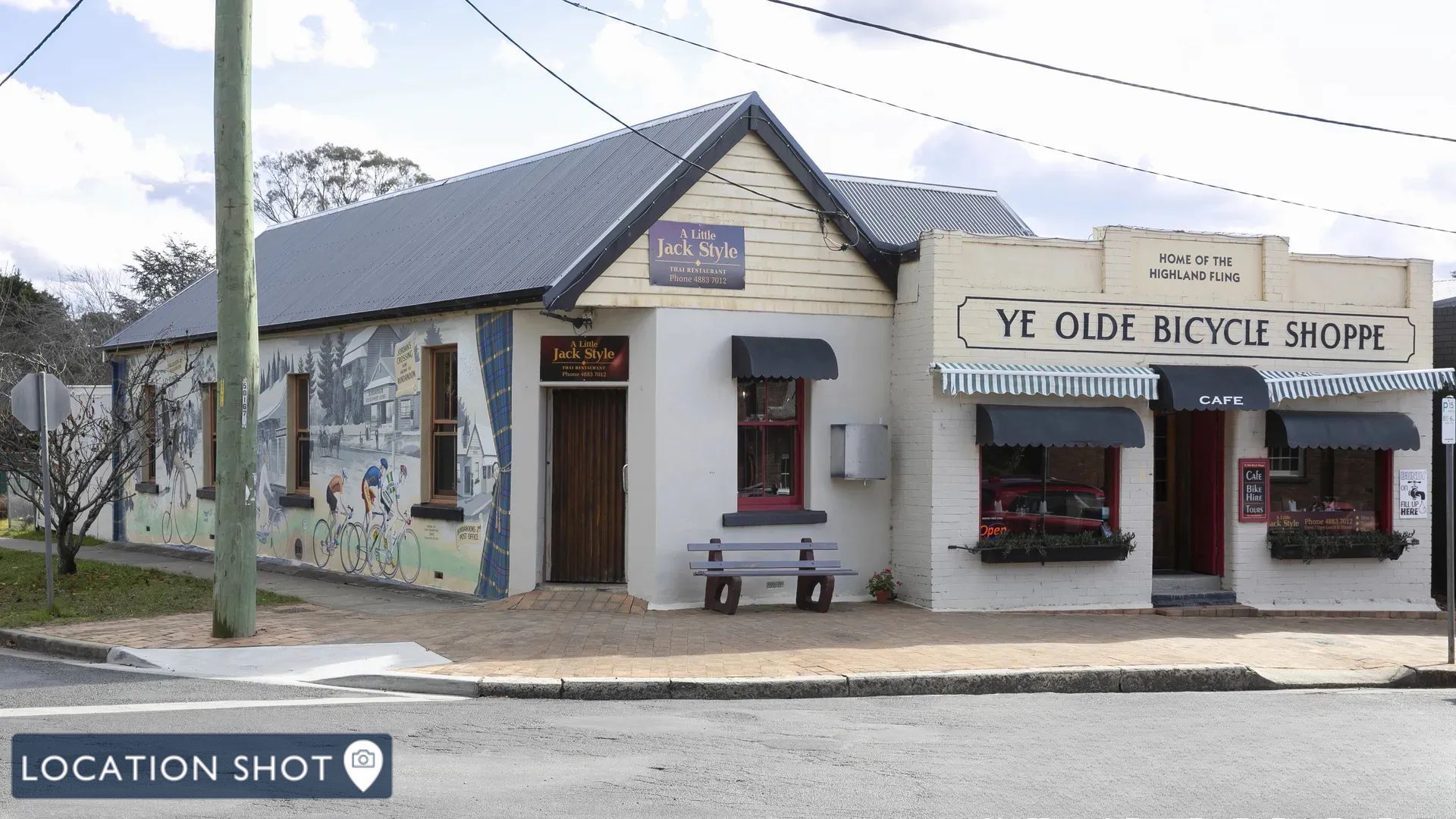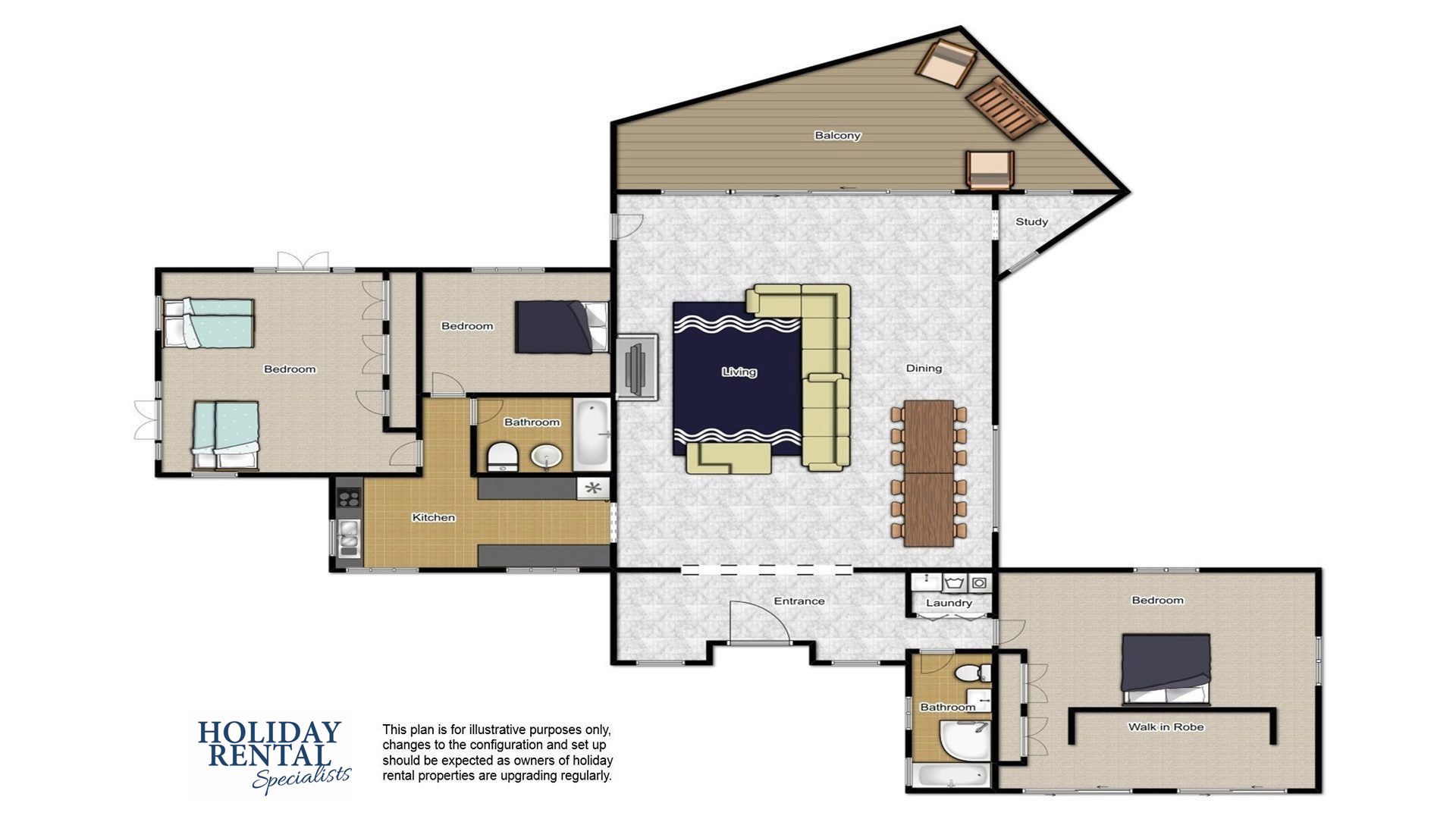 Description
Features
Reviews
Location
Description
Special Promotion: Pay for 2 nights and receive the 3rd night free of charge for all bookings made on or after 24 November 2023 for stays departing on or before 15 December 2023. Use Code Pay2Stay3 at checkout where applicable to book your 3 nights or book your 2 nights and contact us to add the third night for free.
The Gullies Retreat is simply enchanting and for those wanting to escape the city rat-race there is no better place to relax and unwind. Be enchanted by the two 1920s original sandstone cottages joined by a modern cube with ceiling to floor windows opening out to a forested gully.
This house has been custom furnished and fitted out by a designer to provide the utmost comfort and luxury. Venture out into the 2.5 acres of pristine bushland with curious paths and nature trails inviting you in to commune with nature...or just enjoy the abundant flora and fauna all year round from the expansive entertaining deck.
With underfloor heating, central heating, a stunning suspended fireplace, high ceilings and fans, your comfort is assured all year round.
The Property Features
• 3 large bedrooms
• 2 bathrooms including a walk-in shower and spa bath
• Renovated country kitchen with all the mod cons
• Underfloor heating in lounge with modern suspended fireplace
• Central heating in all bedrooms
• Good quality foosball table
• Entertaining deck with BBQ
• Gorgeous nooks to explore in the garden
• Wi-fi
Bedroom Configuration
• Bedroom 1: king
• Bedroom 2: queen
• Bedroom 3: single beds x 4
Distances to
• 1 km walk to town
• 1 km to the Sunnataram Buddhist Monasteries
• 2 km drive to Morton National Park
• 18 km to Moss Vale
• 25 km to Berrima
• 27 km to Bowral
• 30 km to Fitzroy Falls
• 1 hour to Nowra/Coast
• 1 hour 45 mins to Canberra
• 2 hours from Sydney (18kms off the Highway at Sutton Forest)
Linen
All linen (sheets and bath towels) is supplied for your stay and included in the tariff. For the comfort of our guests, we do not triple sheet. All beds have a fitted sheet, a flat sheet and a quilt with a full cover.
Property Specific Notes
Pets are NOT welcome at this property.
Wi-fi is offered as a complimentary extra. As there is no charge issues will be dealt with ASAP but cannot be guaranteed.
To ensure the comfort of our guests and the neighbours, we do not accept bookings for "Schoolies" breaks/under 21yrs groups and under no circumstances do we allow weddings or parties of any sort.
Notes
Payment for the booking warrants you and all guests staying will abide by the Code of Conduct for Short Term Rental Accommodation which can be viewed under the Guest Information tab on our website or a link which will be sent to you in your booking confirmation email.
This property is a holiday rental, it is not a principal place of residence and there are no shared rooms. Enjoy your time in comfort and privacy.
This property has staggered pricing for additional guests. Please declare accurate guest numbers at time of booking and update these if your numbers change before arrival.
Terms and conditions apply for this property and payment warrants your agreement and that of all other guests staying at the property with you.
The guest limits apply at all times during the booking. Any extra guests (this includes day visitors) above those that have been booked and paid for must be approved in writing prior to the stay. Only the guests staying at the property are permitted to be present. If you wish to have visitors in addition to booked guests, you must advise us in writing prior to your stay and ensure you receive written permission. This is not possible at all properties.
NSW Planning has passed laws that affect guests. The Code of Conduct for holiday renting can be found on our website under the Guest Information tab. In Section 2.5.2 of the STR Code of Conduct, guests have an obligation to ensure the peace and comfort of neighbours and other occupants of the premises (if strata) near holiday rental properties. This means guests have to be very mindful of noise made in or outside the property that can disrupt neighbours at any time of the day.
If you or any other guest receives a warning regarding excess noise or excess guests, you may be asked to leave the property immediately with no refund of monies. Noise audible outside the property is prohibited.
This property is approved for accommodation only. No mattresses, tents, caravans or more cars than the property accommodates are allowed. Under no circumstances are the following activities permitted at any of our properties: motorbikes, dirt bikes, quad bikes, use of firearms or air rifles, fireworks.
Our standard check-in time is 4 pm and check out time is 10 am. We can offer you a complimentary early check-in or late check out time as a gesture of goodwill where booking and housekeeping schedules allow. Please call our team to request this prior to your arrival. Please note that due to demand and housekeeping pressures, no early check ins or late check outs will be granted during the months of December and January. The safest way to secure a later check out or early check in is to book the property for an extra night, please contact us to see if we can offer a special rate for this extra night. Please note that Sunday late check outs must be requested and approved prior to 5 pm on the Friday evening of that week.
Out of peak season stays of a week or more may qualify for a discount, please send us a message.
Information during your stay can be found in the Guest Information Folder or by calling our office 24/7.
For your added security, this property is managed by a Licensed Real Estate Agent. We will never request payments be made to an overseas bank account and your money is held safely in our Trust Account until after your departure.
If we had more properties in our management portfolio we could easily get them booked. Demand is high and supply just can't keep up. Please send us a message or call us if you would like to know more about the packages we offer for bookings and property management.
STRA Permit ID: PID-STRA-20688
---
Features
Bath Tub
BBQ
Ceiling Fans
Child Friendly
Clothes Dryer
Coffee Machine
Dishwasher
DVD Player
Fenced Yard
Fireplace
Foosball
Hairdryer
Heating
Hot Water
iPod Dock
Iron and Board
Kitchen
Laundry
Linen Included
Microwave
Near Shops
Outdoor deck
Oven
Parking - driveway
Private Entrance
Refrigerator
Smoke Detector
Spa Bath
Television
Views - valley
Washing Machine
Wi-Fi
---
Reviews
Ganzorig V
Beautiful part of the world!
December 2022
Great place. I had a fantastic night's stay! The property is clean and modern with all the mod cons and all the necessities supplied. I hope to return!
Jean Young
May 2021
This house was even more stunning in real life than it was in the pictures. Gorgeous and spacious, we went for my 30th birthday and had a fantastic time. It's a short walk from the house to the town, so it's the perfect balance of feeling very remote but also being close enough to be a short walk to grab a coffee or pick up groceries. We would definitely stay here again.
Anonymous
April 2021
beautiful weekend getaway - the underfloor heating was a welcome addition to a chilly weekend away.
Daniel West
April 2021
This venue is the perfect place for a getaway. It has a great scenic view down the valley from the balcony and from "the cube", a vast modernist space perfect for entertaining and relaxing. From the house you can easily walk to the nearby village of Bundanoon, or explore the valley further, including visiting the rustic farmlands nearby. The rooms are cozy with comfortable beds, and the master suite is truly massive for a couple who likes extra space. The place is huge - with plenty of room for 10 guests to enjoy their stay in this luxurious space. We certainly enjoyed our stay here - an easy 5 stars
Ben Meacock
April 2021
Thanks for having us - great place and communication was super easy. Will come again!
Penny Bousfield
March 2021
Lovely weekend away, nice and clean and good communication with staff
Vincent Guan
February 2021
Great location, isolated and would recommend for a retreat
Nasim Khazali
December 2020
Great Location, great views , beautiful fire place!!!!
Trishan Chand
December 2020
Nice isolated home. Very nicely furnished and very spacious
Emily Turnbull
November 2020
Gorgeous space! Perfect for a girls weekend for my friends hens due to the large Living room it made it easier to be all together rathe than splitting the group because we wouldn't of had as much space at some other properties so this was perfect for what we had organised.
Katy Washington
November 2020
Thanks to the team for preparing such a great place to stay for our weekend getaway. The area itself was so beautiful, surrounded by lush greenery and such a close walk to the local shops and markets on the weekend. The house itself is stunningly designed. The middle lounge area is huge and so spacious - perfect for families where little kids can play. There was plenty of kitchenware and glassware for all occasions. We appreciated the kids crockery available options also. There is loungeroom flooring is heated and was lovely on a cold night. Unfortunately, there was a problem with the heating panels working in the bedrooms - we reached out and were given instructions to open the valves, but that didn't work, unfortunately. We did ask for the instructions for the central rooms controller but no instructions were passed on, so there was no bedroom heating during a really wet and cold weekend and the loungeroom flooring only heated for the night we arrived and the next day. We were offered an extra oil heater but we refused it in the end as they were only tiny. The house booklet of instructions wasn't diagramed so the description of what to do for the stove starting and the heating was a bit off. There was plenty of wood available to start a fire in the beautiful fireplace in the loungeroom but any wood for the remaining days we stayed were being rained on outside, if the firewood had a cover on it to assist guests with starting a fire with dry wood would have been a really considered approach. And if there was an axe we would have been able to chop the large pieces to then have mid-range wood to start the fires more easily. I will say the response time for answering my questions was reasonably fast, which was appreciated. It was definitely a beautiful place, but i think if they fixed the few things above it would be an incredible stay :)
Anonymous
October 2020
Beautiful house in a tranquil location. Bundanoon is a stunning area!
Bree Dennis
October 2020
Amazing location and beautiful house. Lovely weekend away
Anonymous
October 2020
Very stylish retreat - great for a getaway
Anonymous
Fantastic accommodation – There were six archite...
October 2020
Fantastic accommodation – There were six architects in the group (and they are not easily pleased) and they thought is worked beautifully. Picturesque setting, comfortable climate control.Maria
Anonymous
Gullies Retreat is the perfect place for a large g...
October 2020
Gullies Retreat is the perfect place for a large group holiday. Super comfortable and chic with great amenities and sincerely good vibes.'Louisa
Anonymous
September 2020
Lovely house & area! Very close to town & some beautiful bush walks. Plenty of room for a group of adults but the trundle beds & sofa weren't the best for sleeping.
Anonymous
September 2020
Beautiful large house in a private secluded setting. Walking distance to the local village for coffee and supplies. A great place for a weekend getaway.
Anonymous
Fabulous property. Fabulous location. We were two ...
September 2020
Fabulous property. Fabulous location. We were two families and had enough room and enjoyed the property immensely.Kim
Anonymous
August 2020
This place is very nice and great for a group to stay in. It's a 5 min walk from the town and close to walking trails. The main area is very large and nice and the kitchen is well equipped. There was no firewood supplied and there was no soap in the showers as advertised.
Anonymous
August 2020
Nice and tucked away perfect little get away for a 30th, short walk from the town Center with great cafes. The property doesn't have much in the way of condiments and the wood wasn't inside or dry so we couldn't really use the fireplace.
Anonymous
This would have to be one of the best country acco...
August 2020
This would have to be one of the best country accommodations we have had the chance to stay in! The kids loved the spacious rooms. Thank you.Mustafa
Anonymous
July 2020
This house was absolutely stunning. Unfortunately we weren't able to get into the house until 3:45pm despite checking being at 3pm. 10 of us had to wait out the front in the cold until the cleaners finished. I received a call at 2:45pm saying the cleaners are still in there but they arrived at 2:50pm. I felt the house cleaning was rushed as there were a few things still dirty such as the bbq, mirrors and the sliding door. We mentioned about the bins being full and they were picked up right away. Other than that we all had a very enjoyable stay and would return again!
Anonymous
July 2020
Lovely place to come with friends and family, my friends and I had a great time relaxing. I'd definitely recommend, our overall rating for the host and for the retreat would be 8/10. The host was 1.5 hours late due to cleaning and we noticed that there were too few of the basic amenities that we needed. P.S The town of Bundanoon is lovely with the most friendly residents and the coffee is amazing.
Anonymous
July 2020
This house is in a great location and is walking distance to local cafe's, the local pub and walking tracks. The house opens up to a beautiful and peaceful view. The house is large with a great central living area and equipped kitchen.
Milica
If you're looking for the perfect getaway this is ...
July 2020
If you're looking for the perfect getaway this is the place. Beautiful home with a lot of space and a great fireplace. We felt right at home as soon as we got there and were greeted by Kookaburras on the balcony. Great things to do in the area such as bush walks and glow warm caves. We would definitely recommend this place to anyone. We would gladly come back. Absolutely perfect stay thank you!
Karlee
We loved our stay at The Gullies Retreat. Would hi...
July 2020
We loved our stay at The Gullies Retreat. Would highly recommend to anyone wanting to stay! We hope to definitely come back here soon.
Anonymous
The property was perfect for our family getaway. I...
July 2020
The property was perfect for our family getaway. It was situated in a great location, was secluded and was ideal for a country retreat. The home offered more than required, the dcor was modern and welcoming. Our family thoroughly enjoyed sitting by the fireplace and enjoying each others company in the spacious lounge room. We will be back for sure! Thank you Highlands Holidays for making such an easy process, you were well organised. Kristy
Anonymous
The house is fabulous. All the decorating is very ...
June 2020
The house is fabulous. All the decorating is very tasteful with beautiful linen. Thoughtful touches with throw rugs! Everyone had a good time in this beautiful house!Susan
Anonymous
Wonderful place & house for a quiet getaway. L...
June 2020
Wonderful place & house for a quiet getaway. Lots of entertaining things provided, clean, warm & comfortable. Close to shops & hiking tracks. Would recommend to anyone- family, groups or friendsMelissa
Anonymous
Beautiful home to stay in for the weekend, we didn...
June 2020
Beautiful home to stay in for the weekend, we didn't want to leave!! Beautiful comfortable beds and the floor heating was the perfect winter touch! Great location, great house and great vibes. Thank you.Jayde
Deborah
We had a lovely girls weekend! Plenty of room and ...
February 2020
We had a lovely girls weekend! Plenty of room and a lovely property.
Anonymous
We thoroughly enjoyed our craft weekend at The Gul...
November 2017
We thoroughly enjoyed our craft weekend at The Gullies Retreat. It was ideal plenty of space, lots of serenity and just a lovely relaxing weekend had by all 9 of us! Thank you so much!Claire
Anonymous
This house was perfect for our girls weekend away....
November 2017
This house was perfect for our girls weekend away. We loved the location, the beautiful spaces and the comfortable spaces. The beds were so comfortable and the underfloor heating made it so cozy! Michaela
Floorplan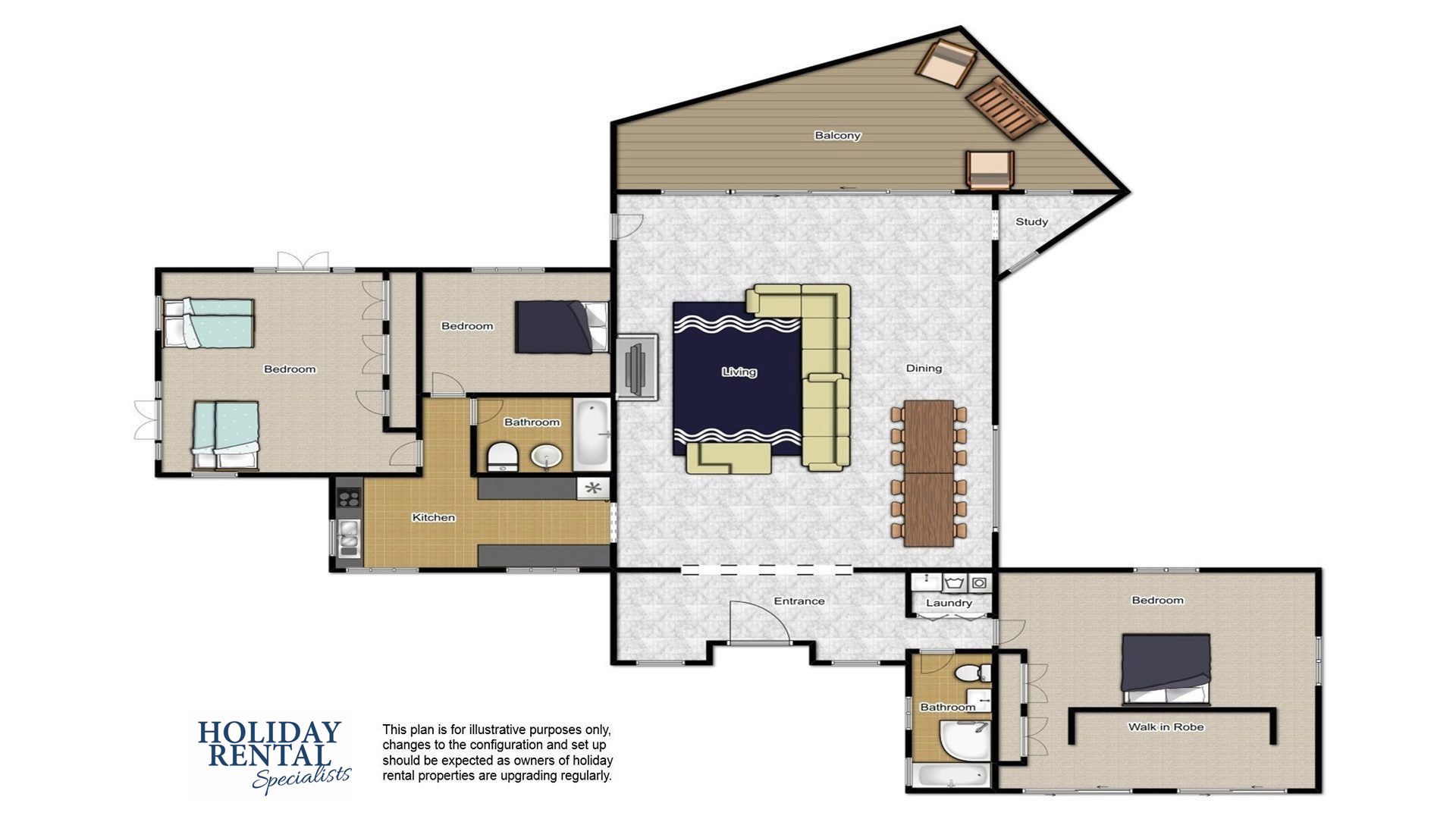 The Gullies Retreat
3 Bedrooms,
2 Bathrooms,
8 Guests
Area
Bundanoon
Features
Fenced Yard
Fireplace
Spa Bath
Wi-Fi
---