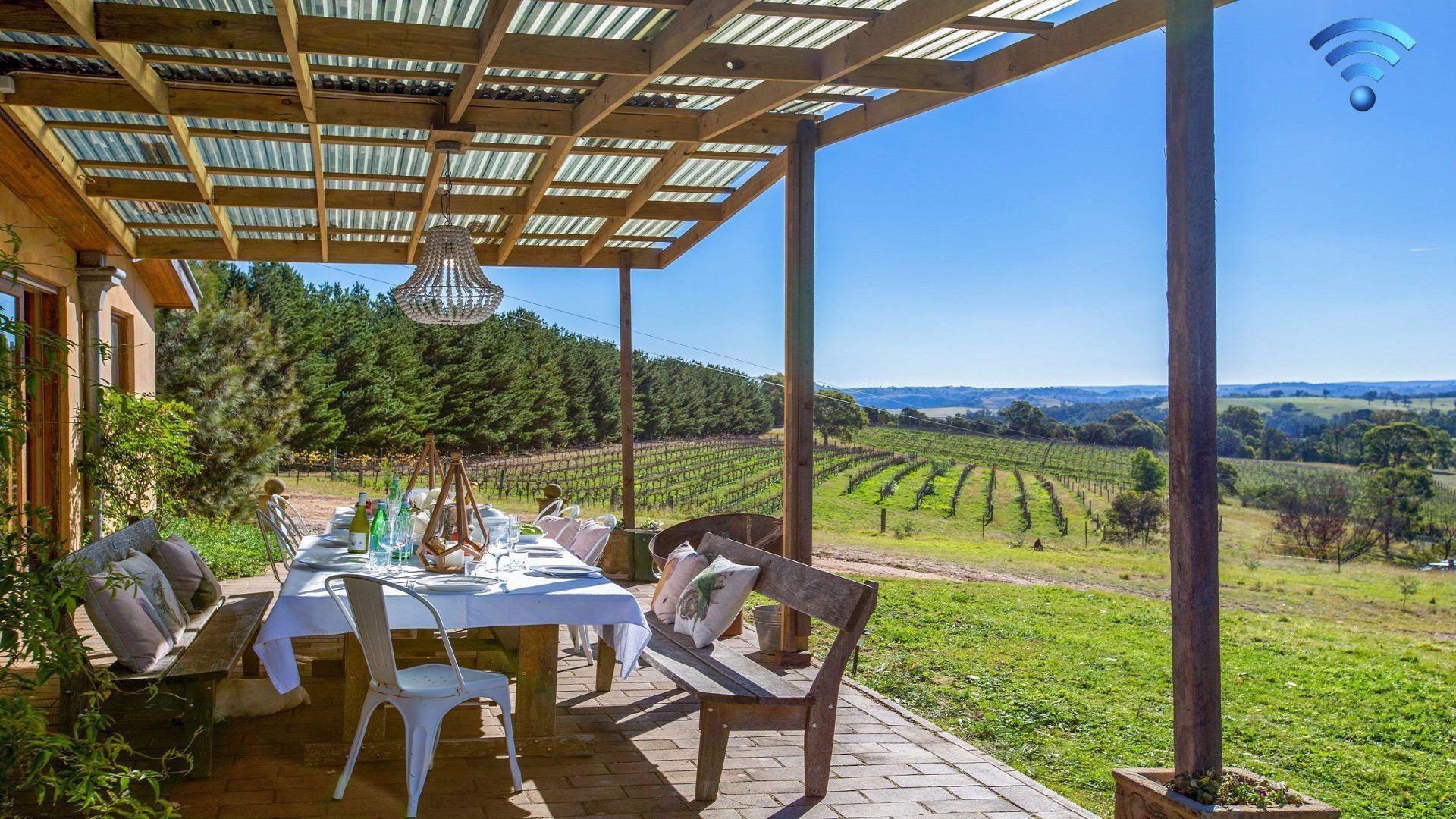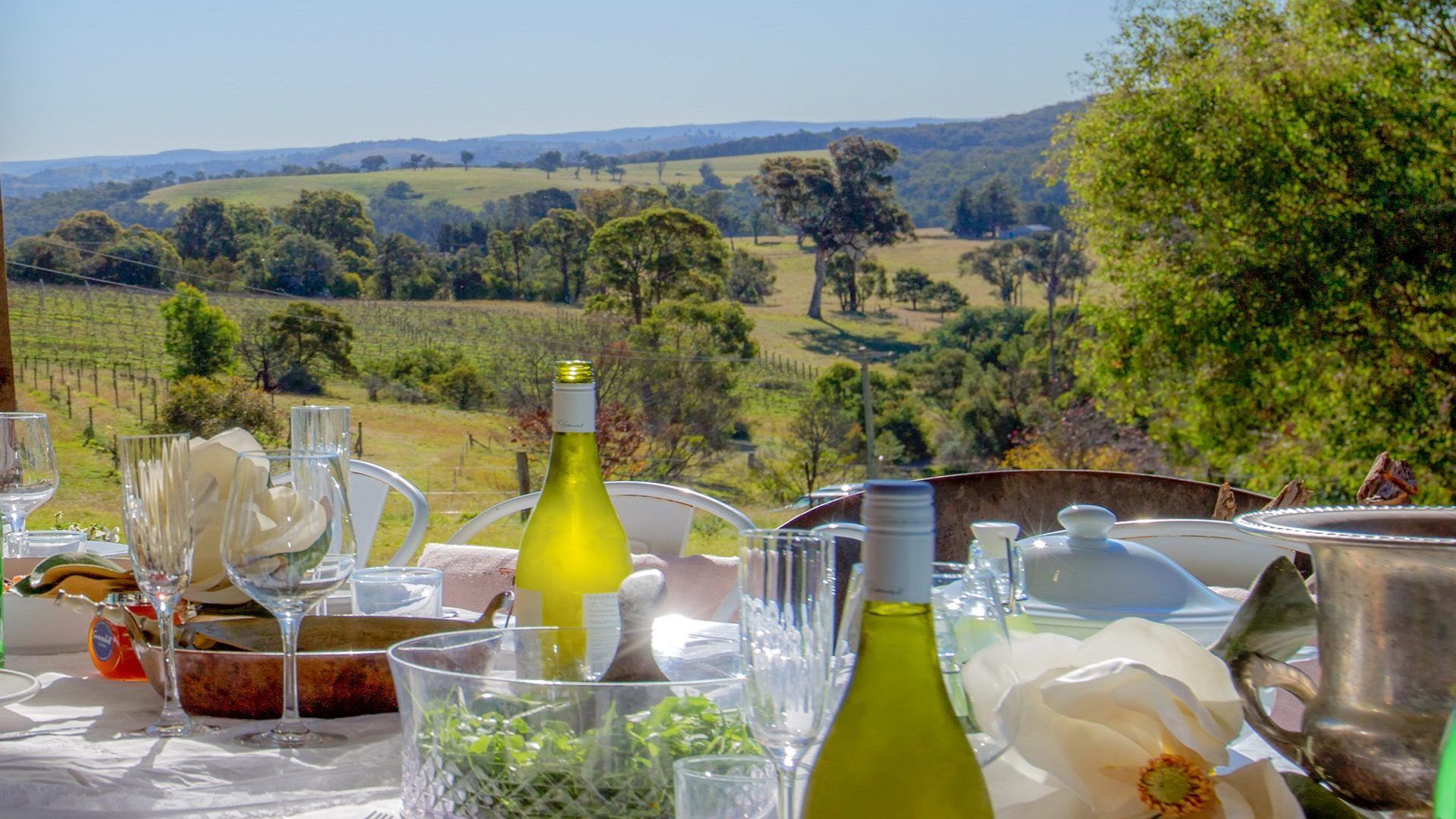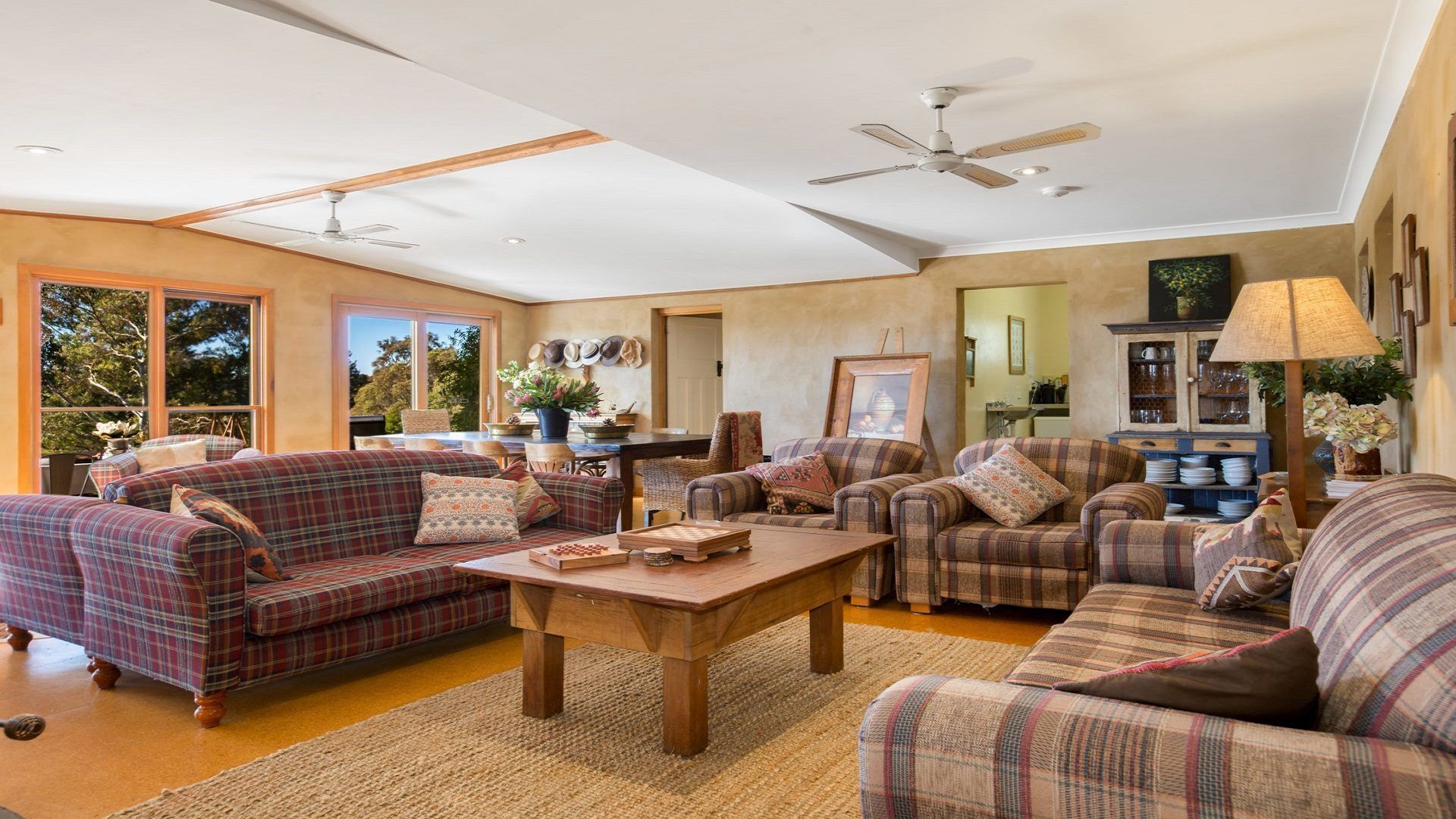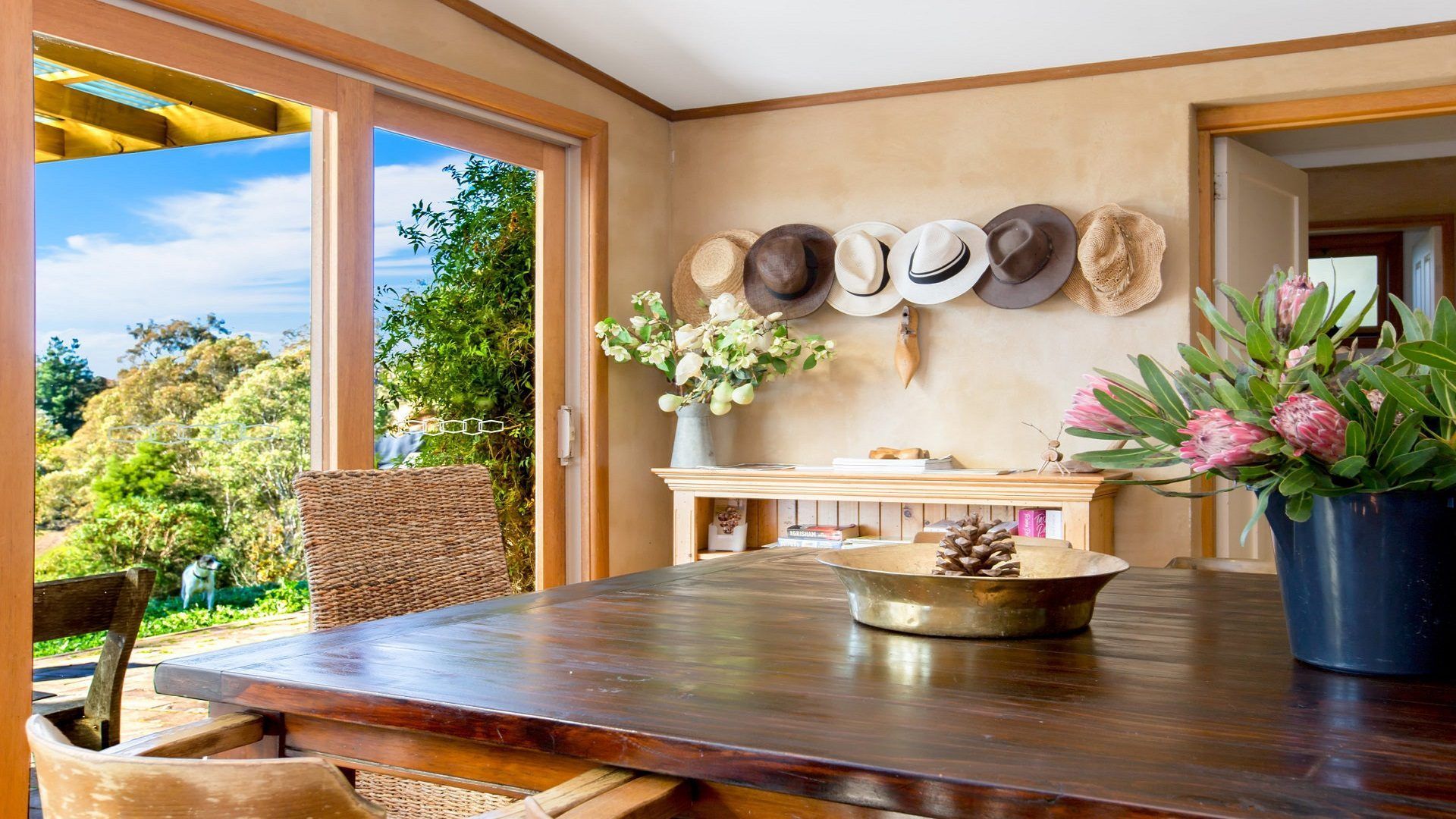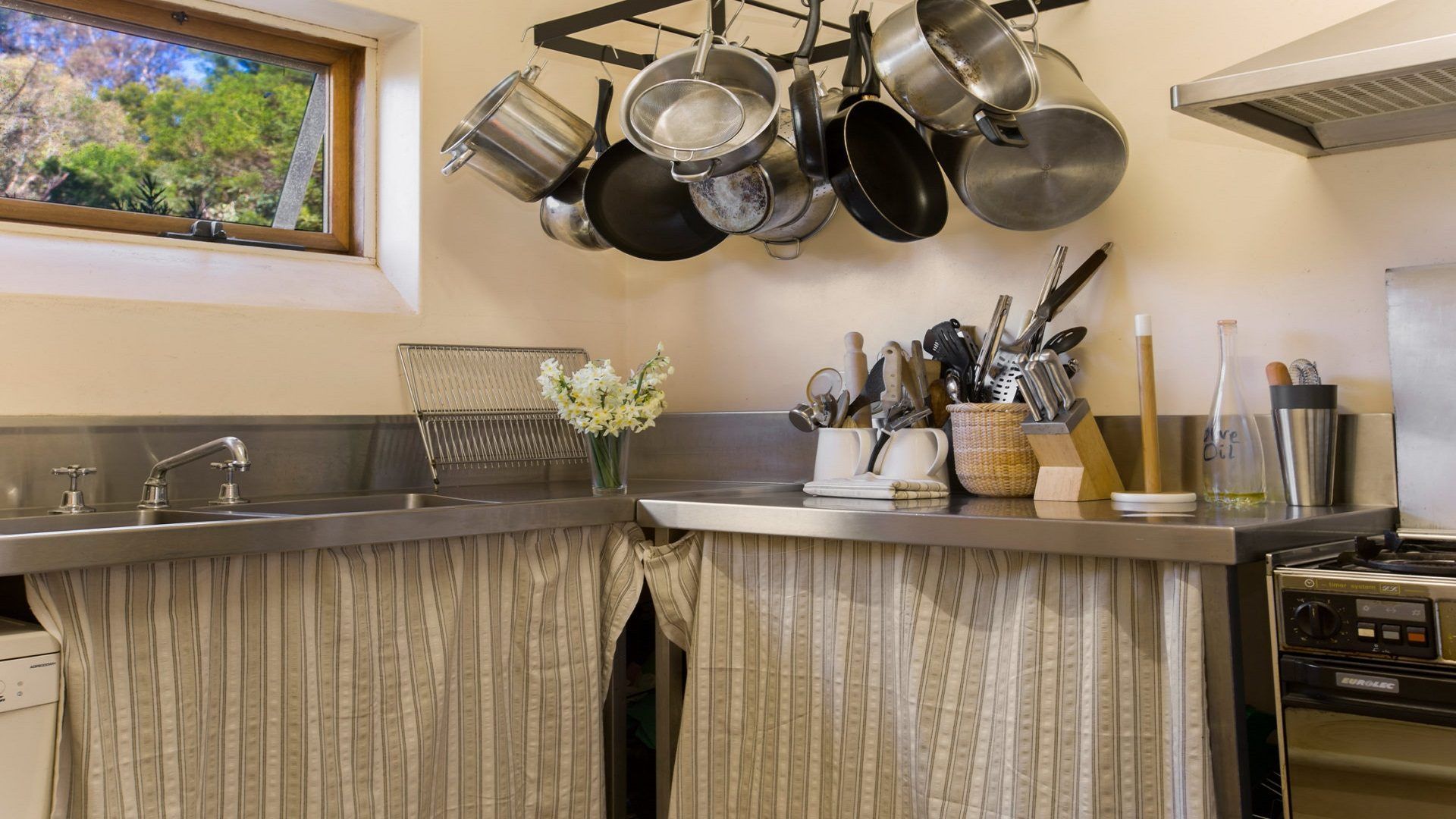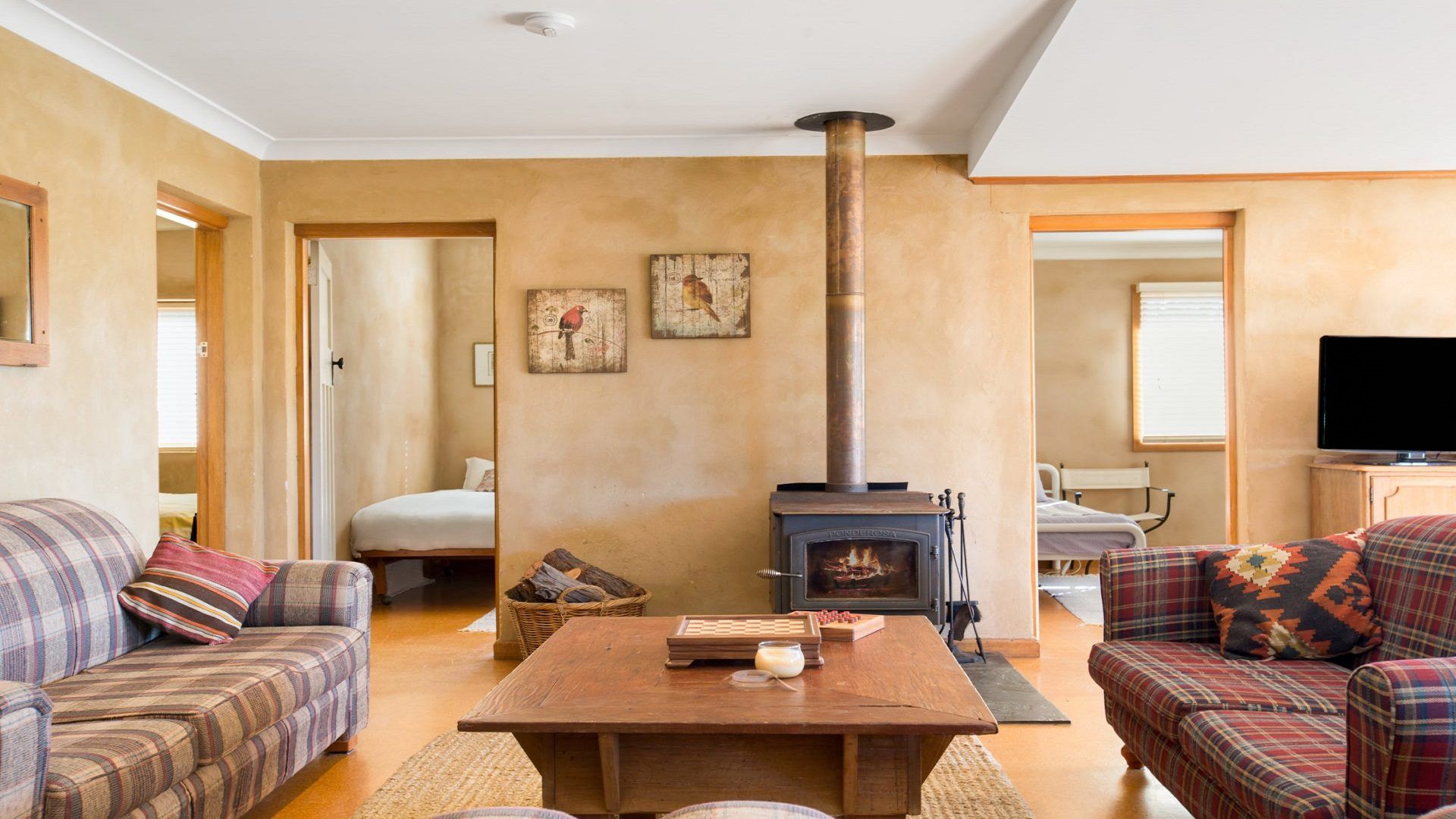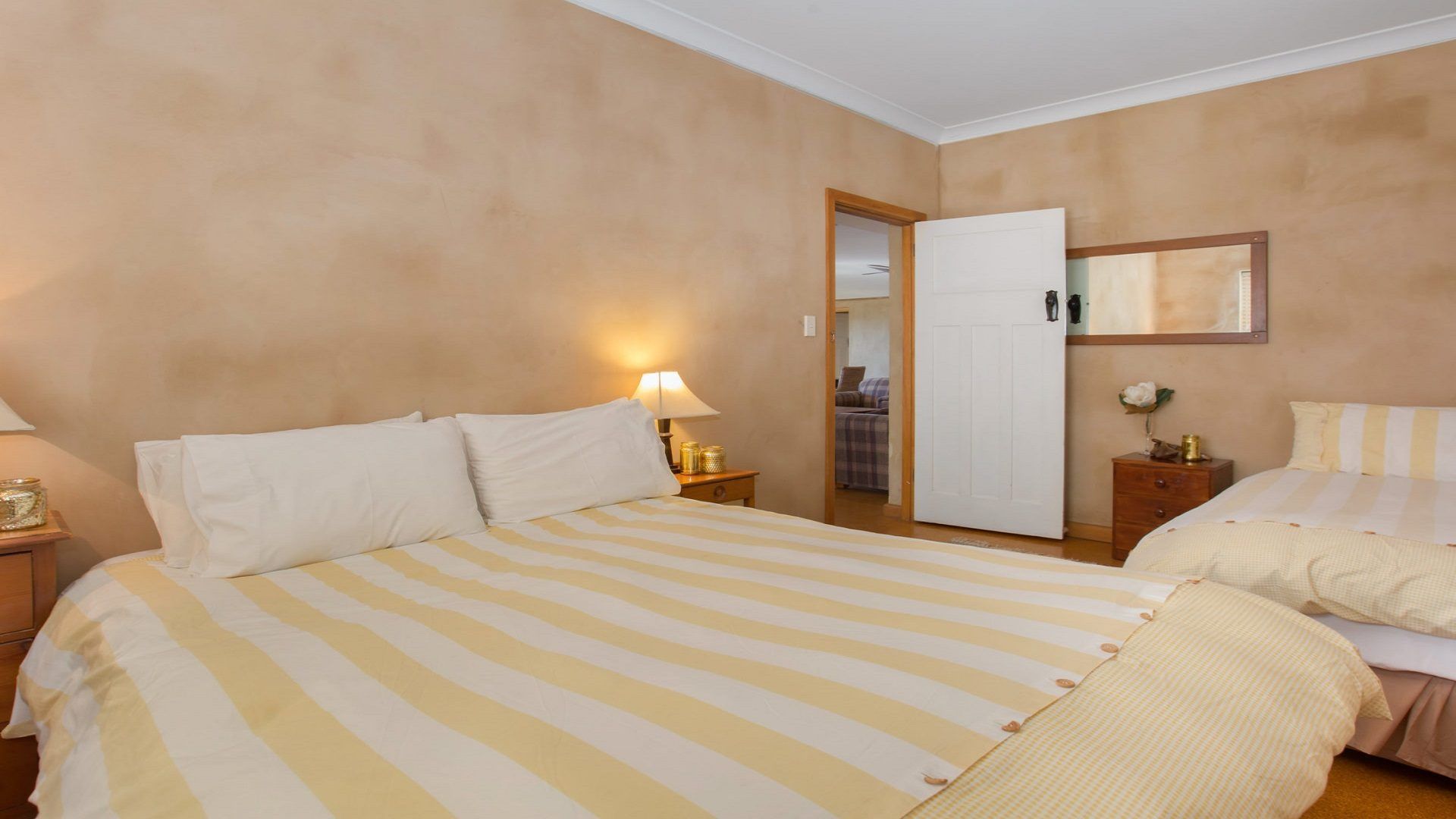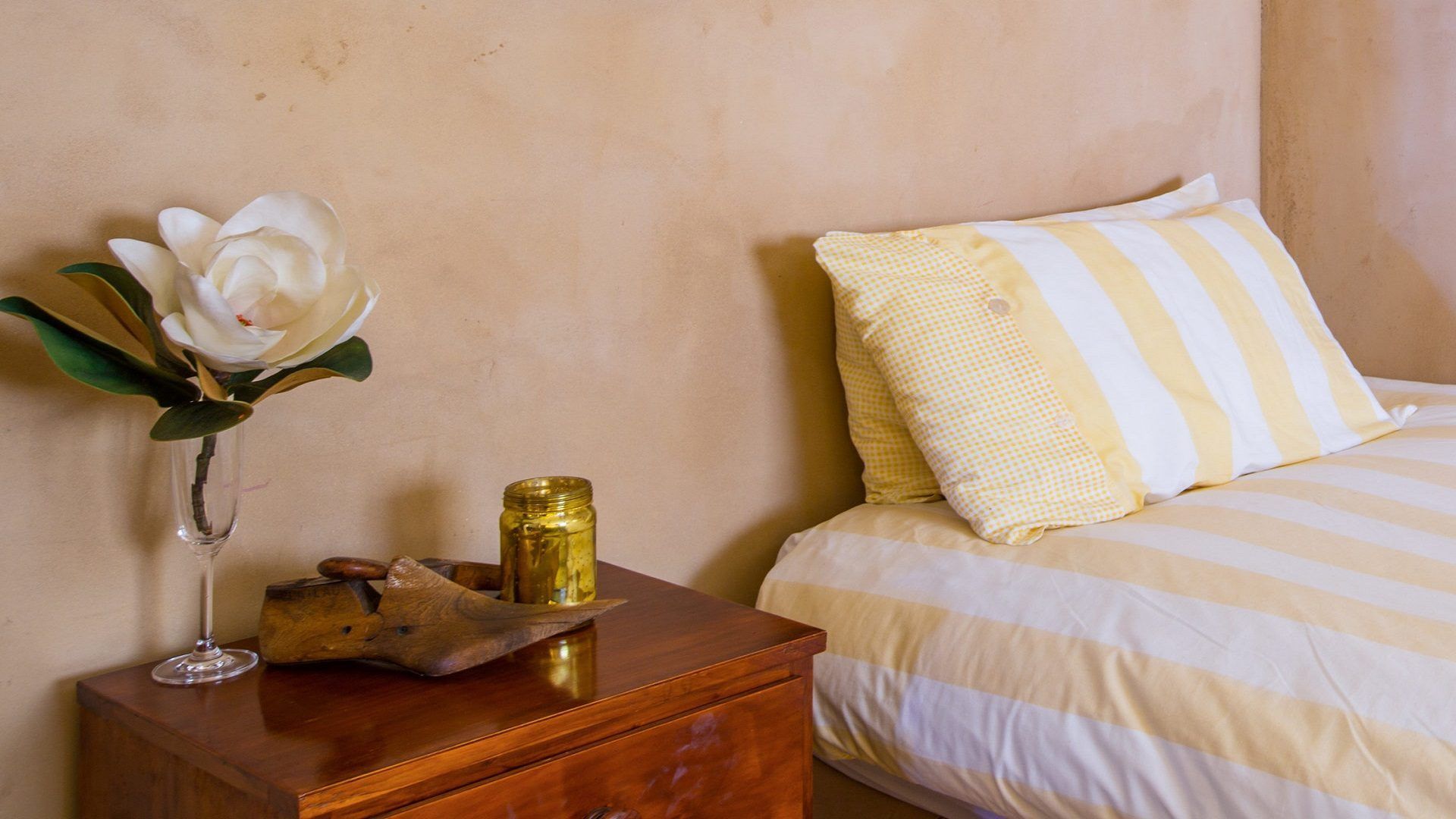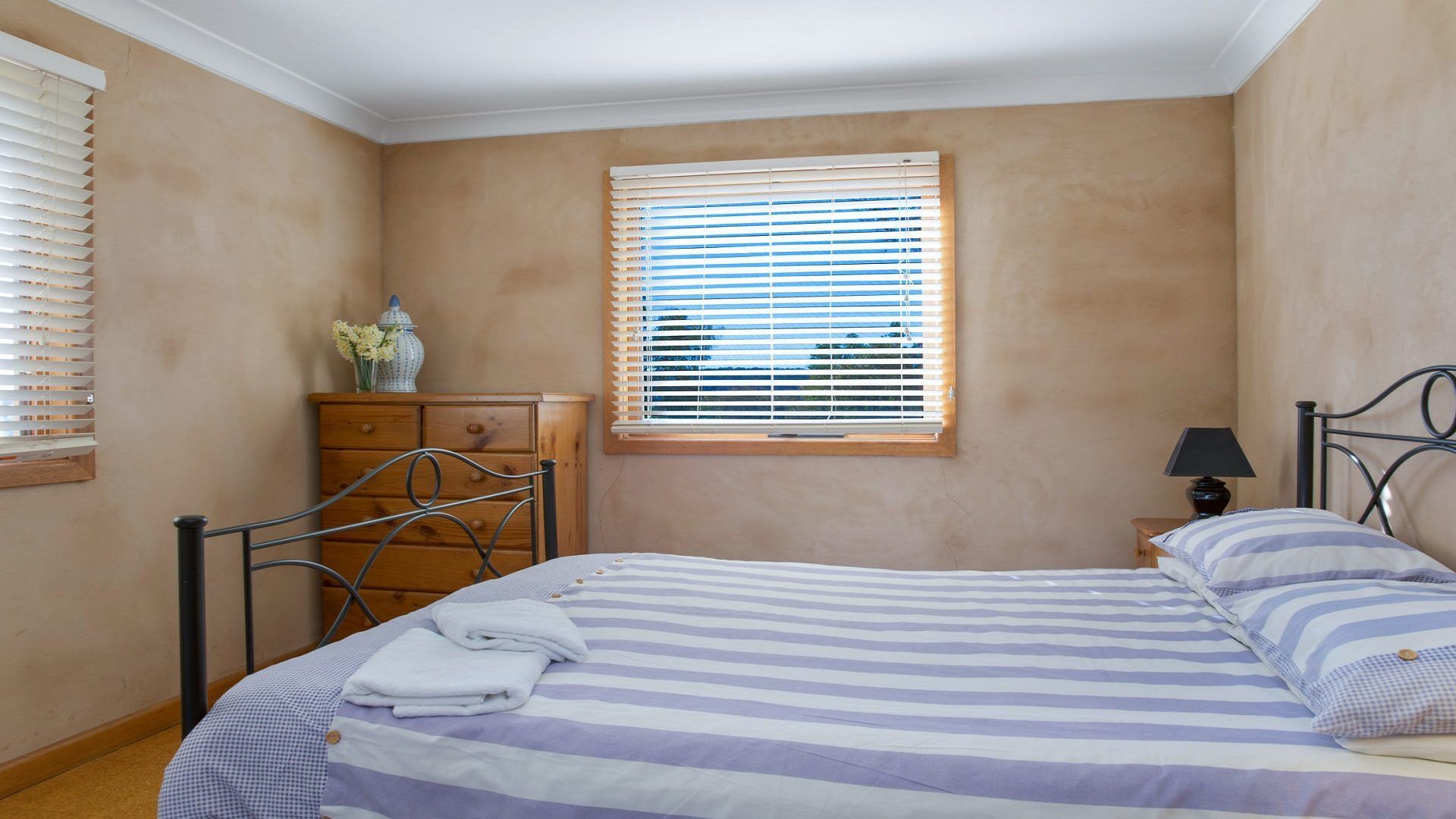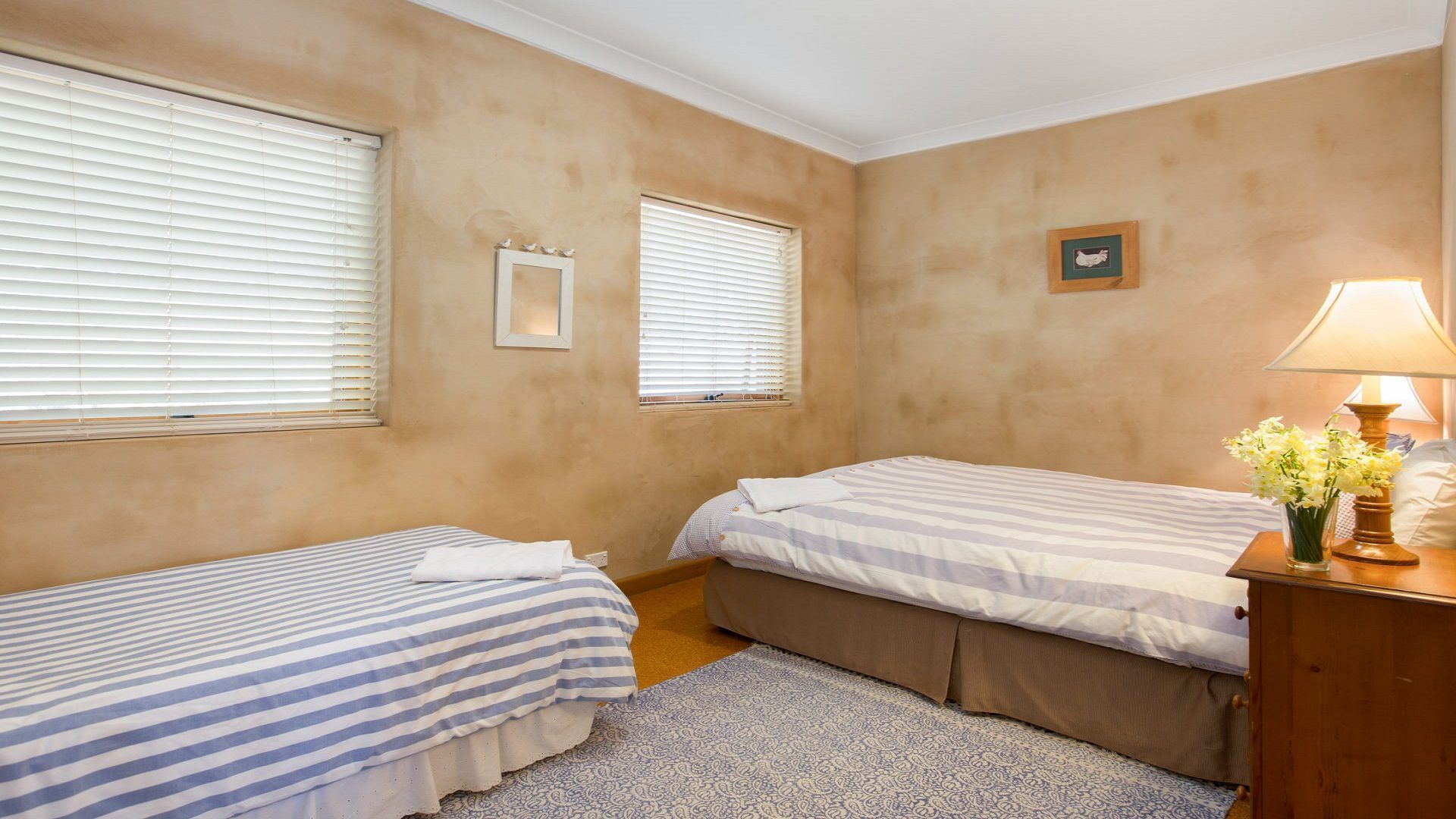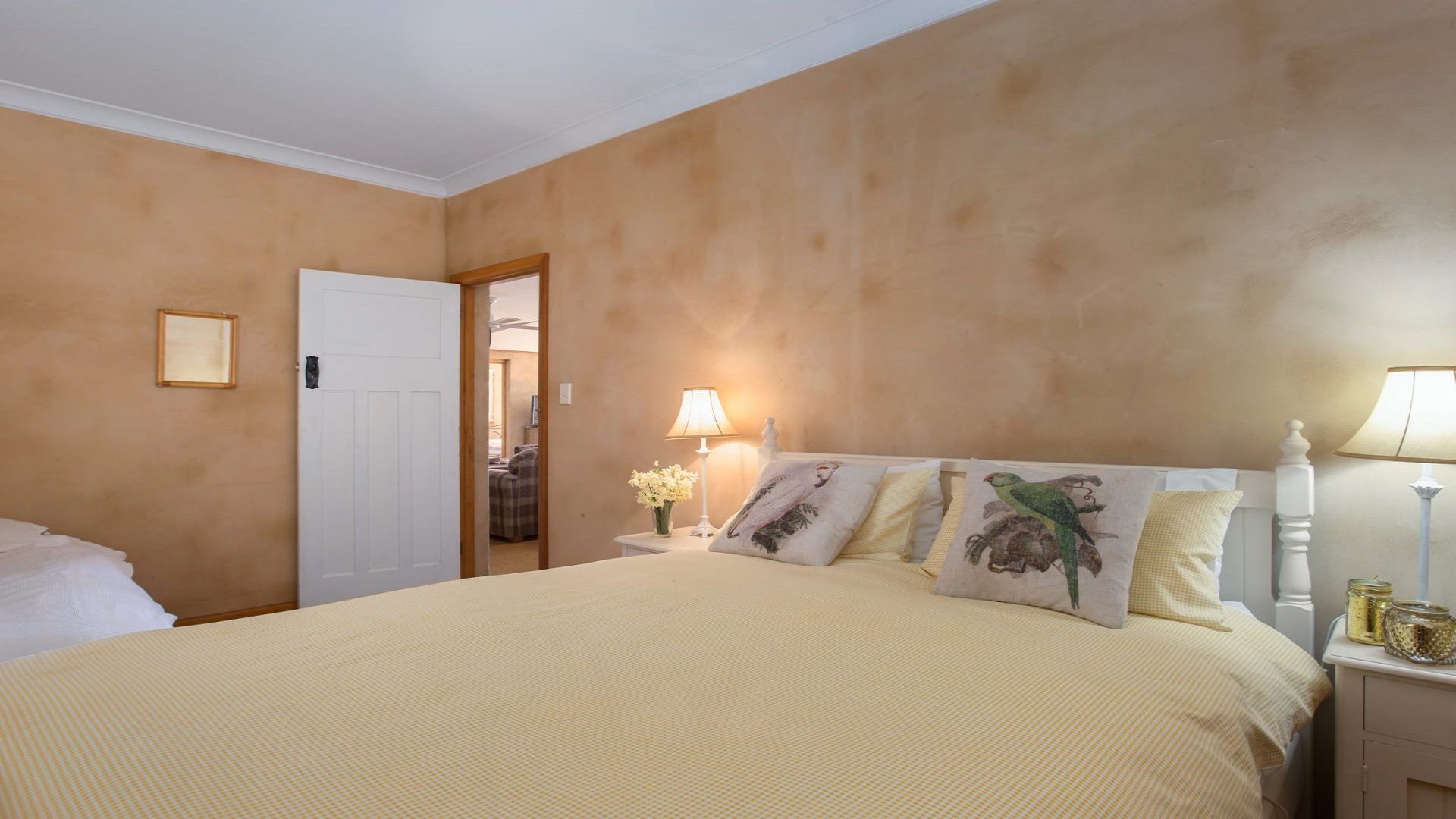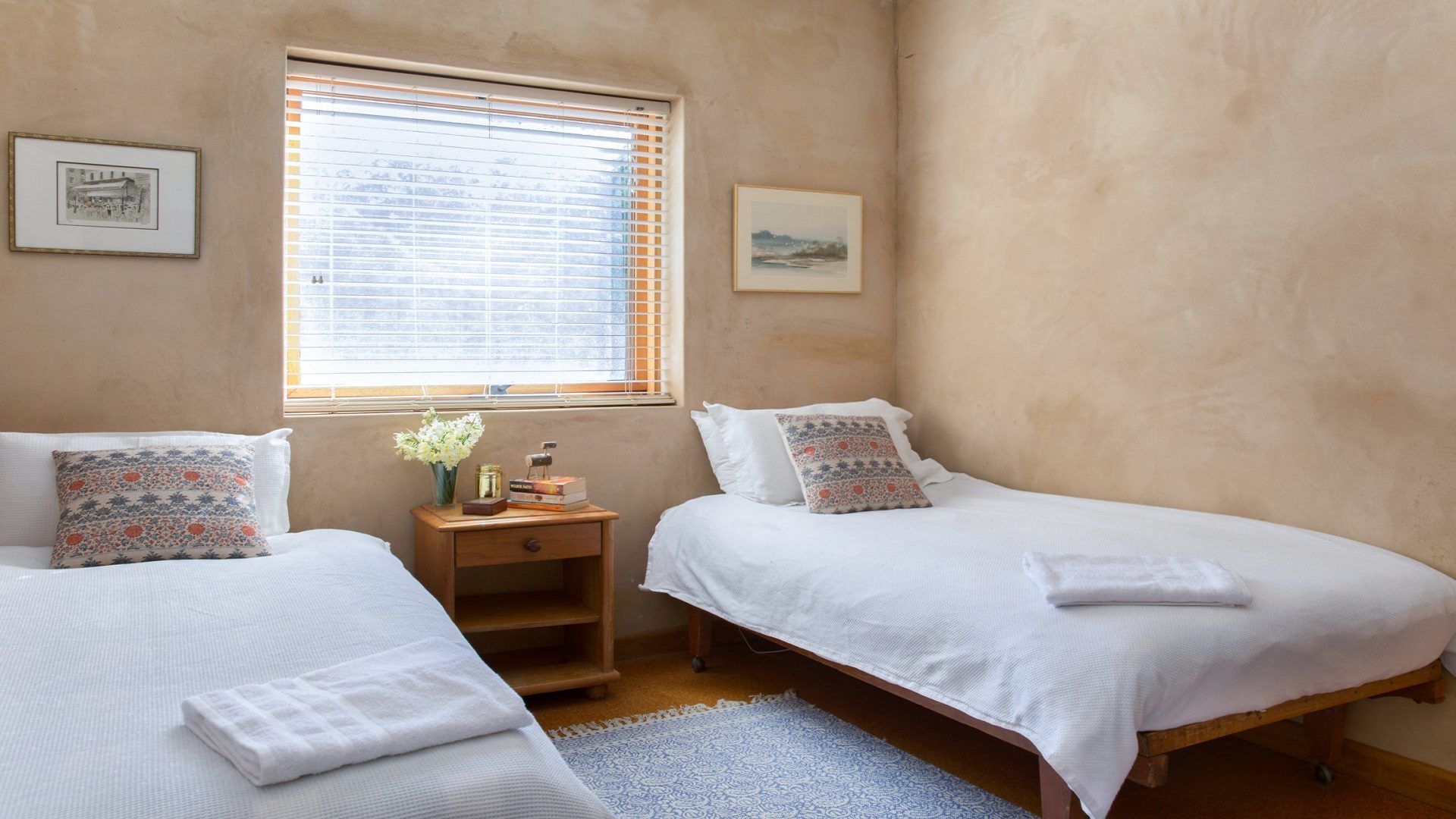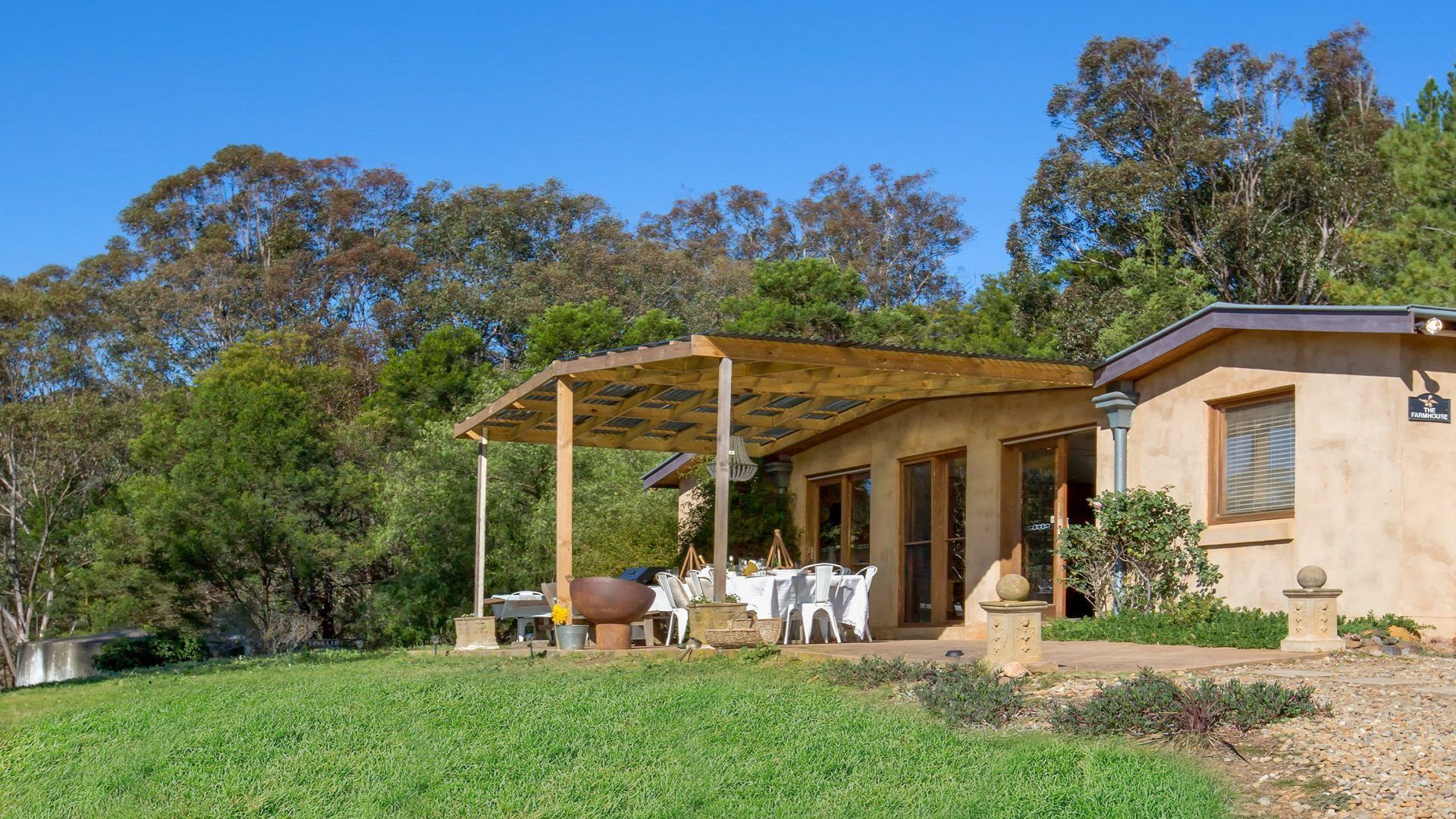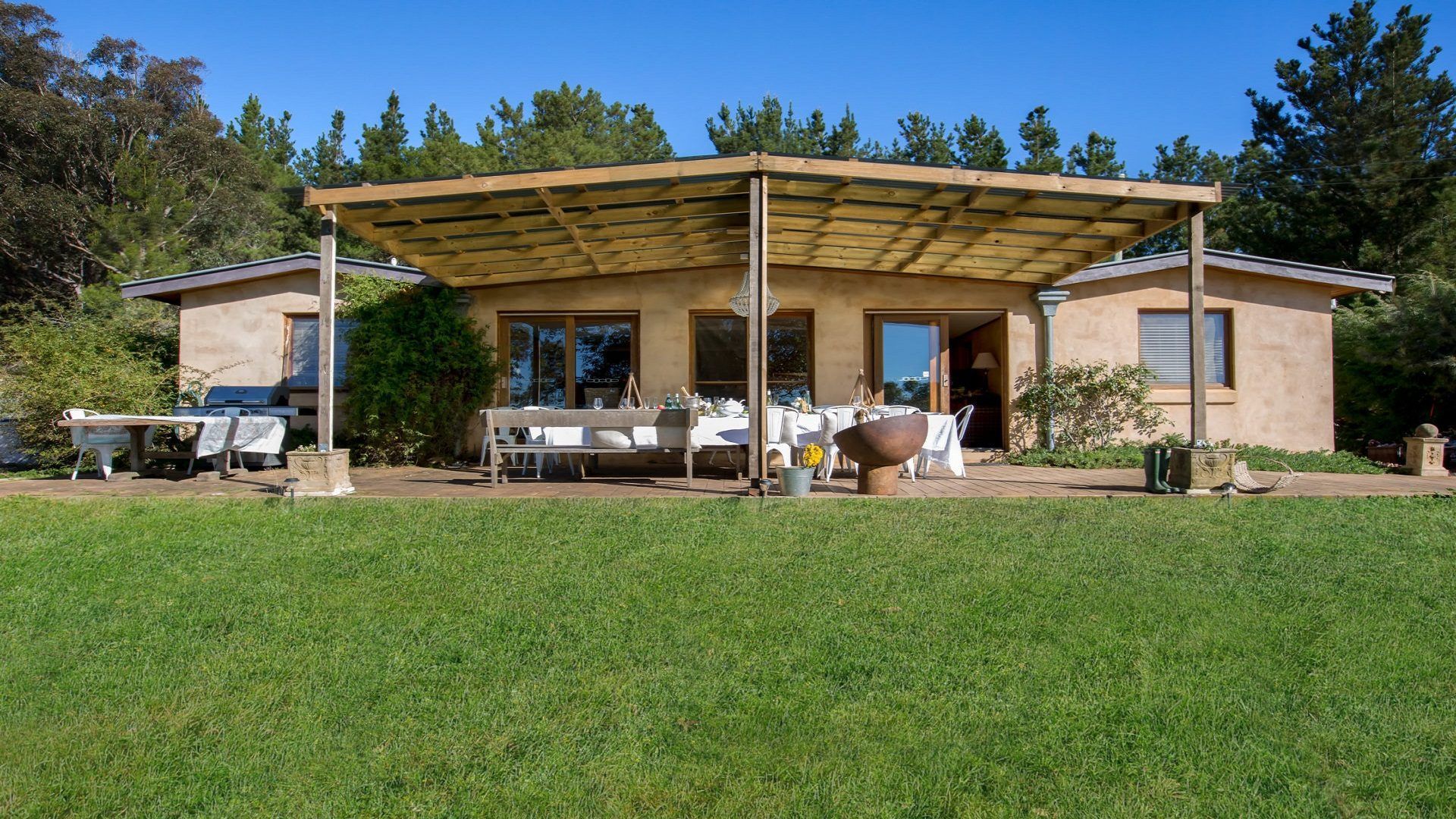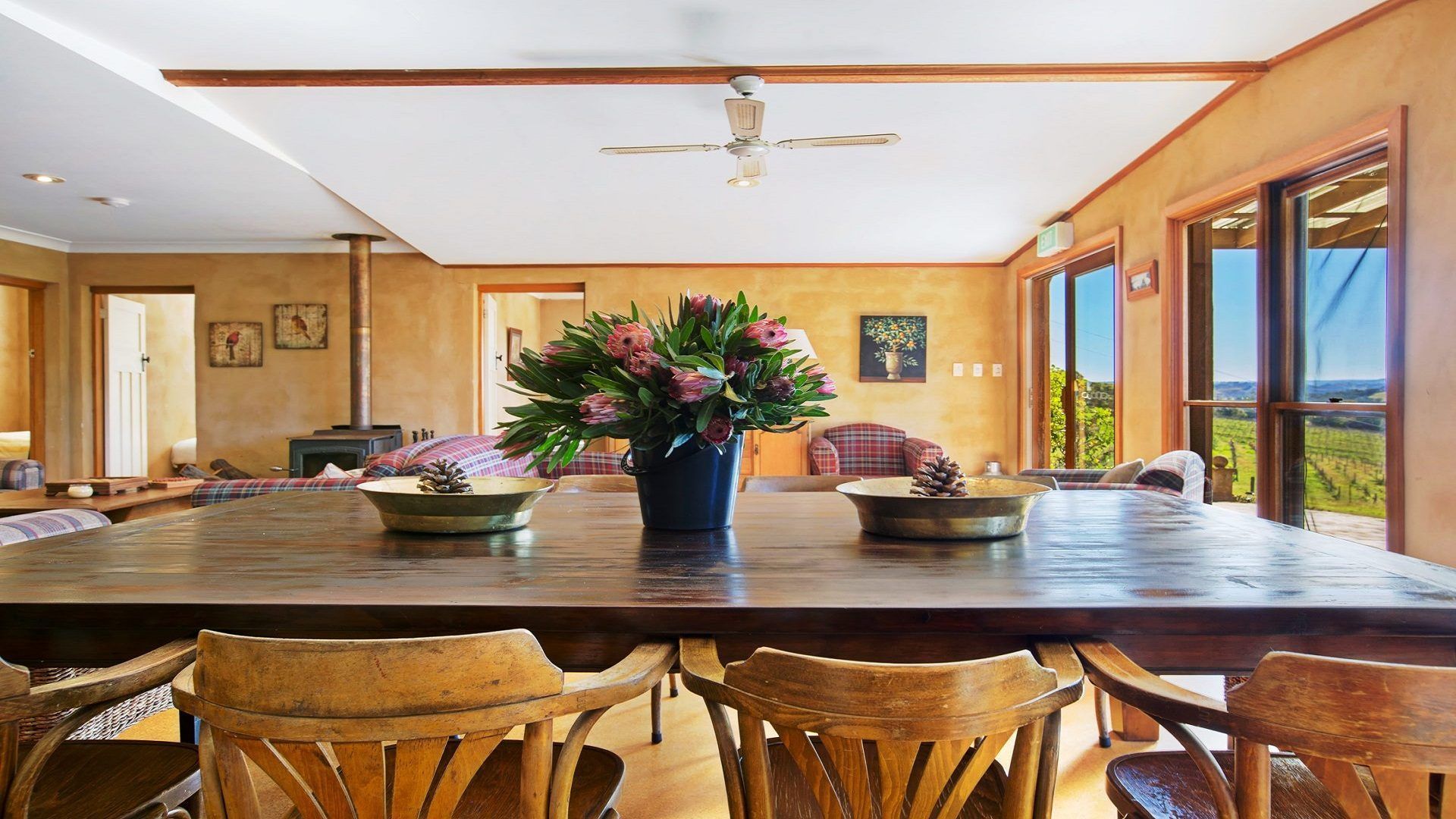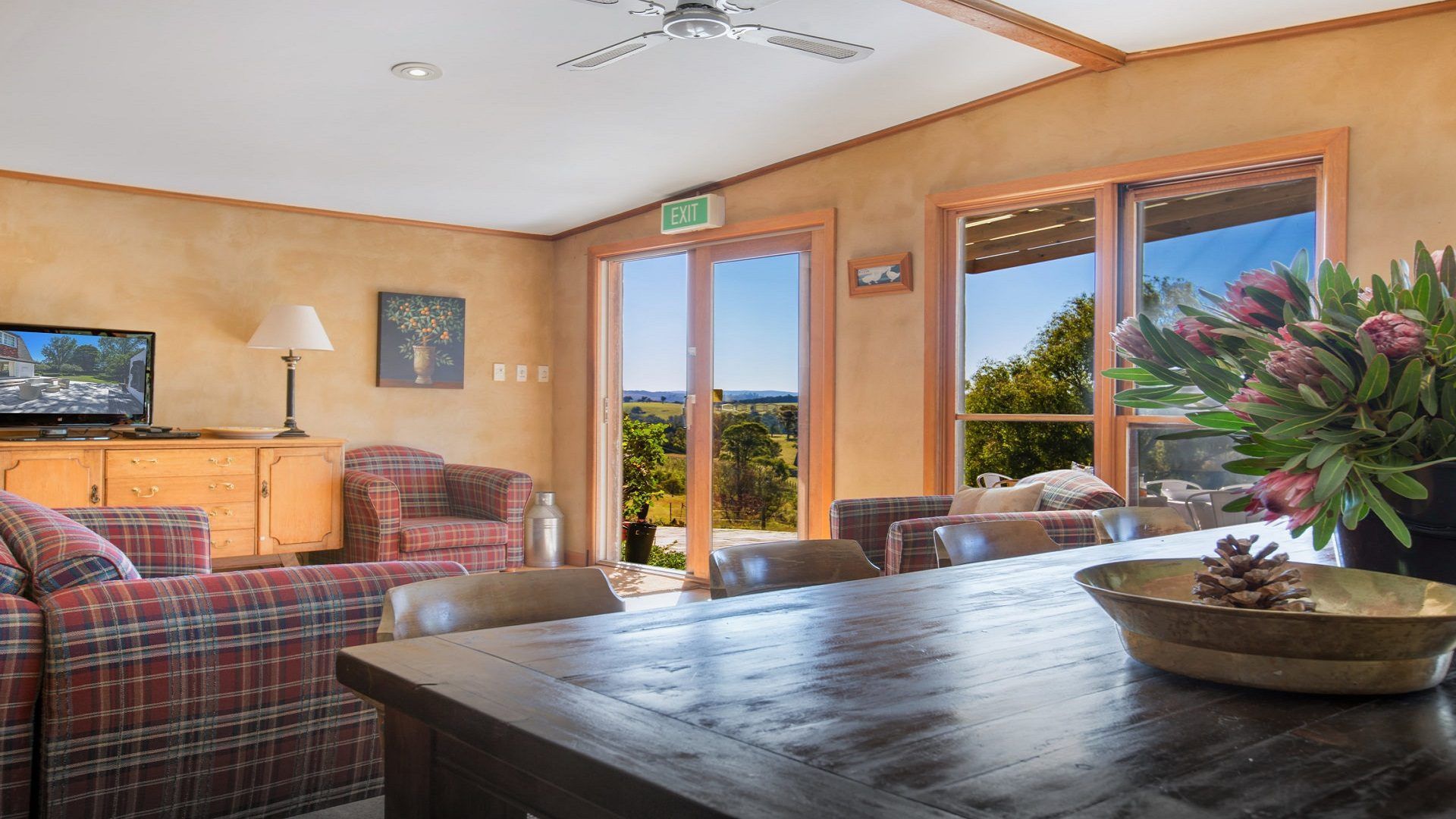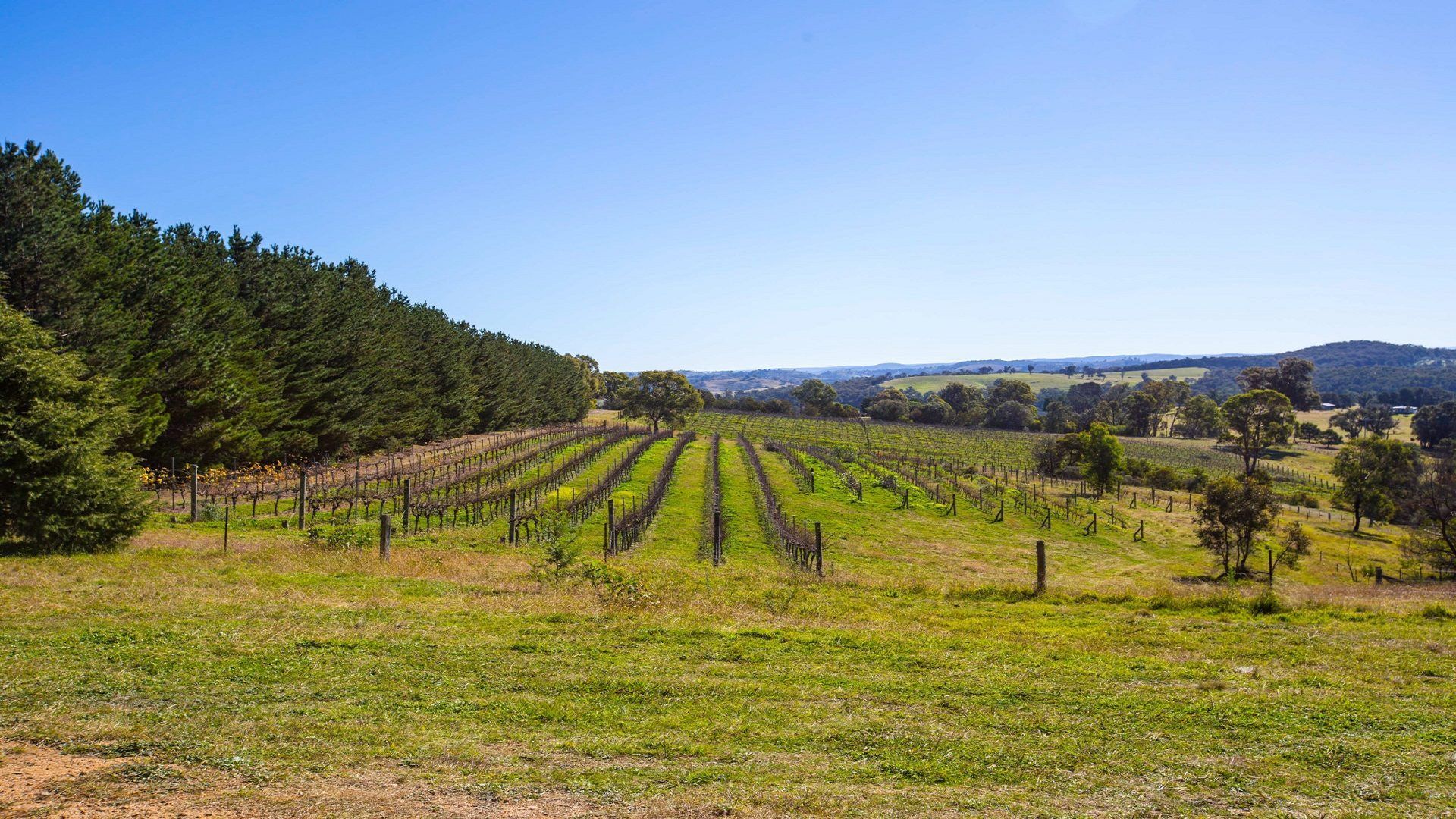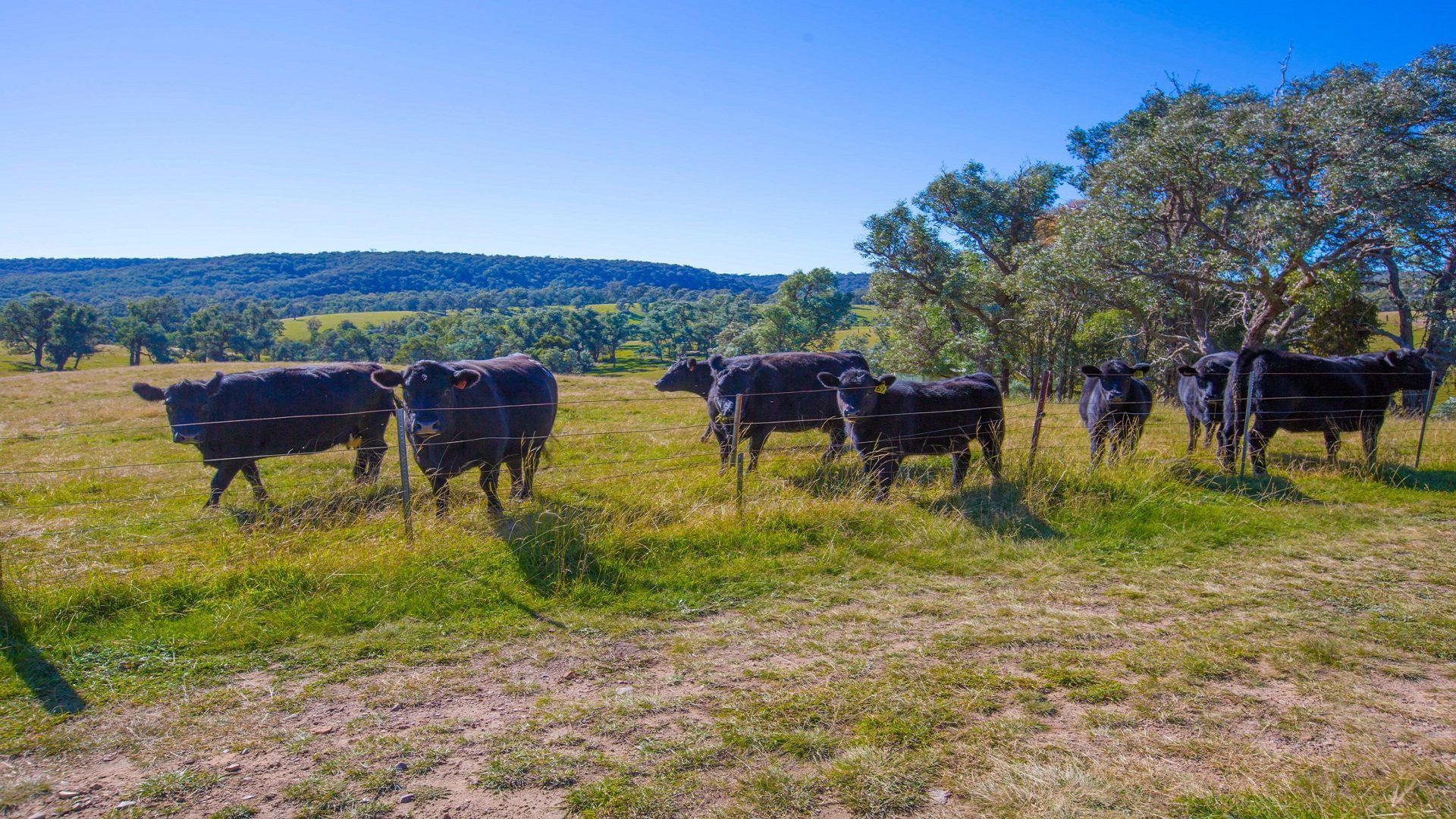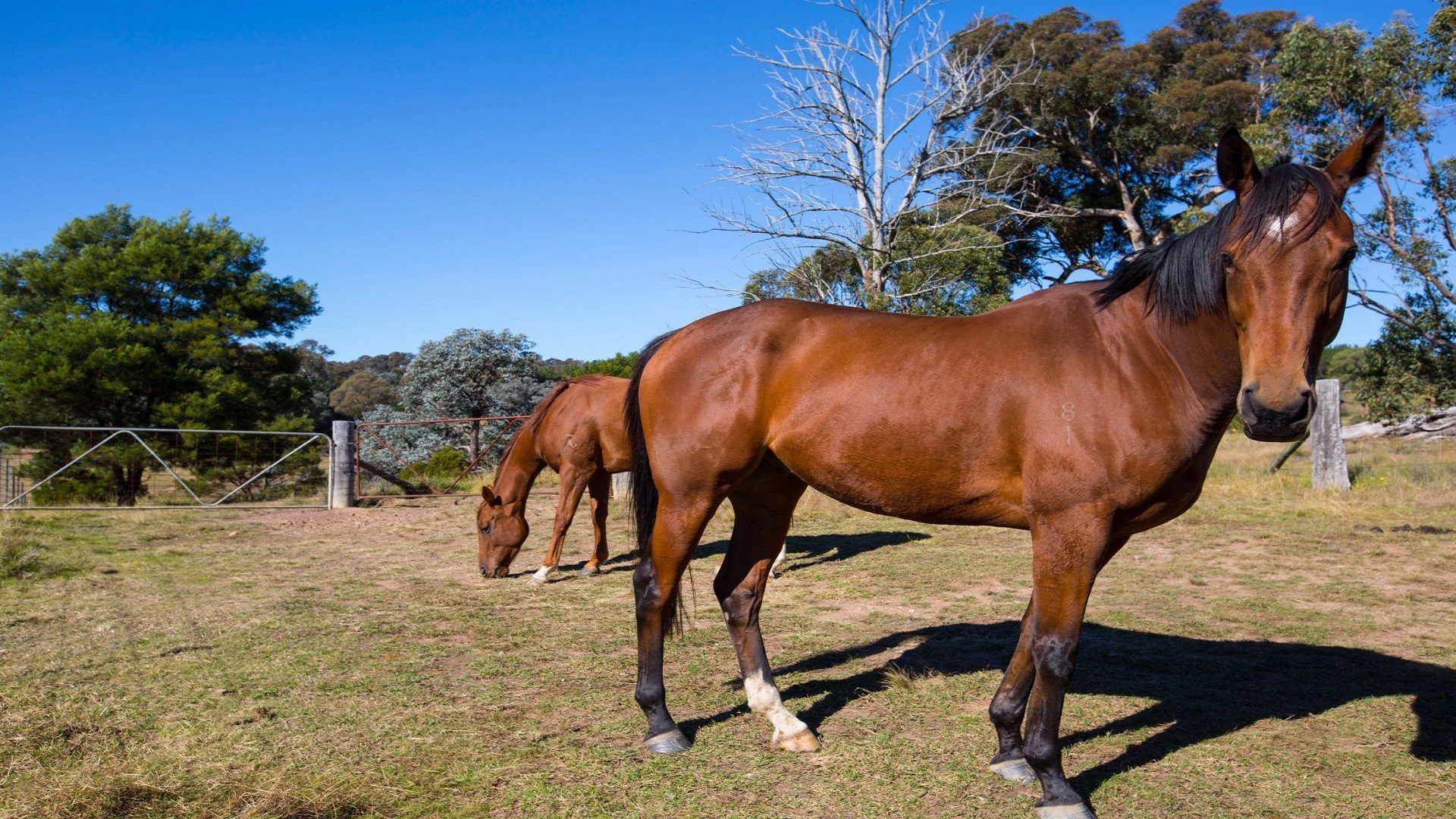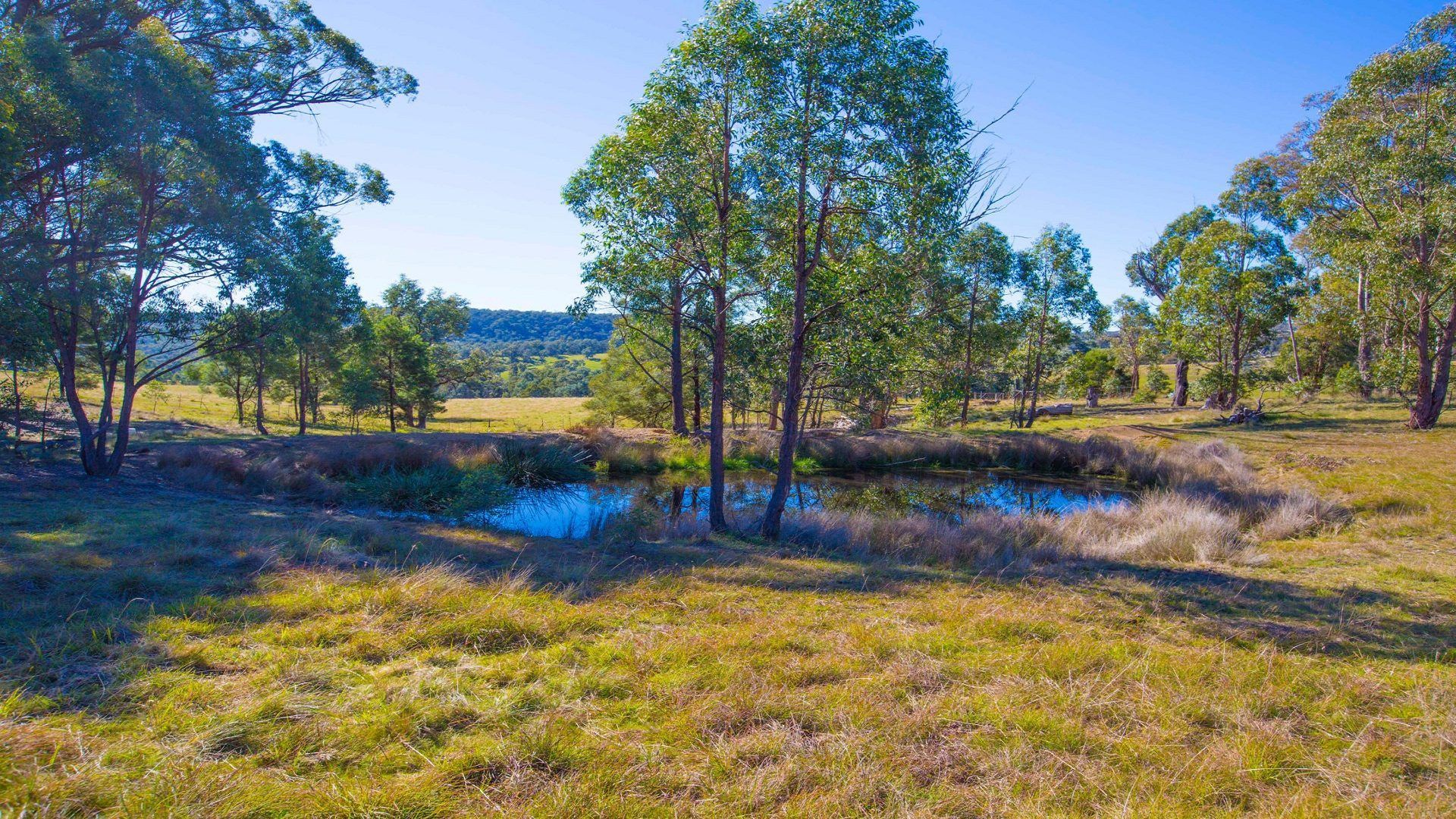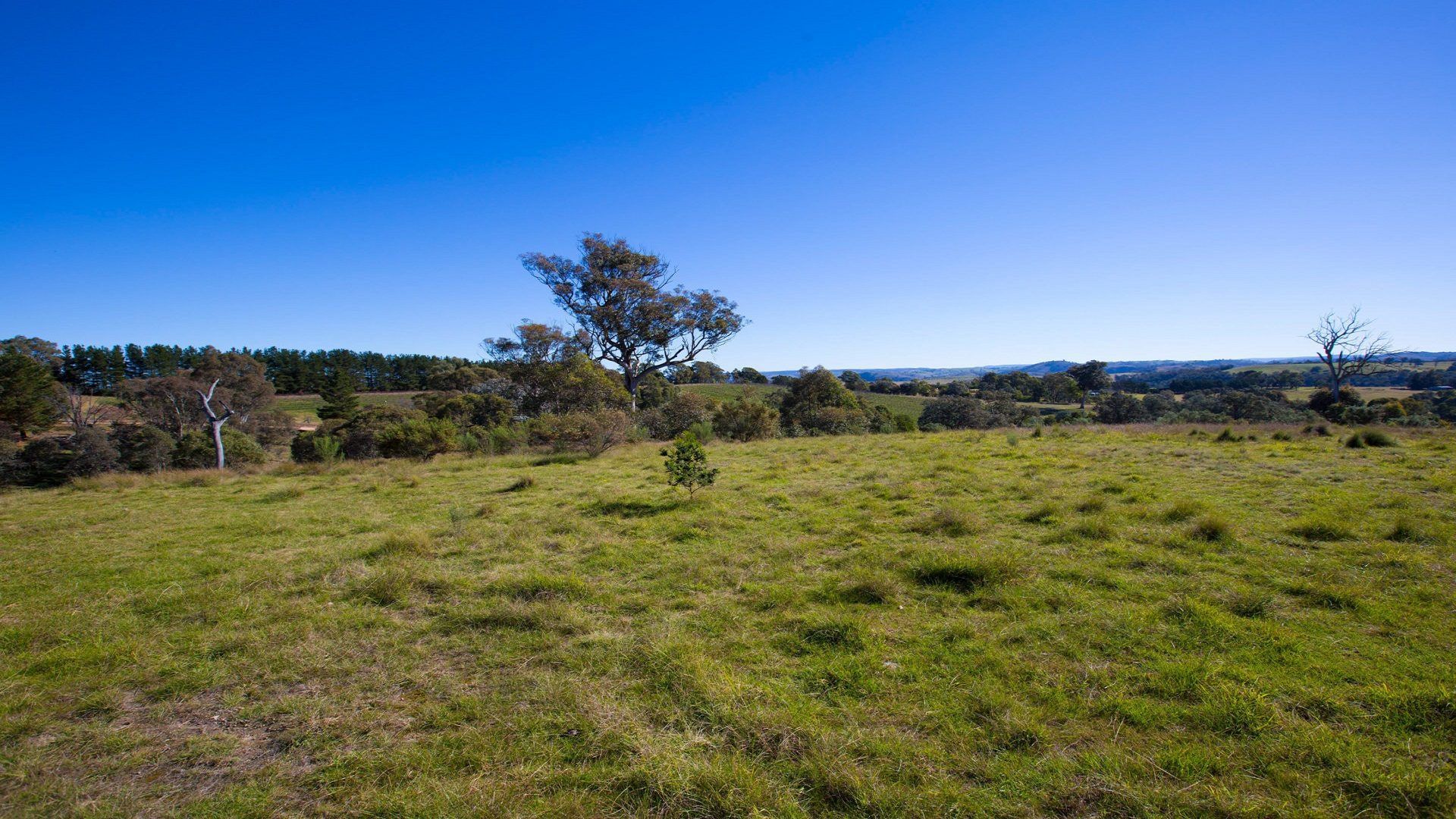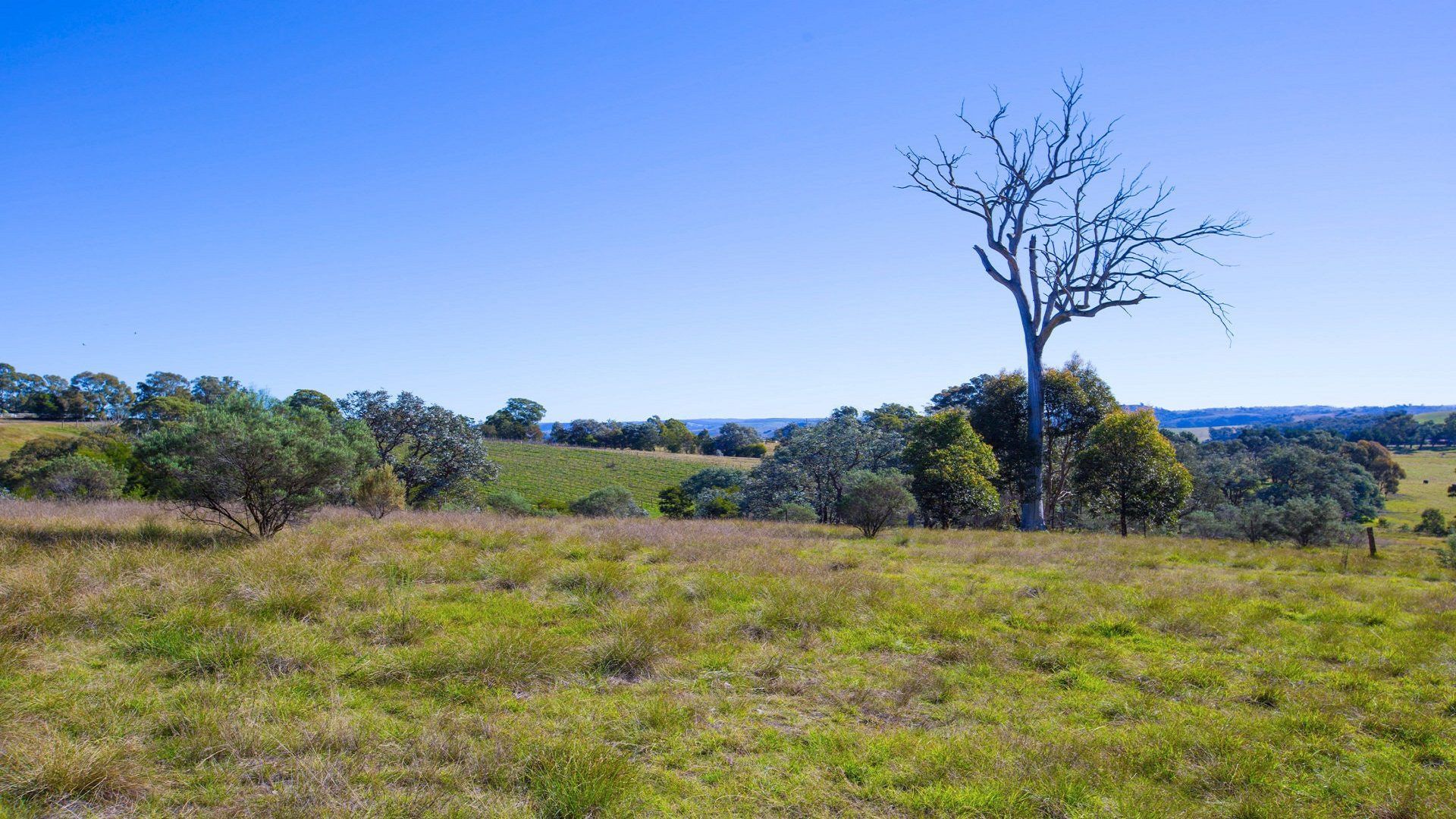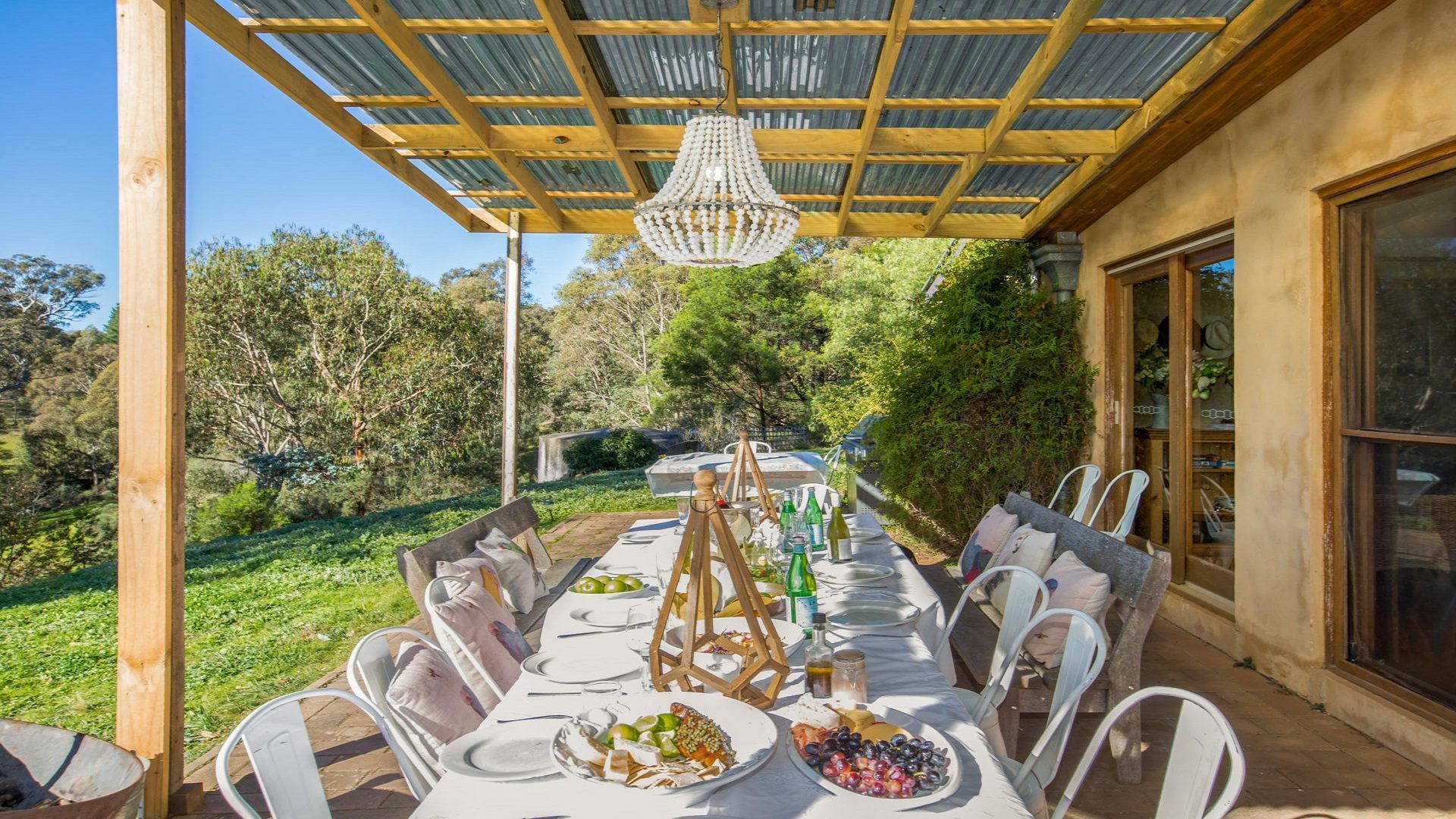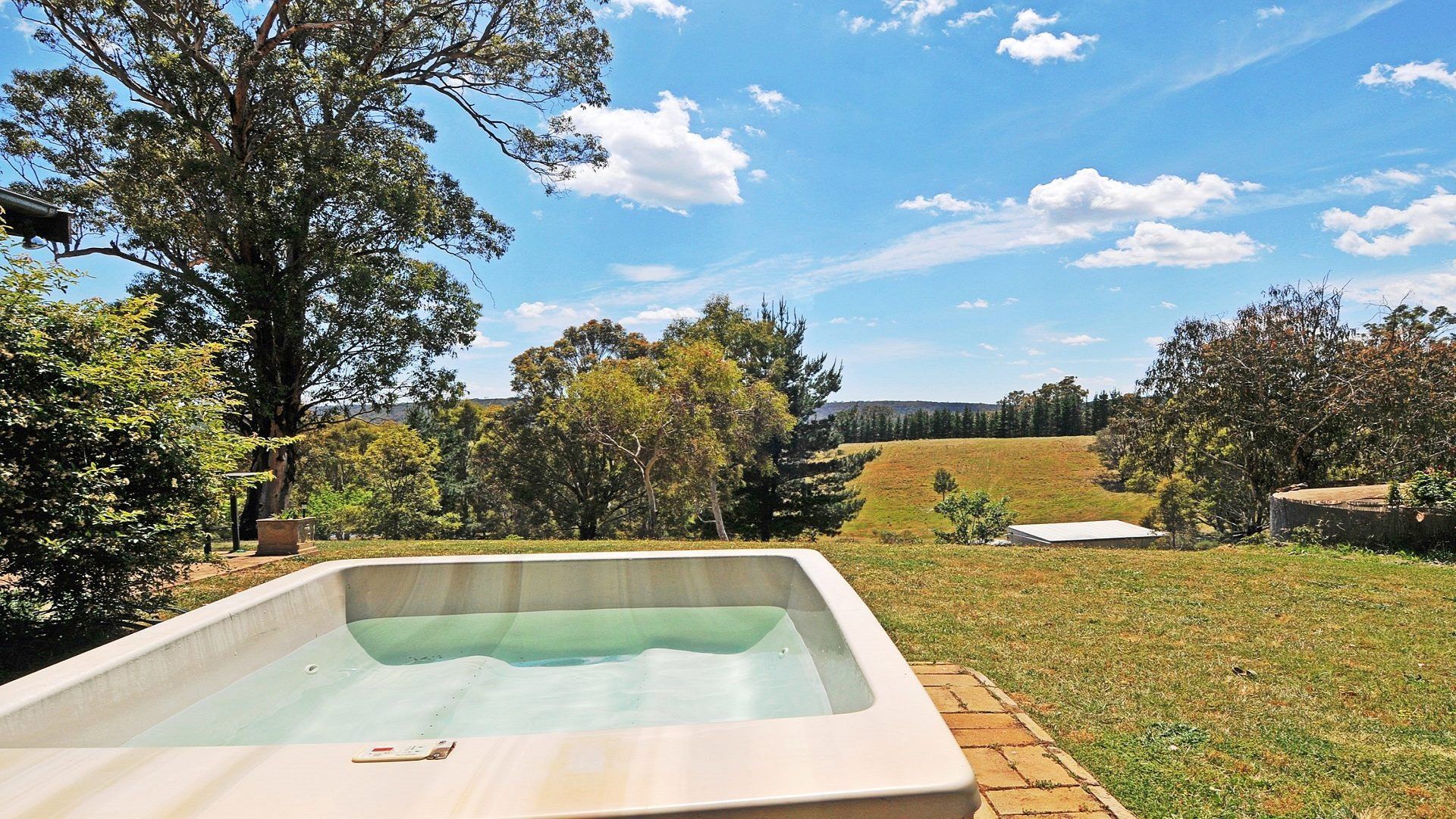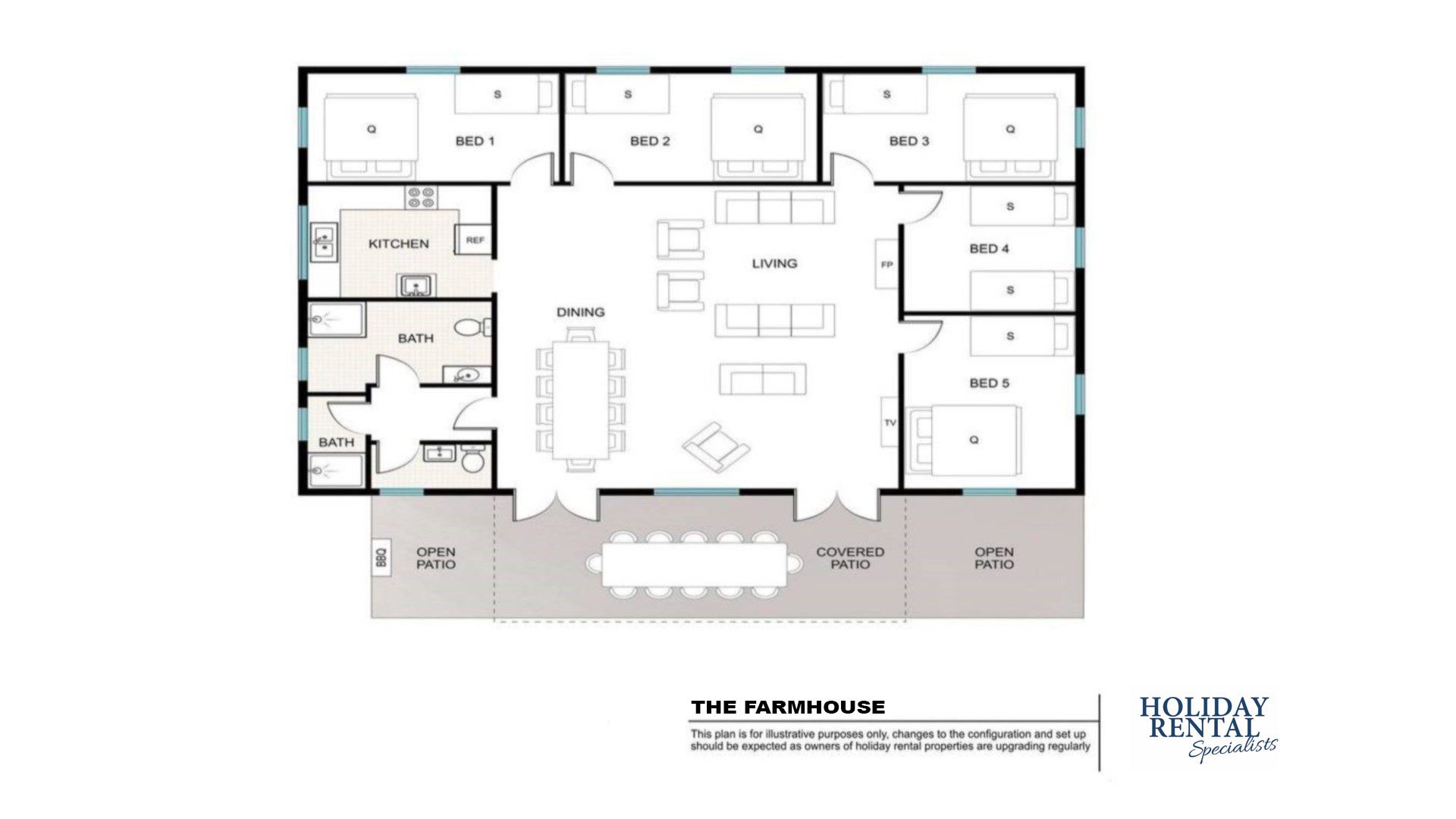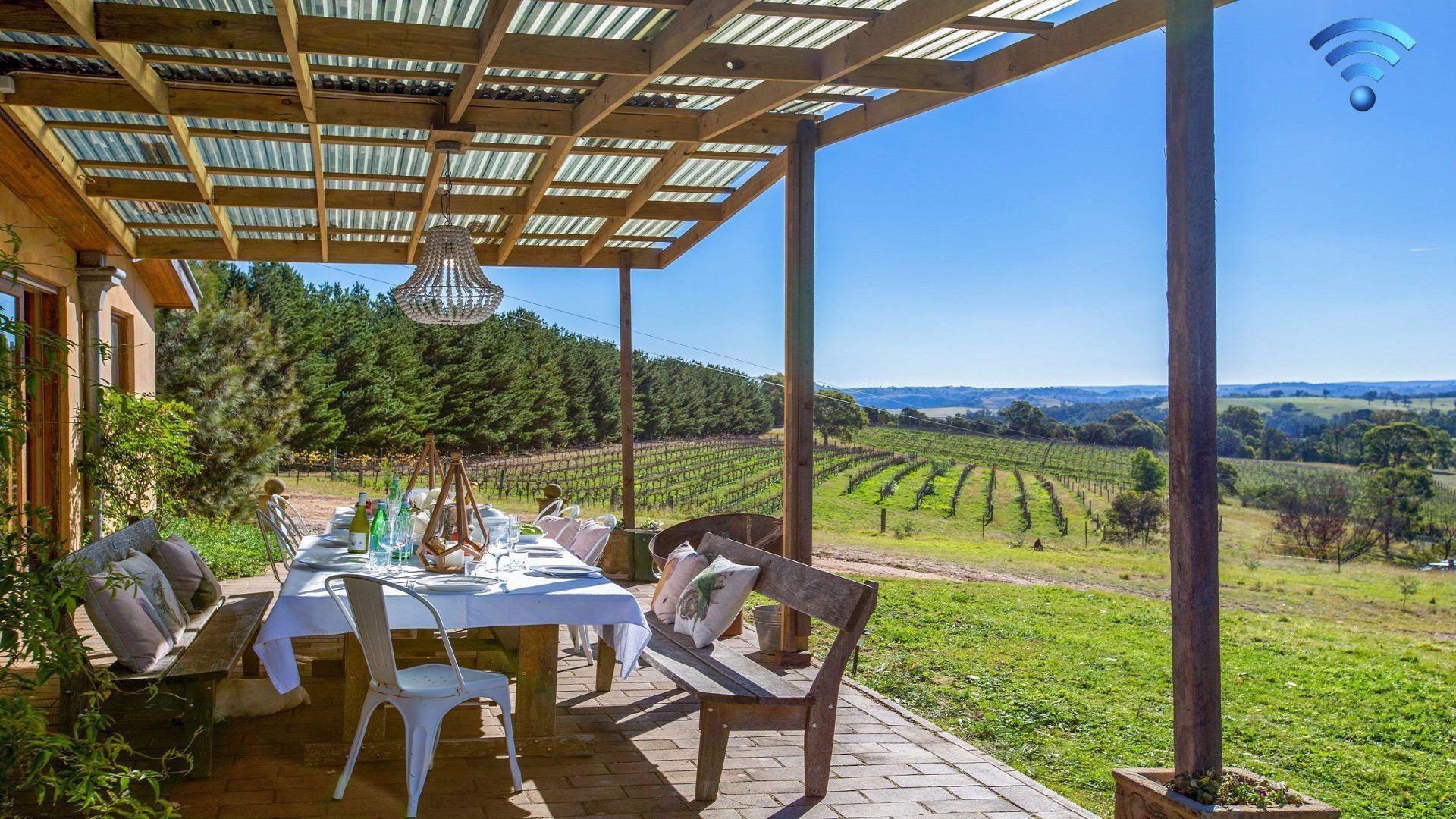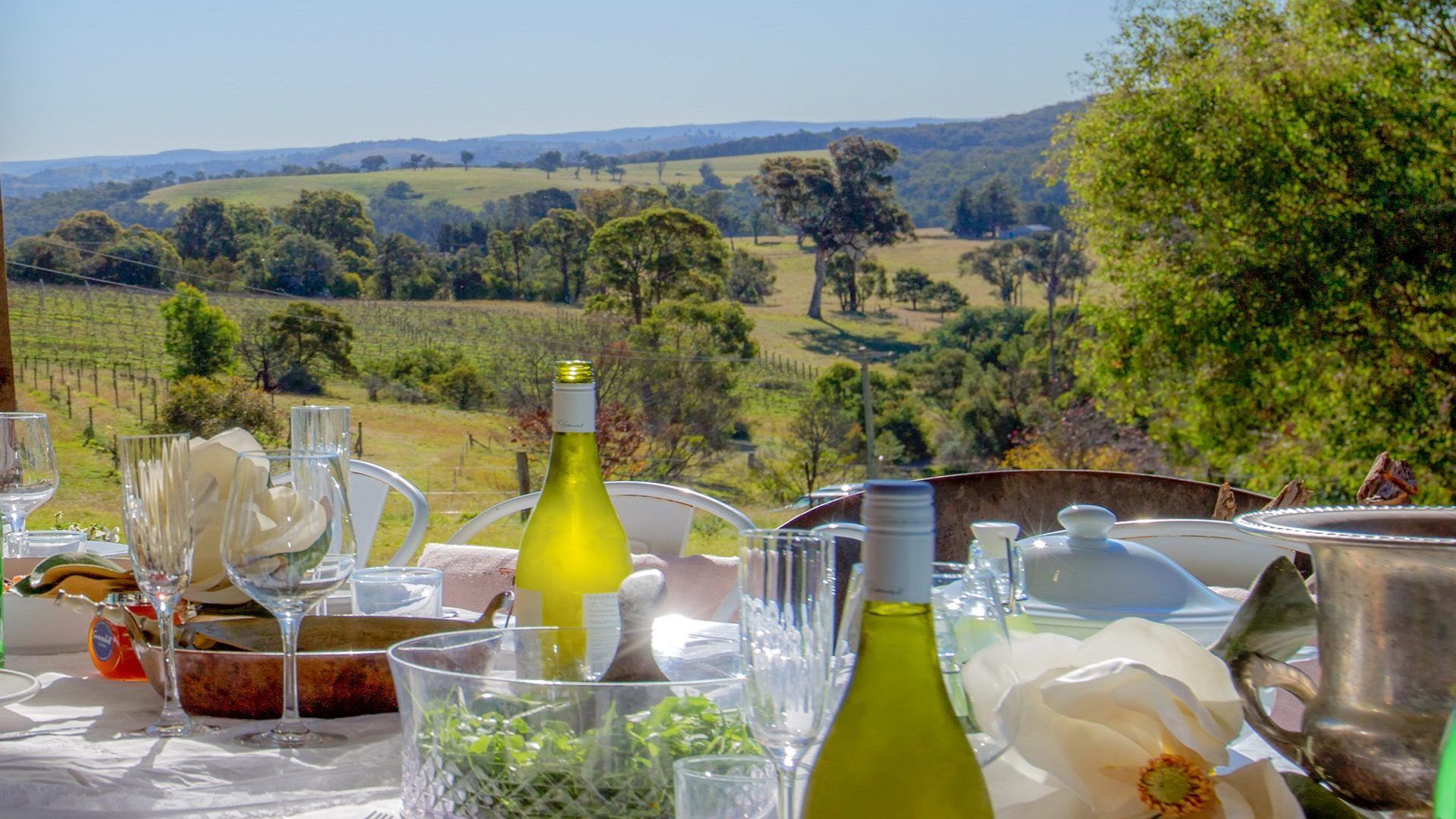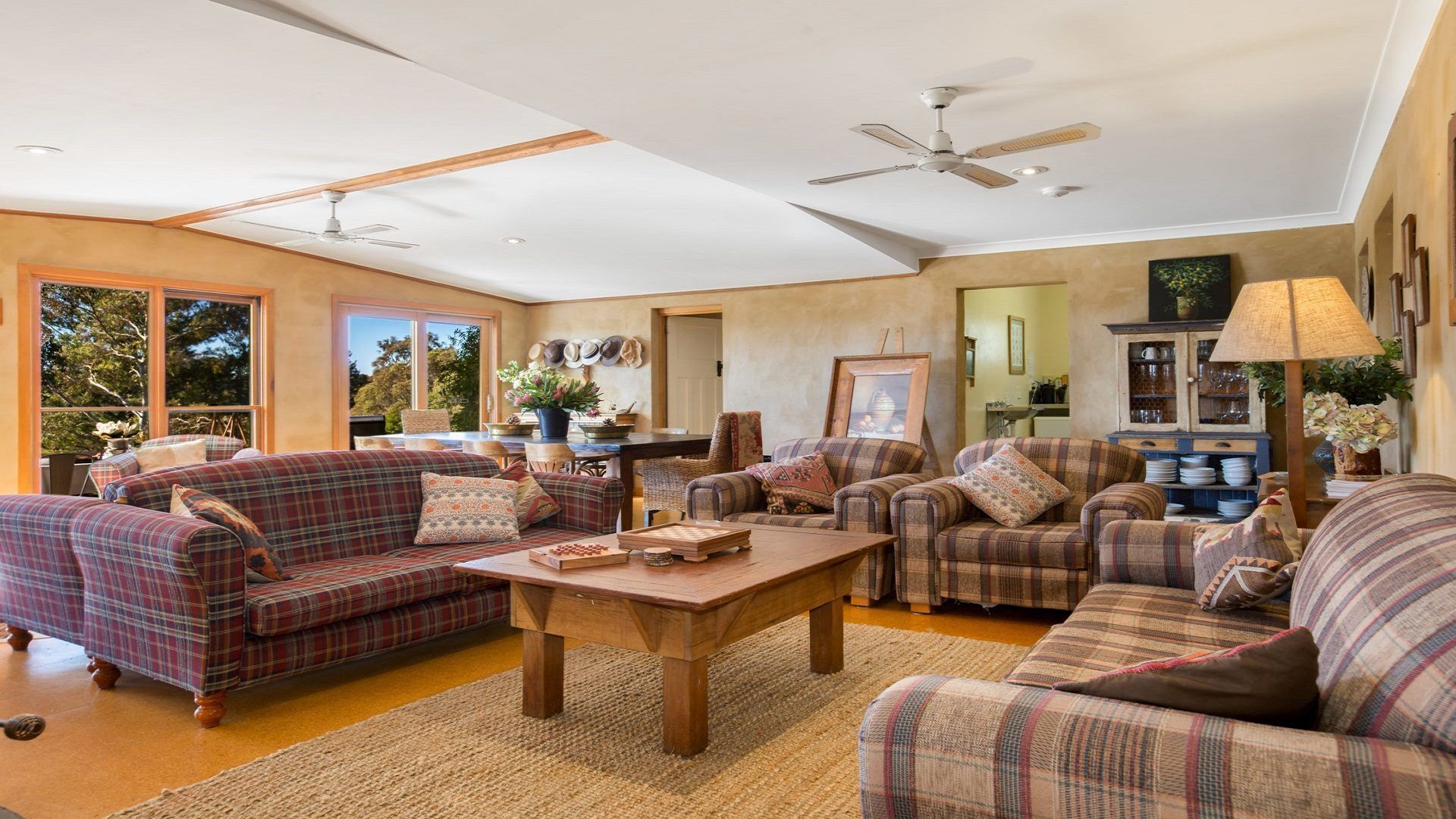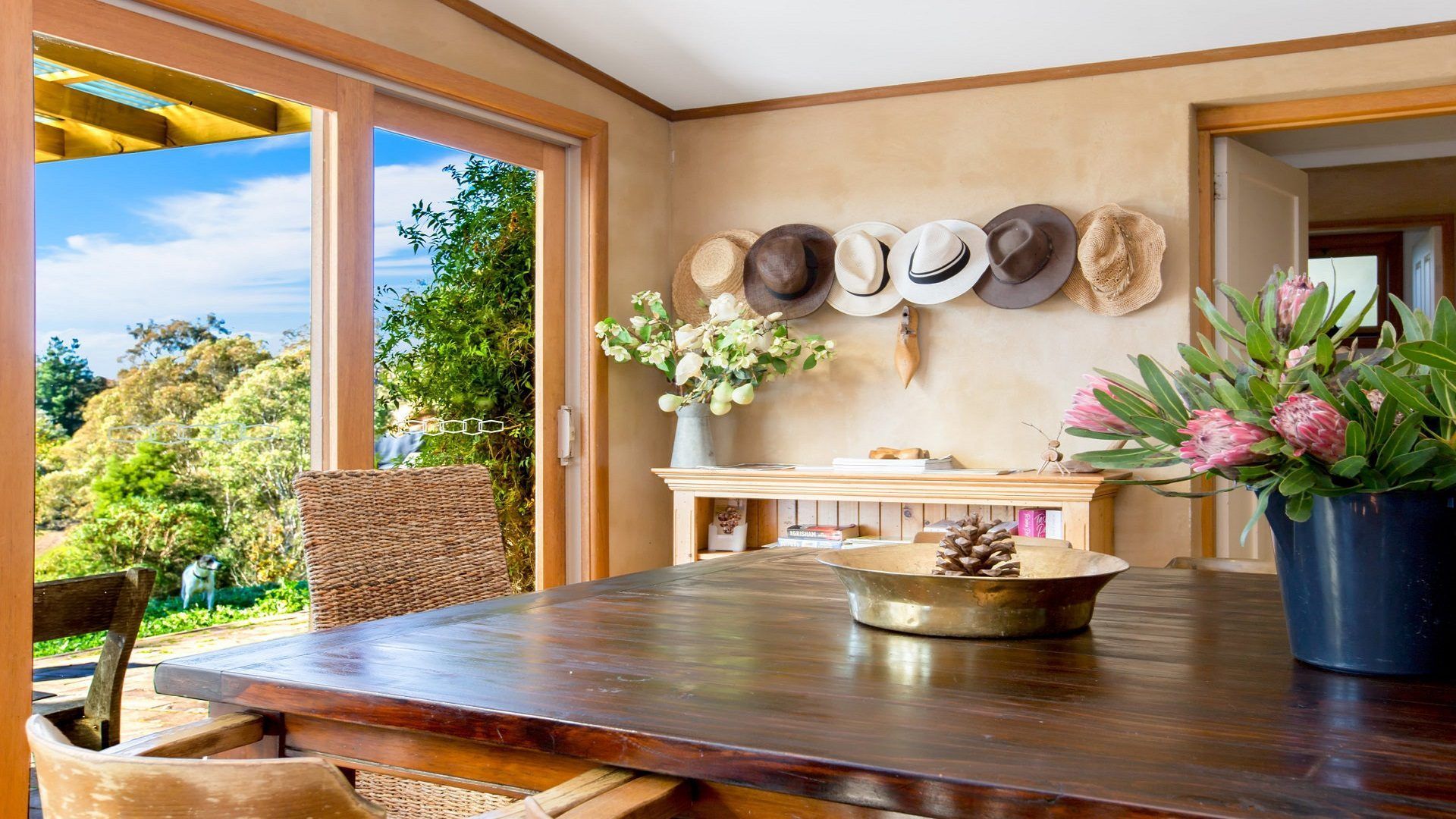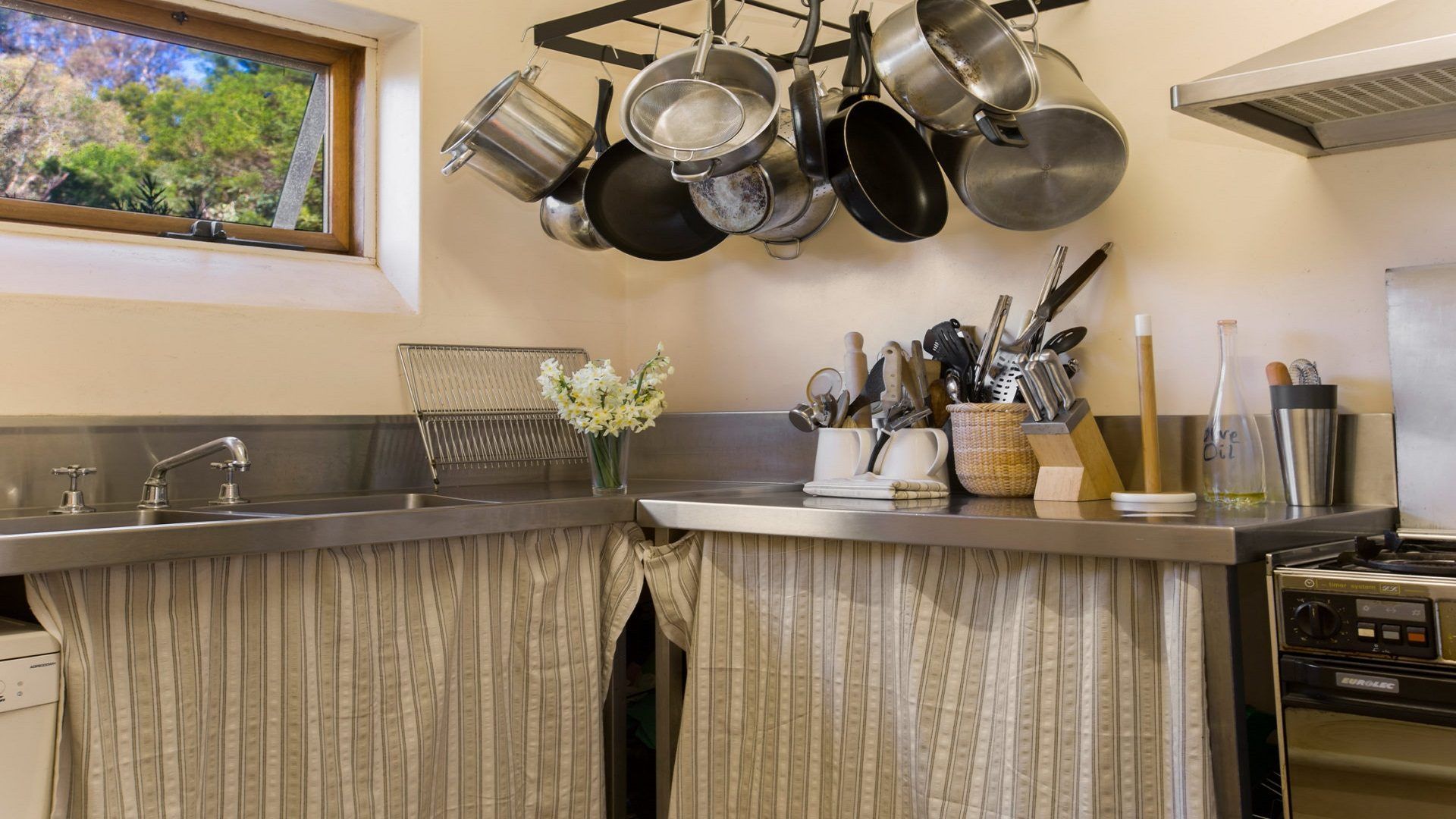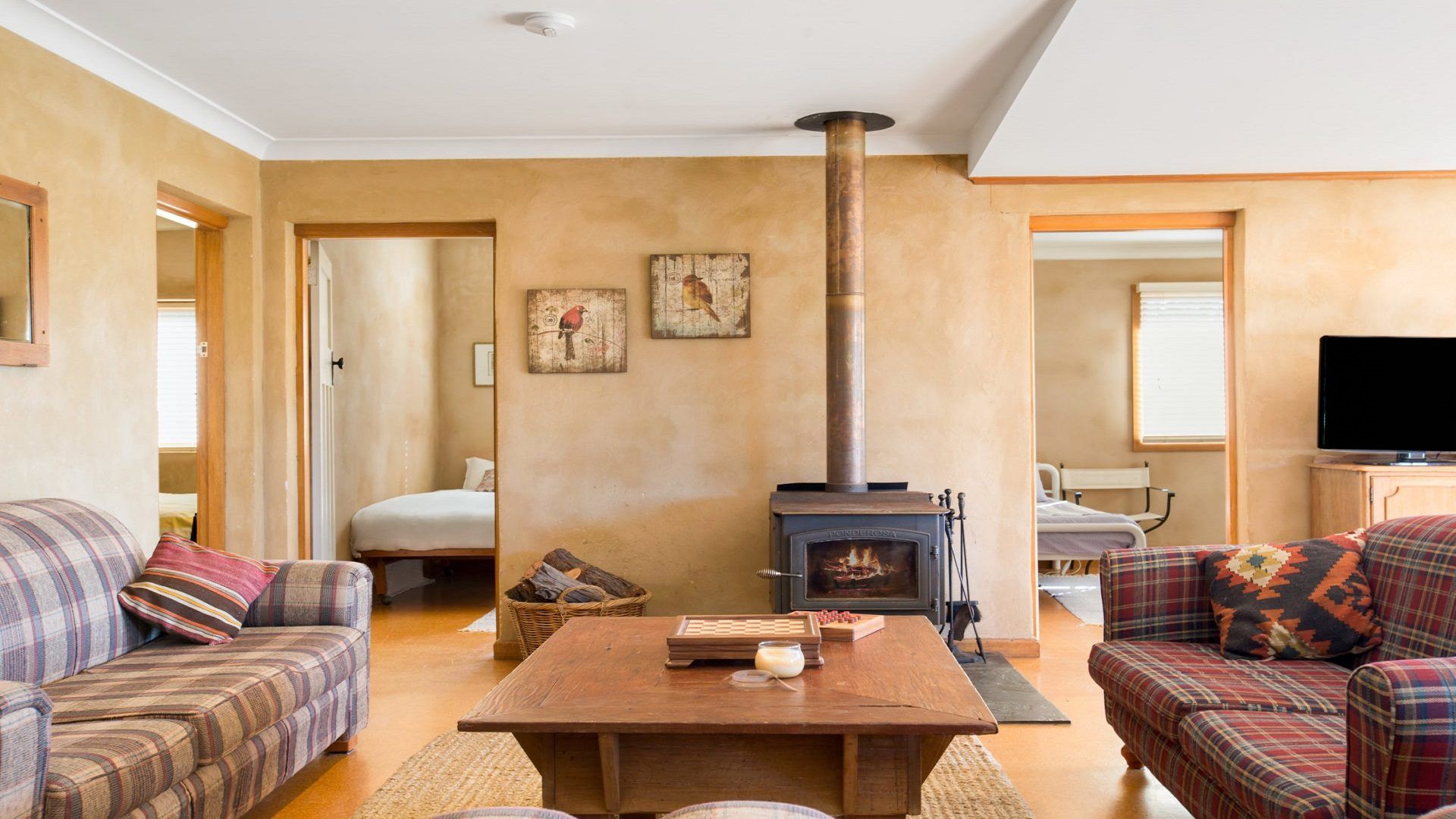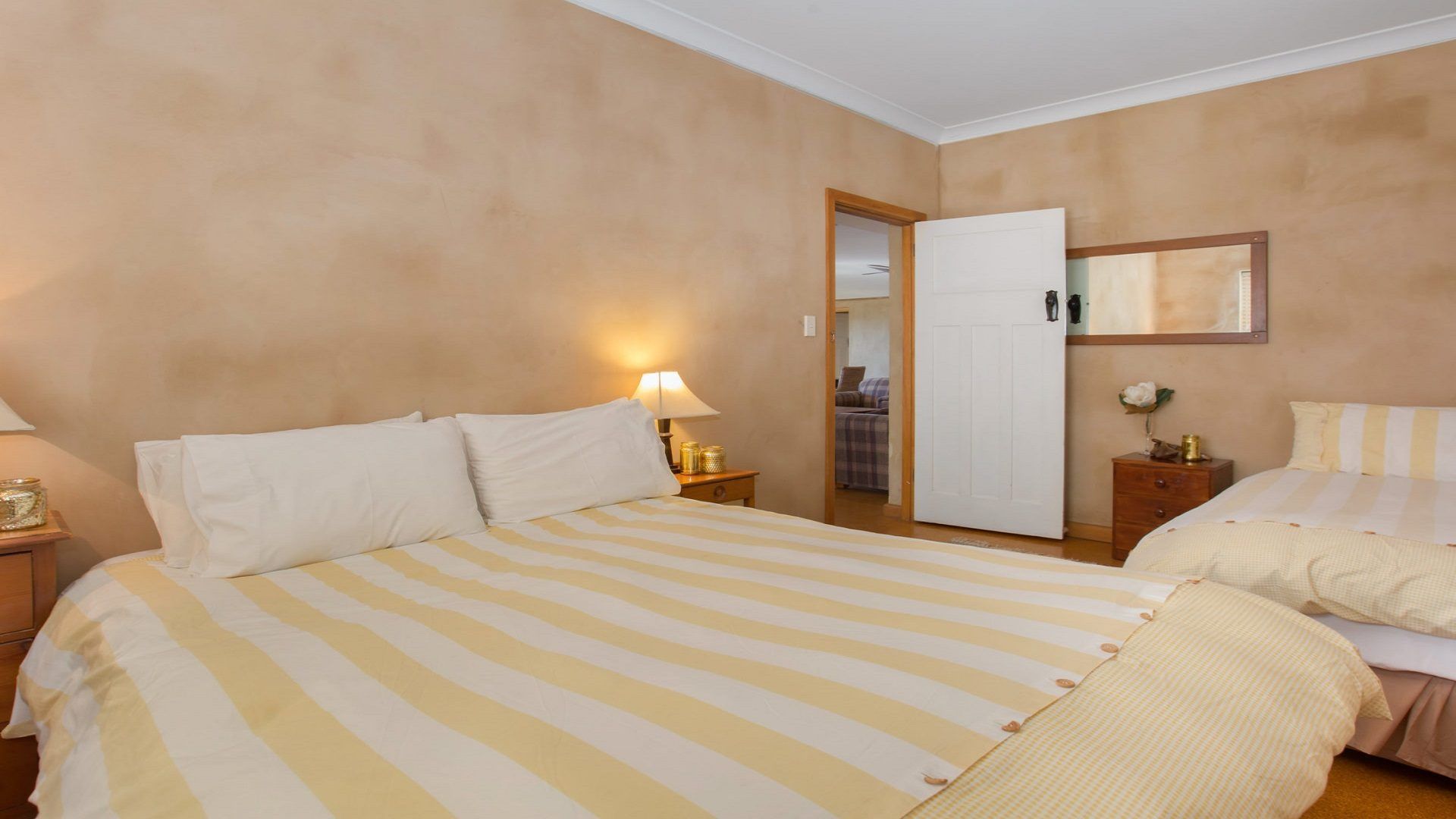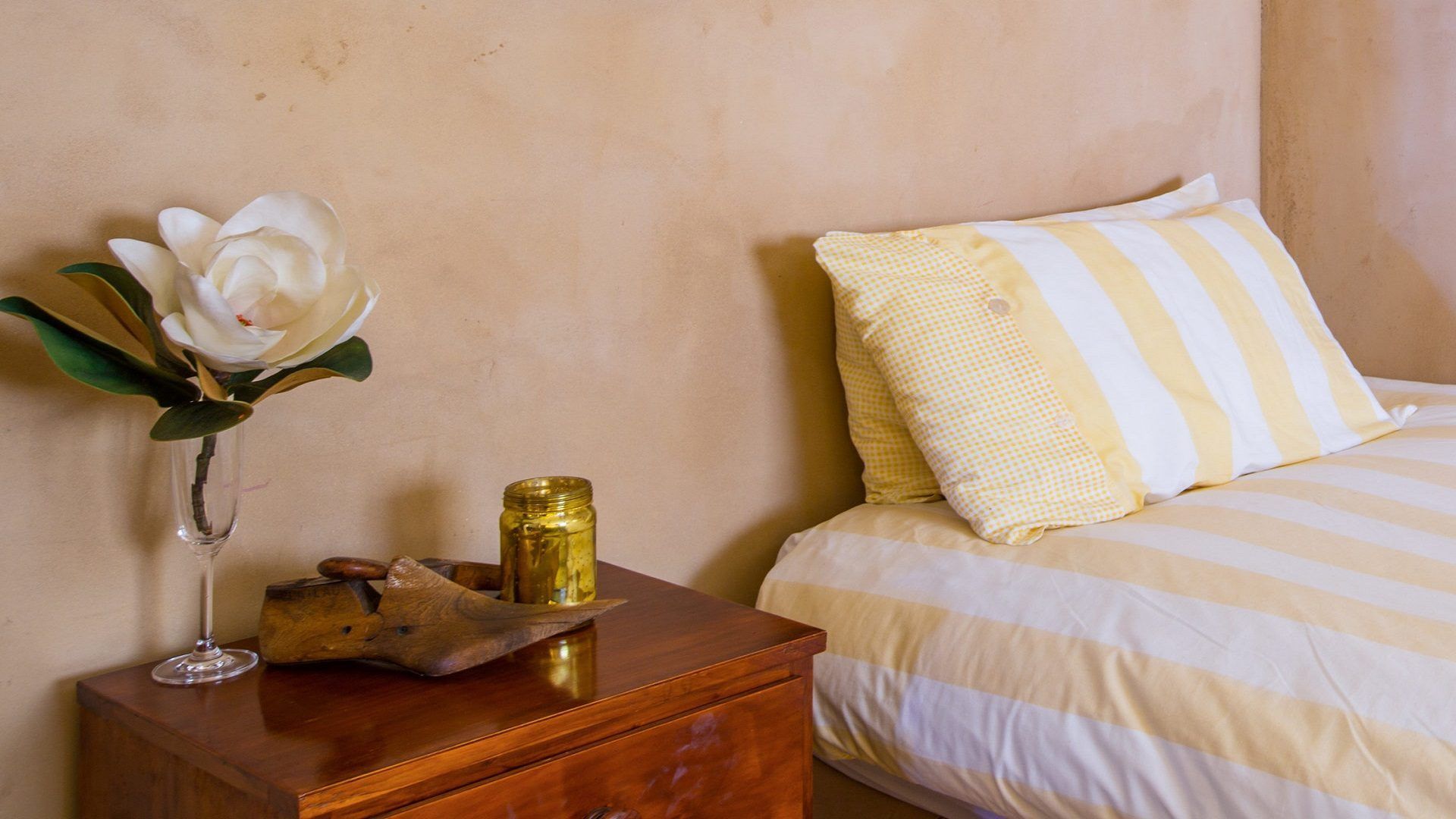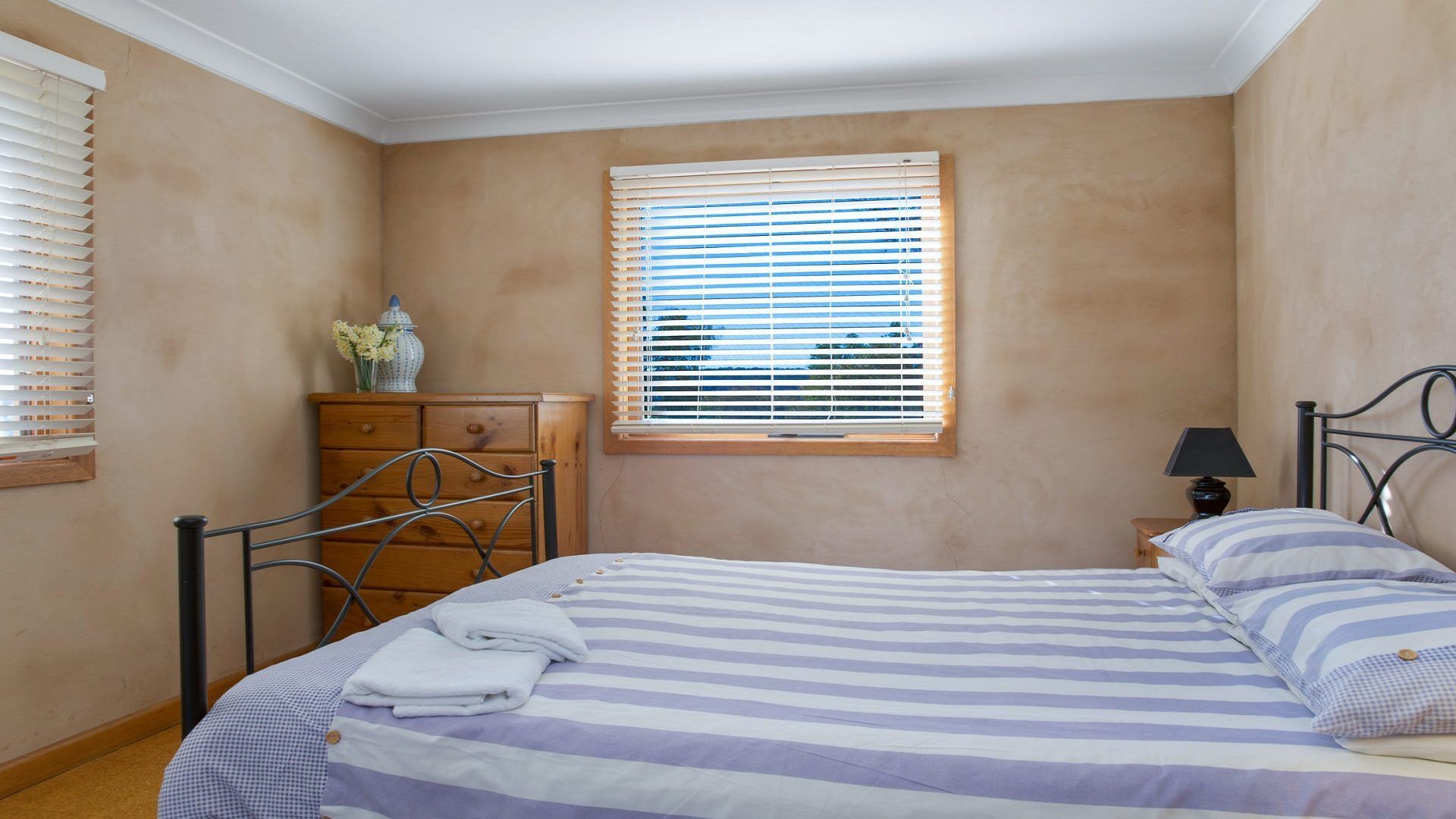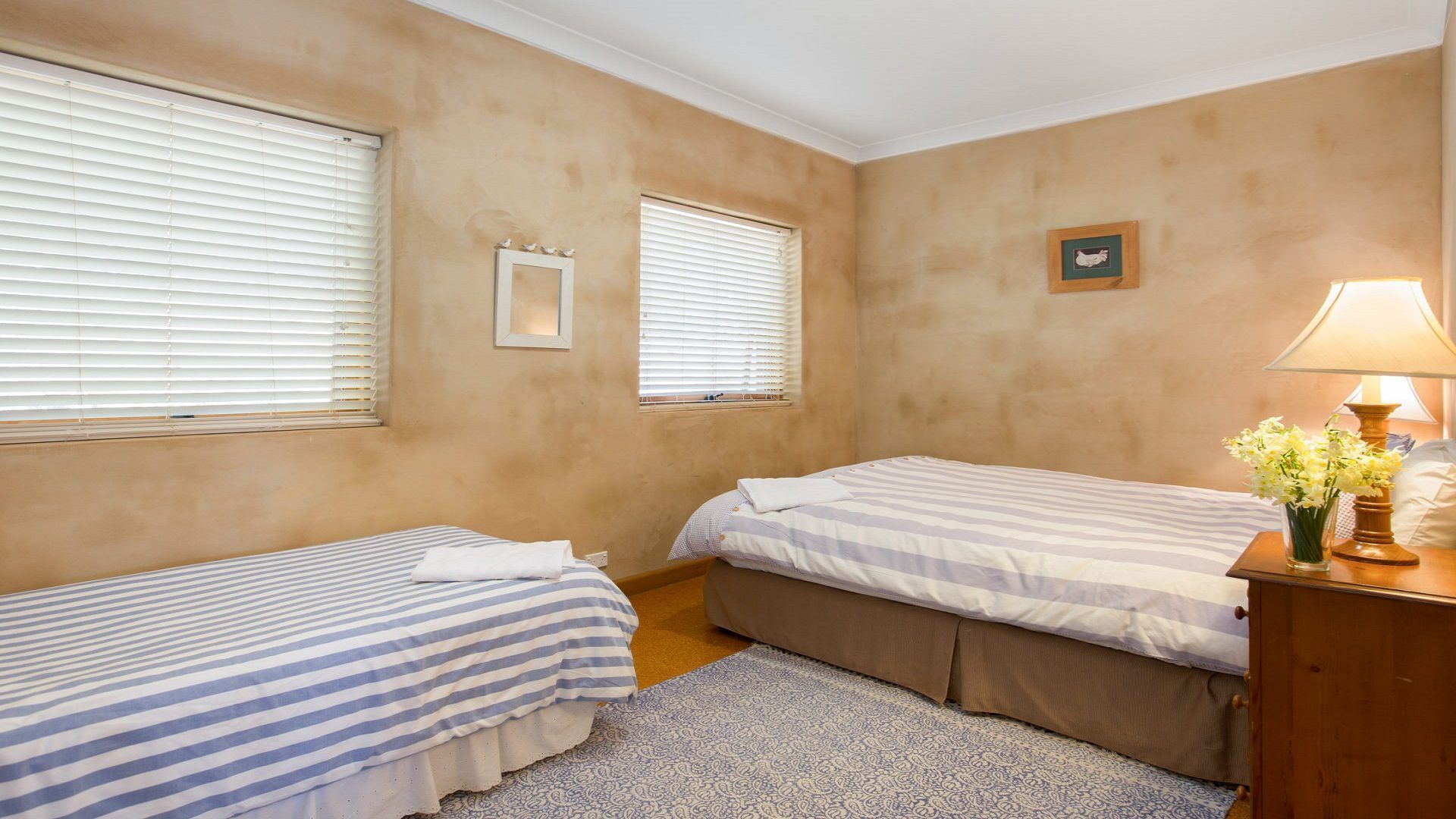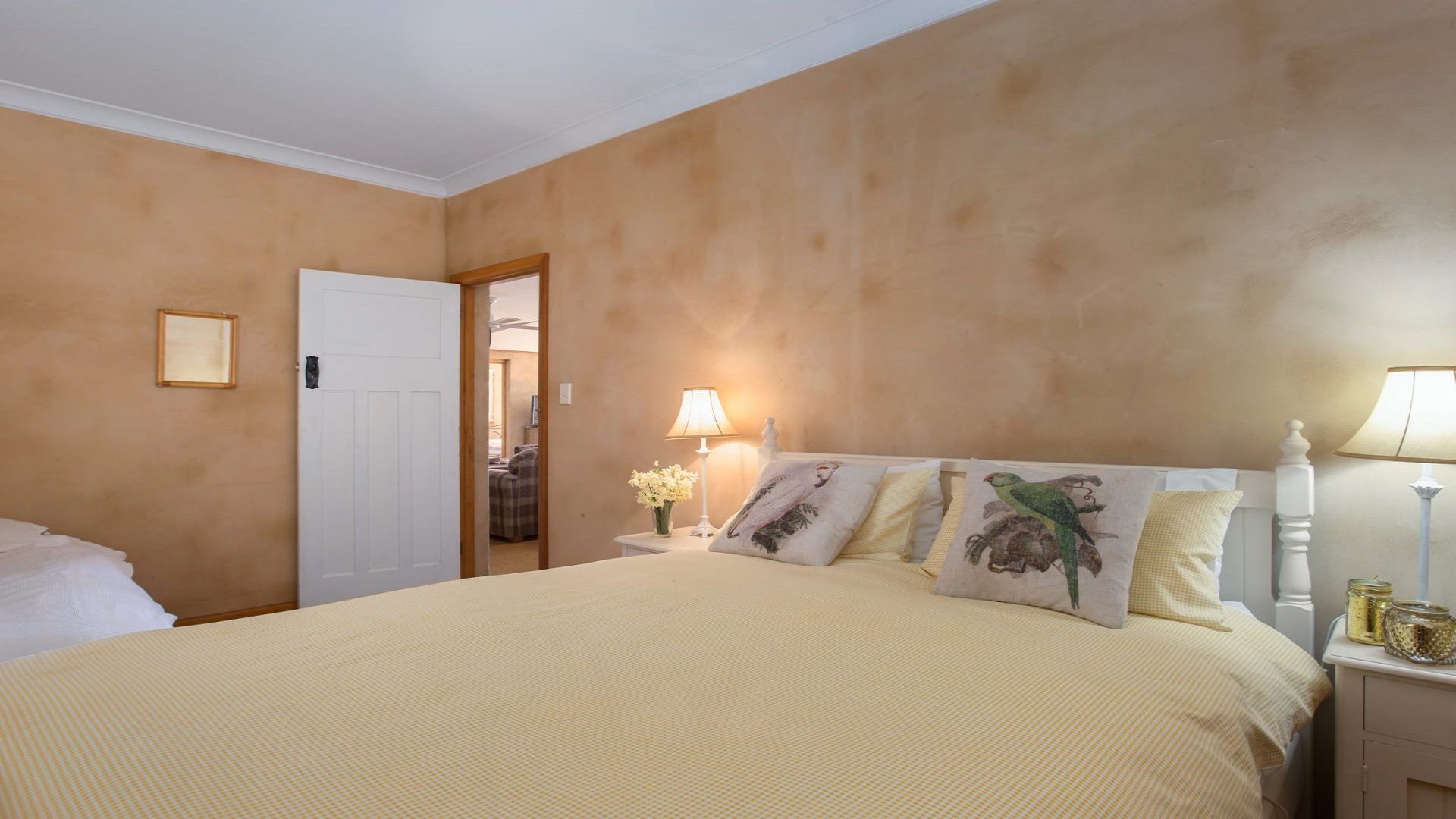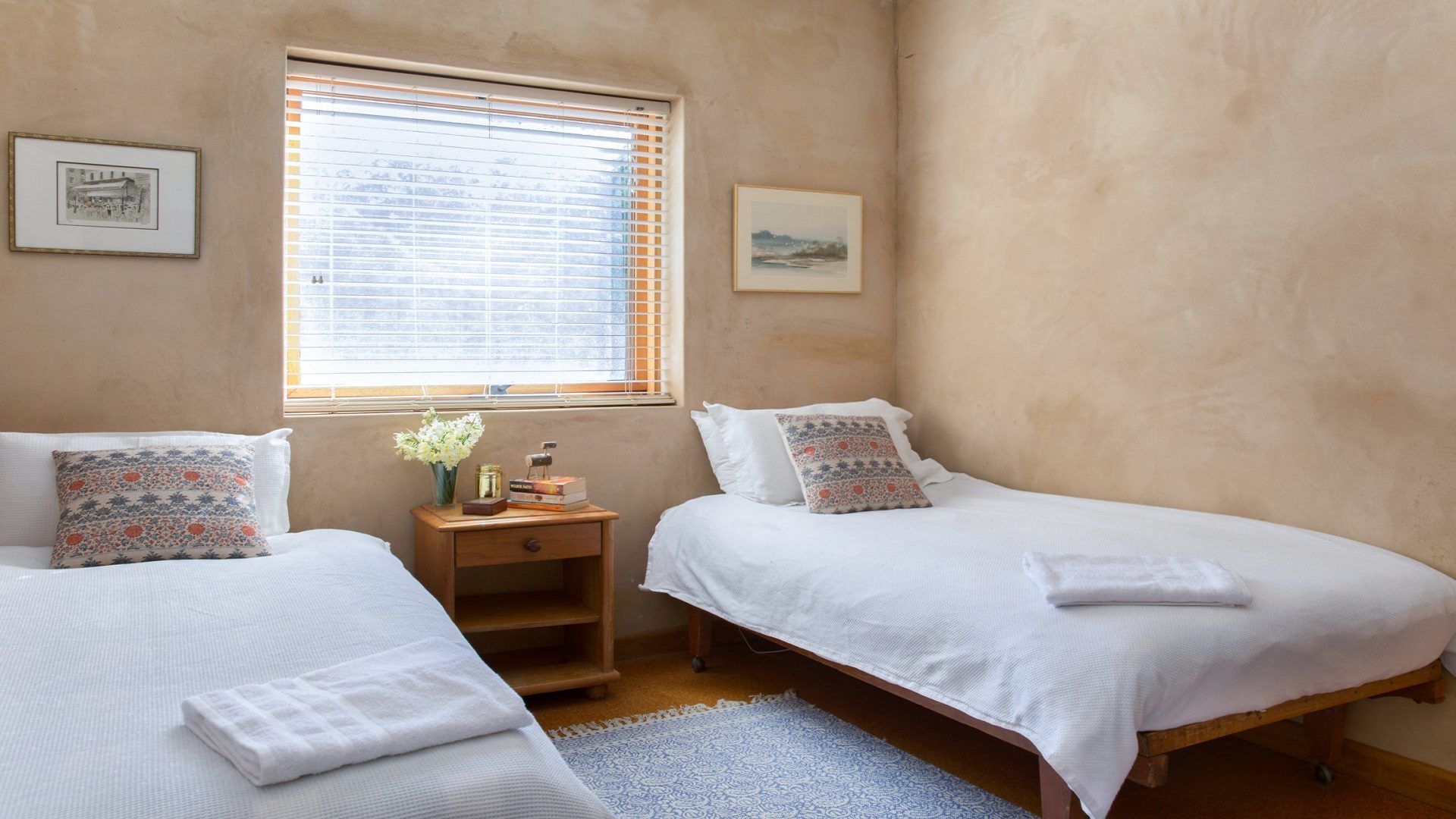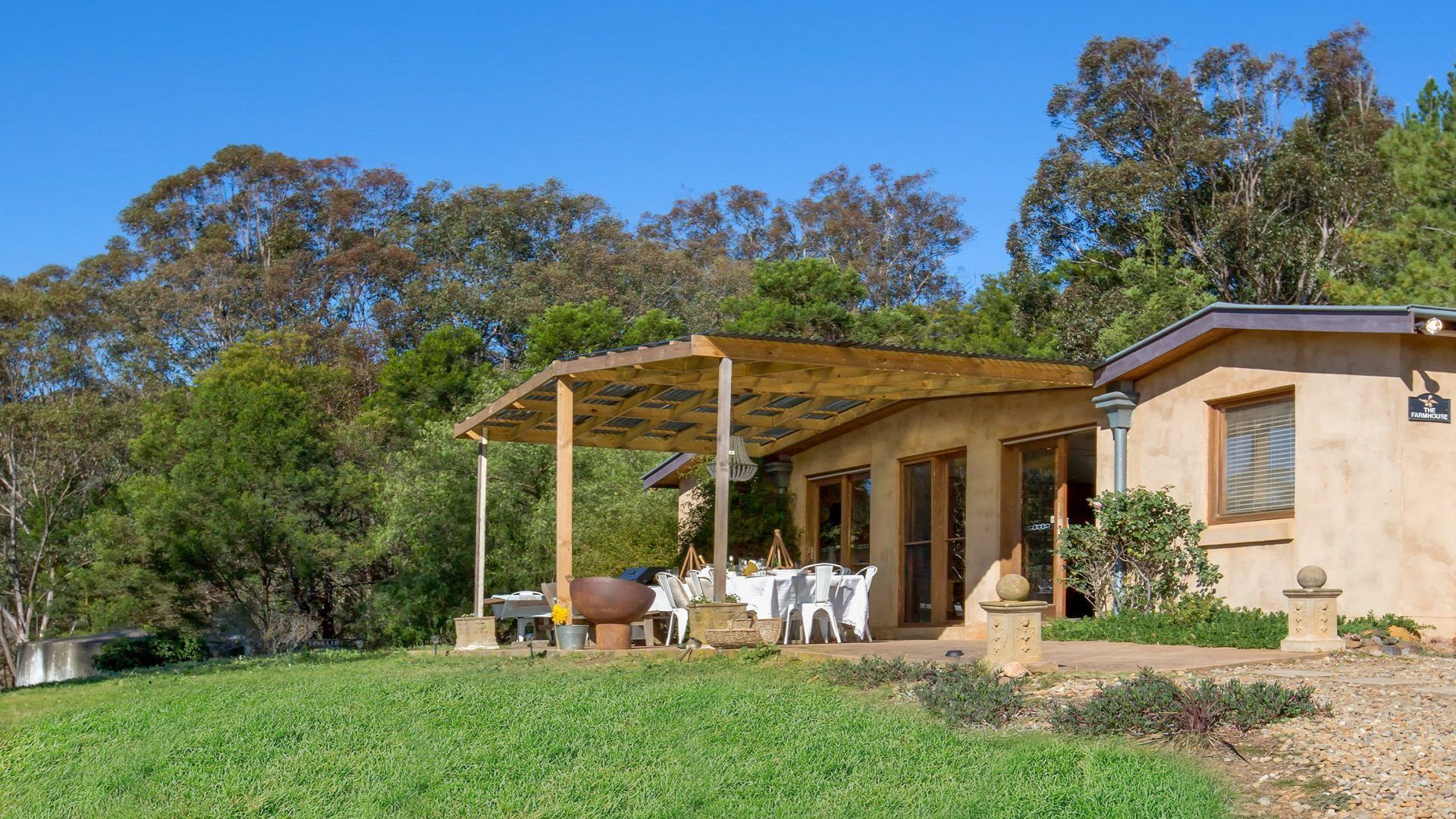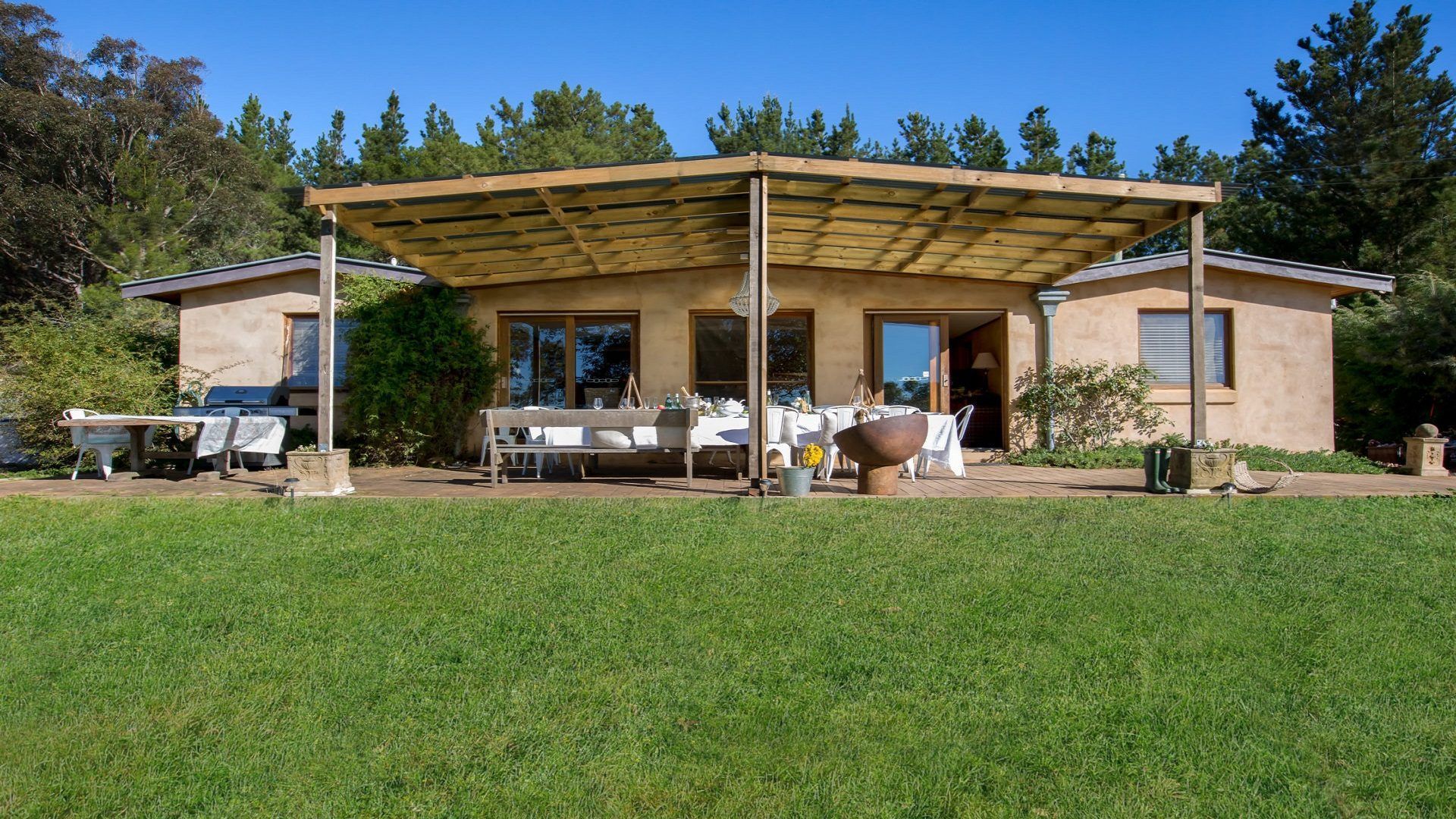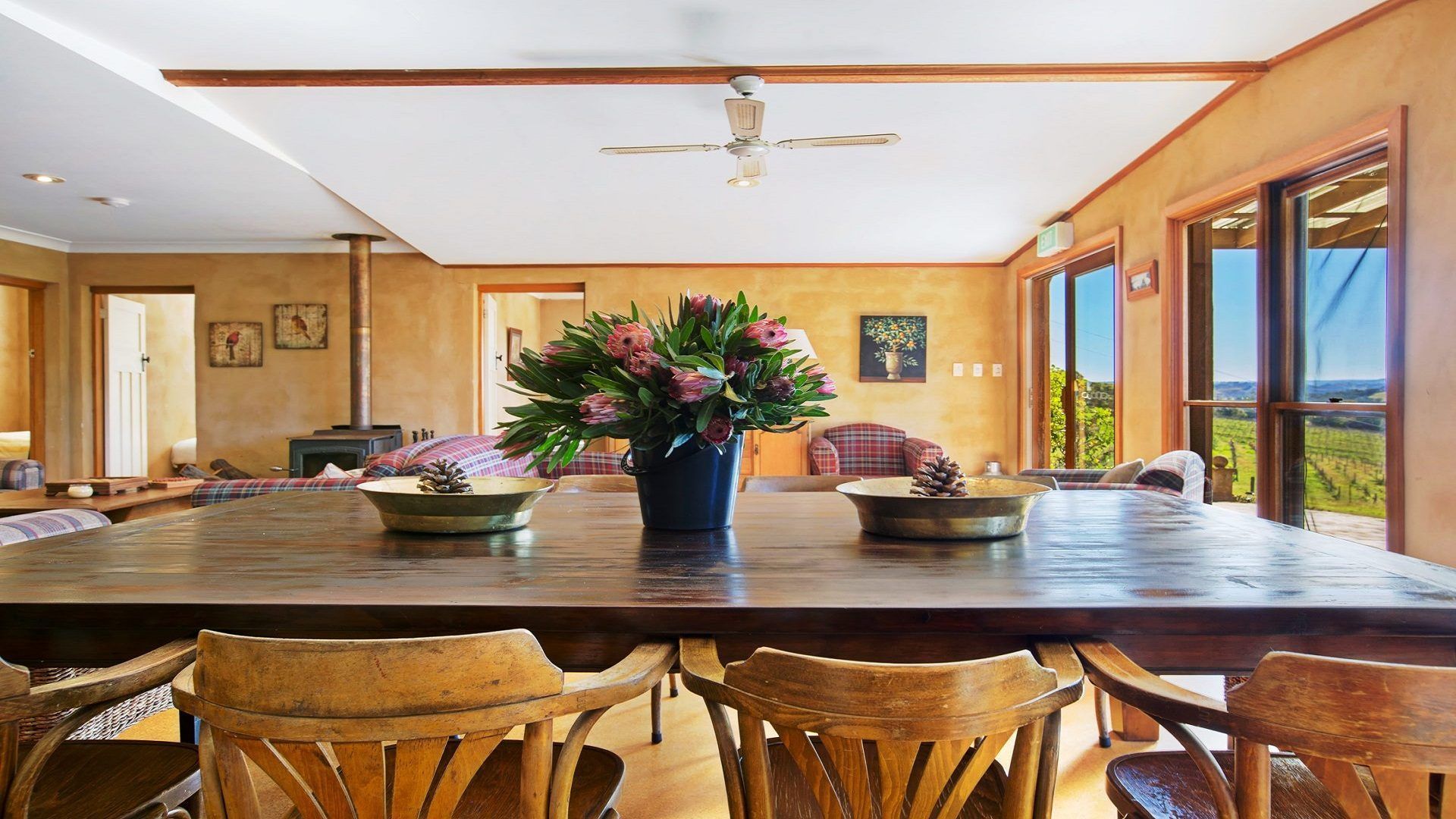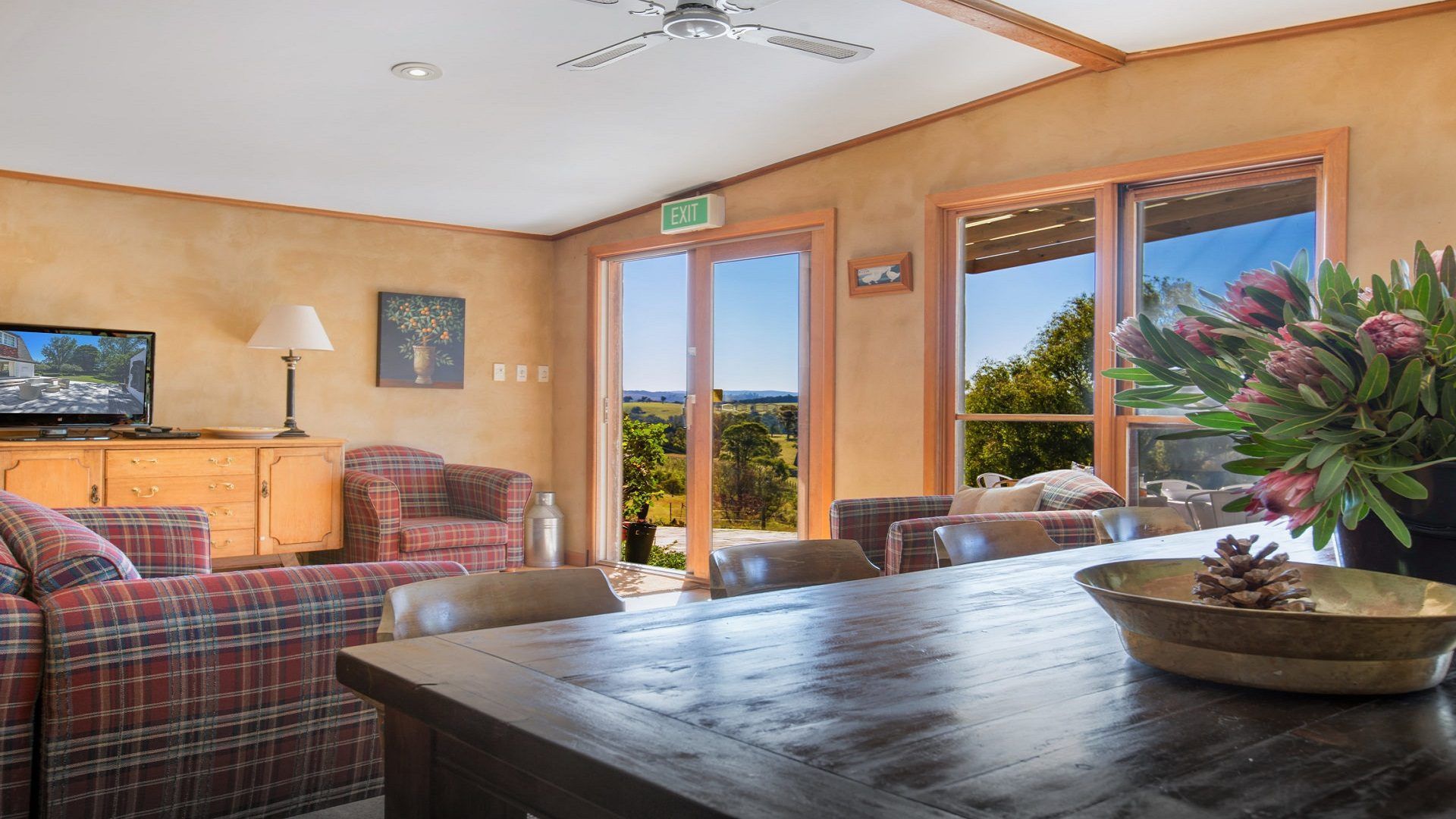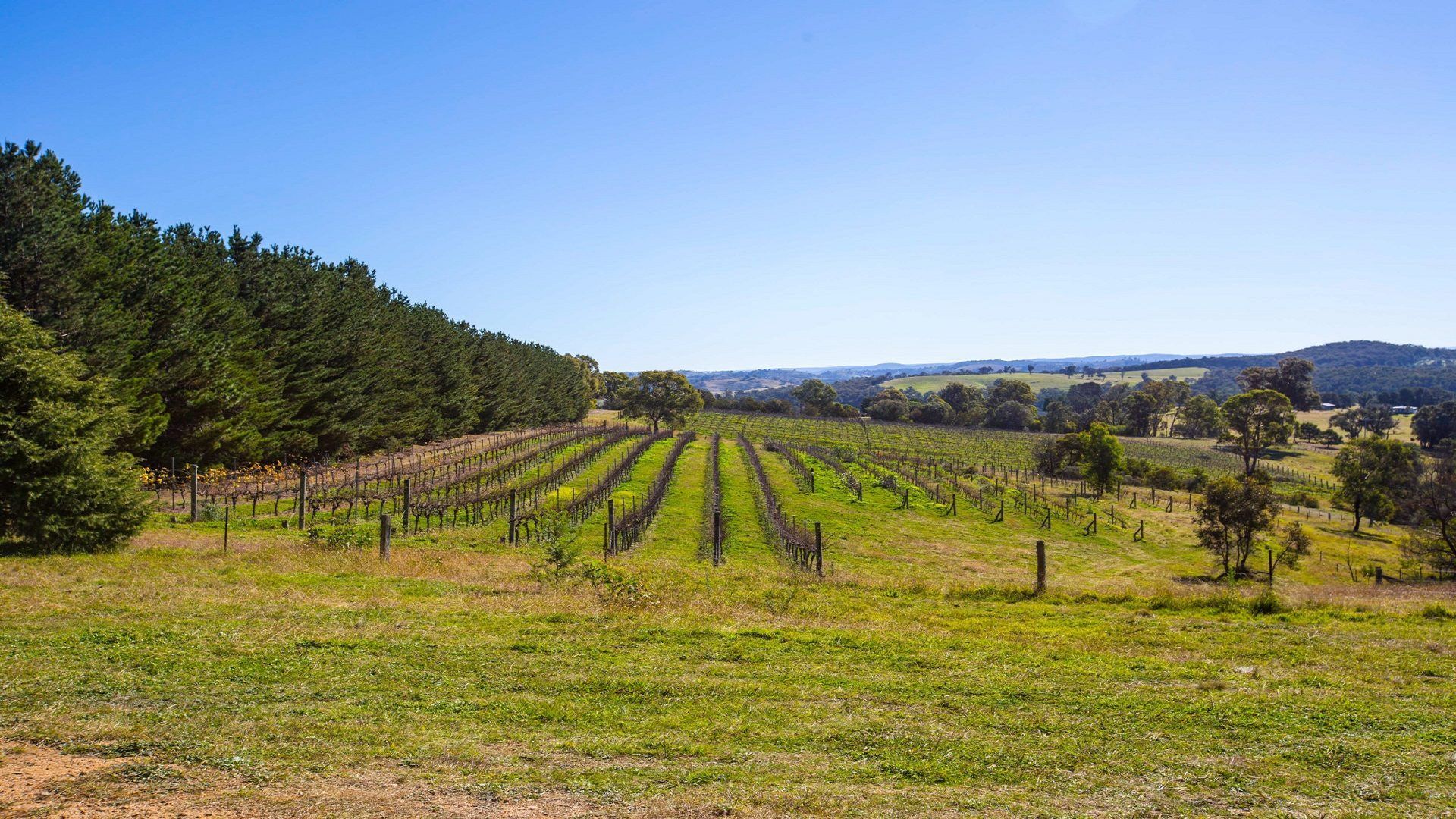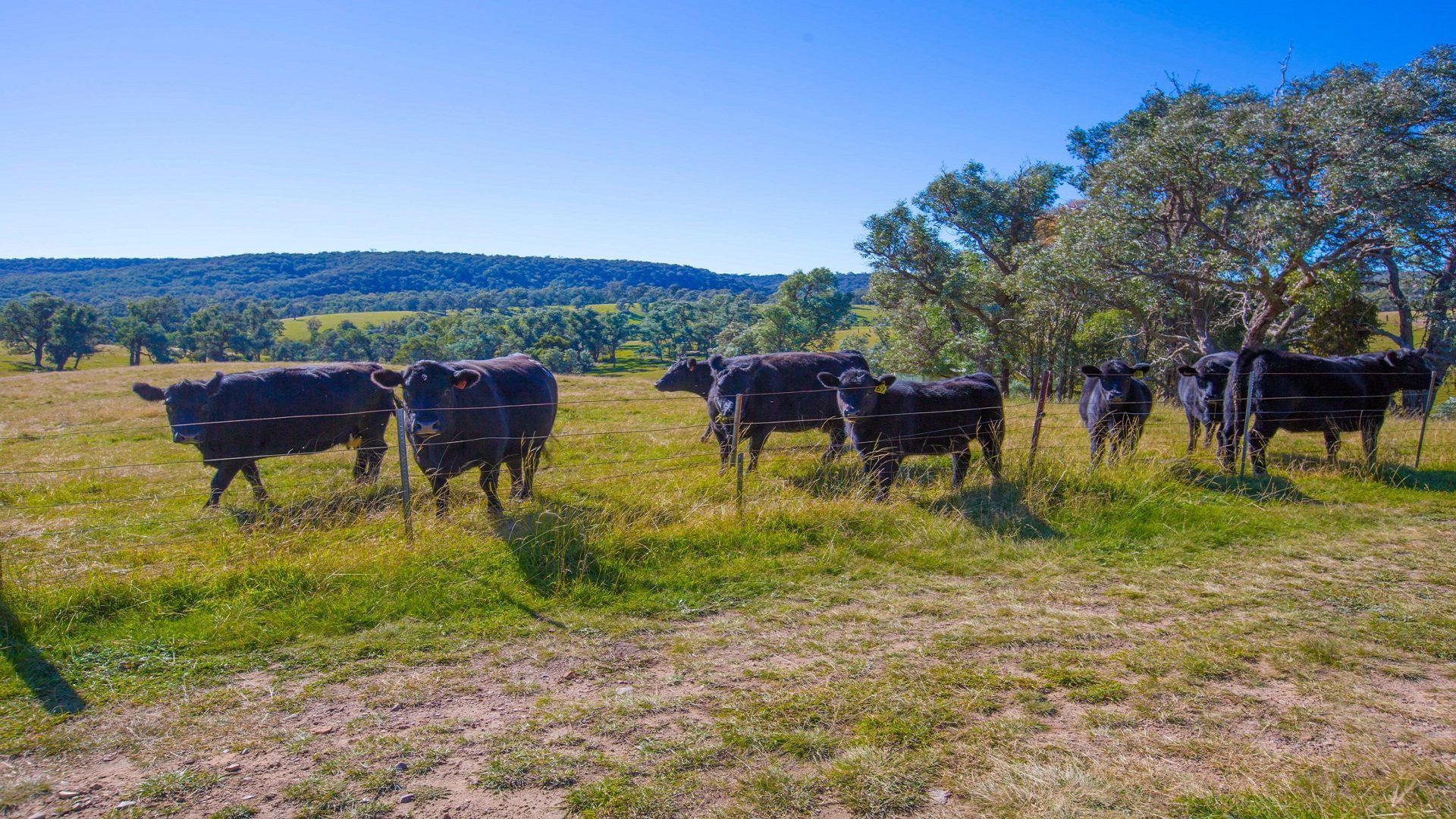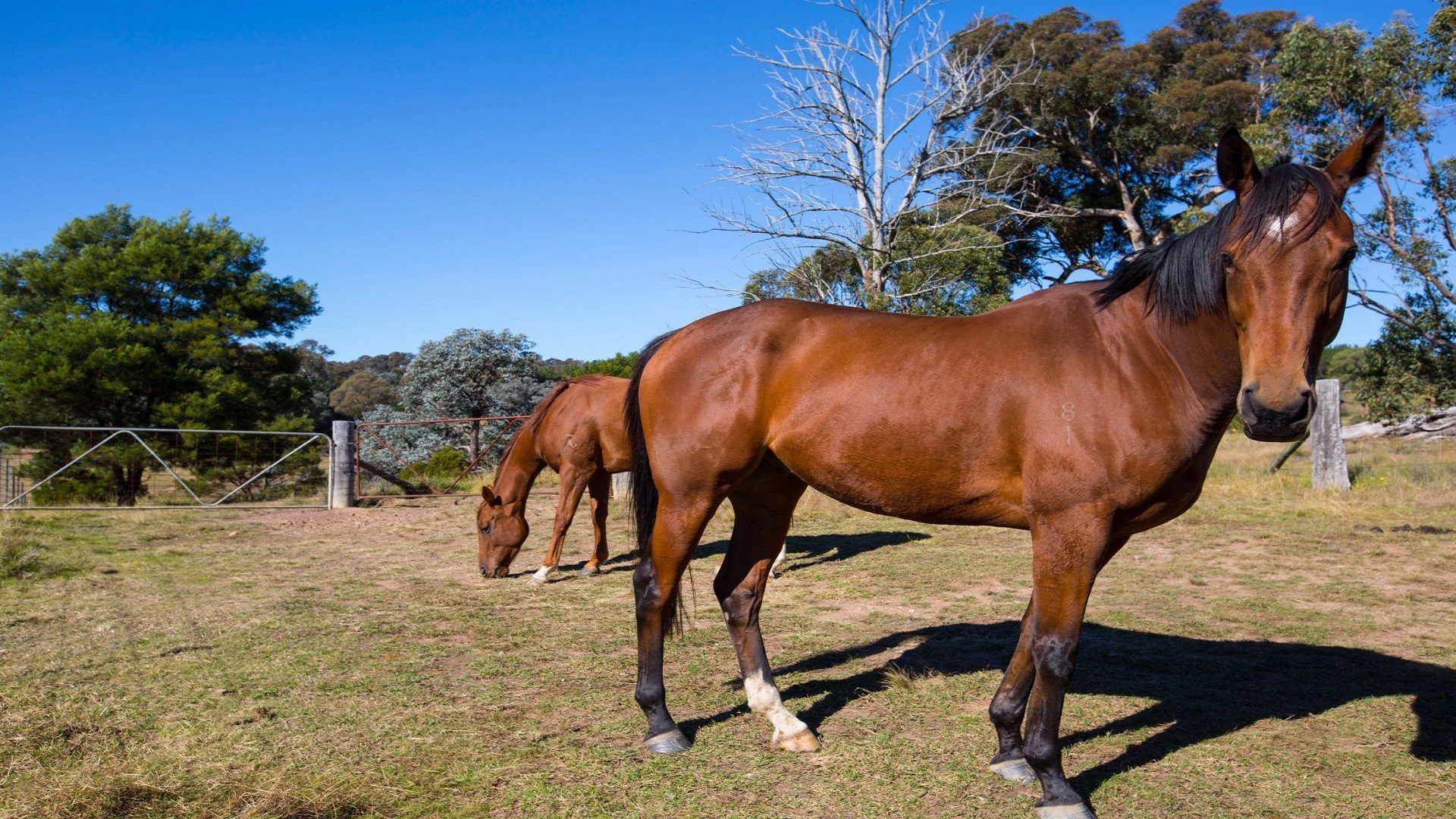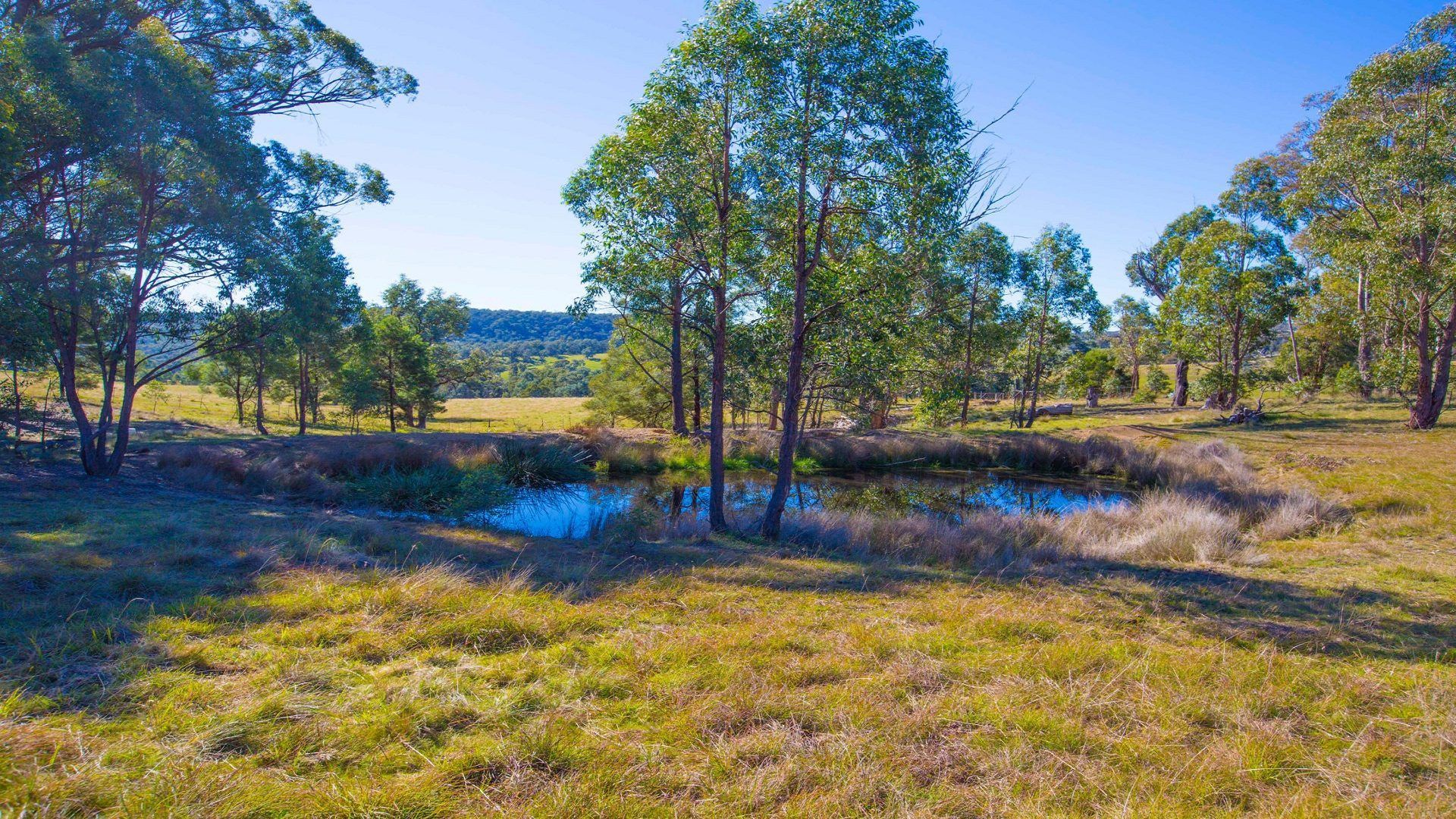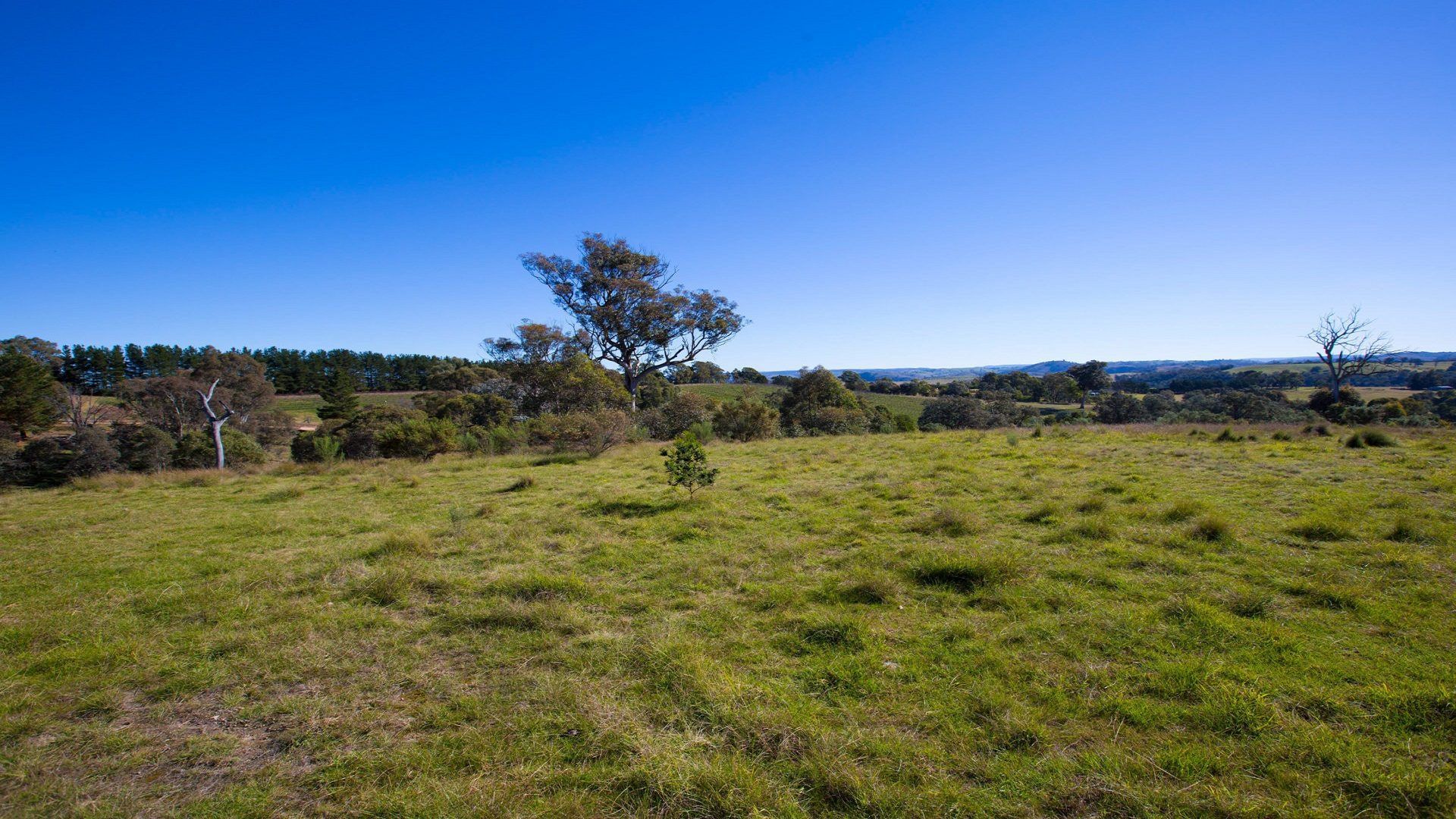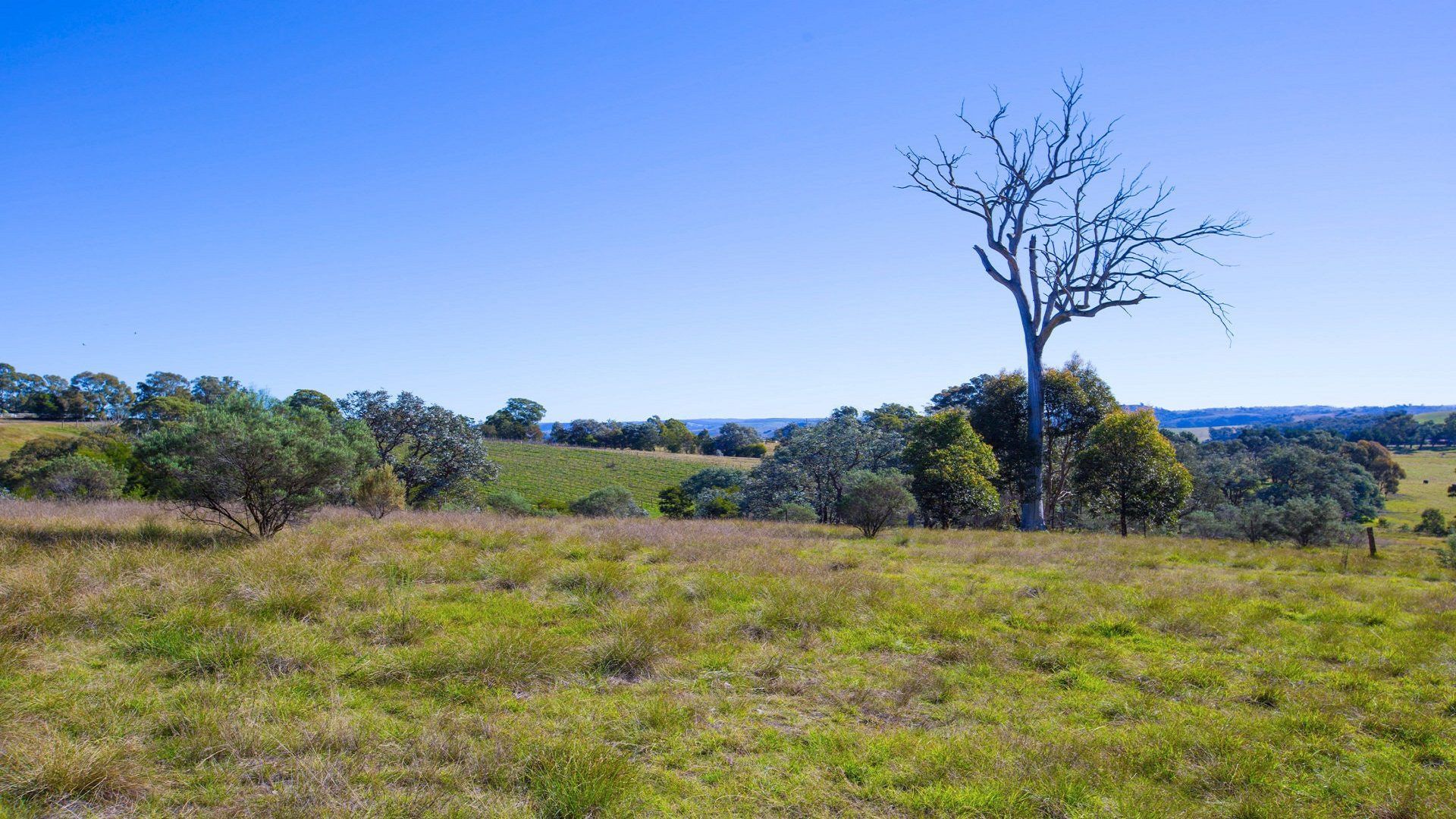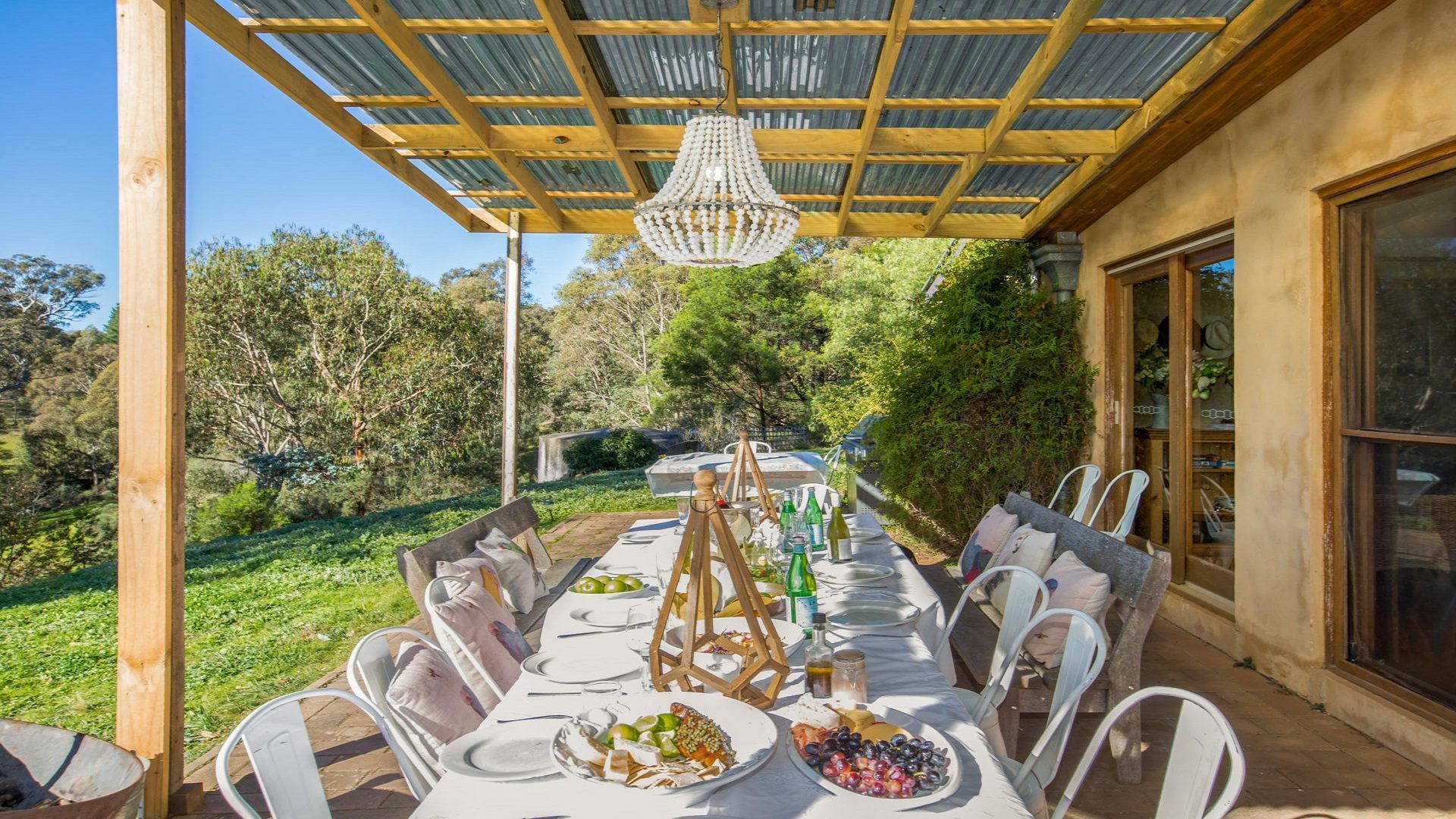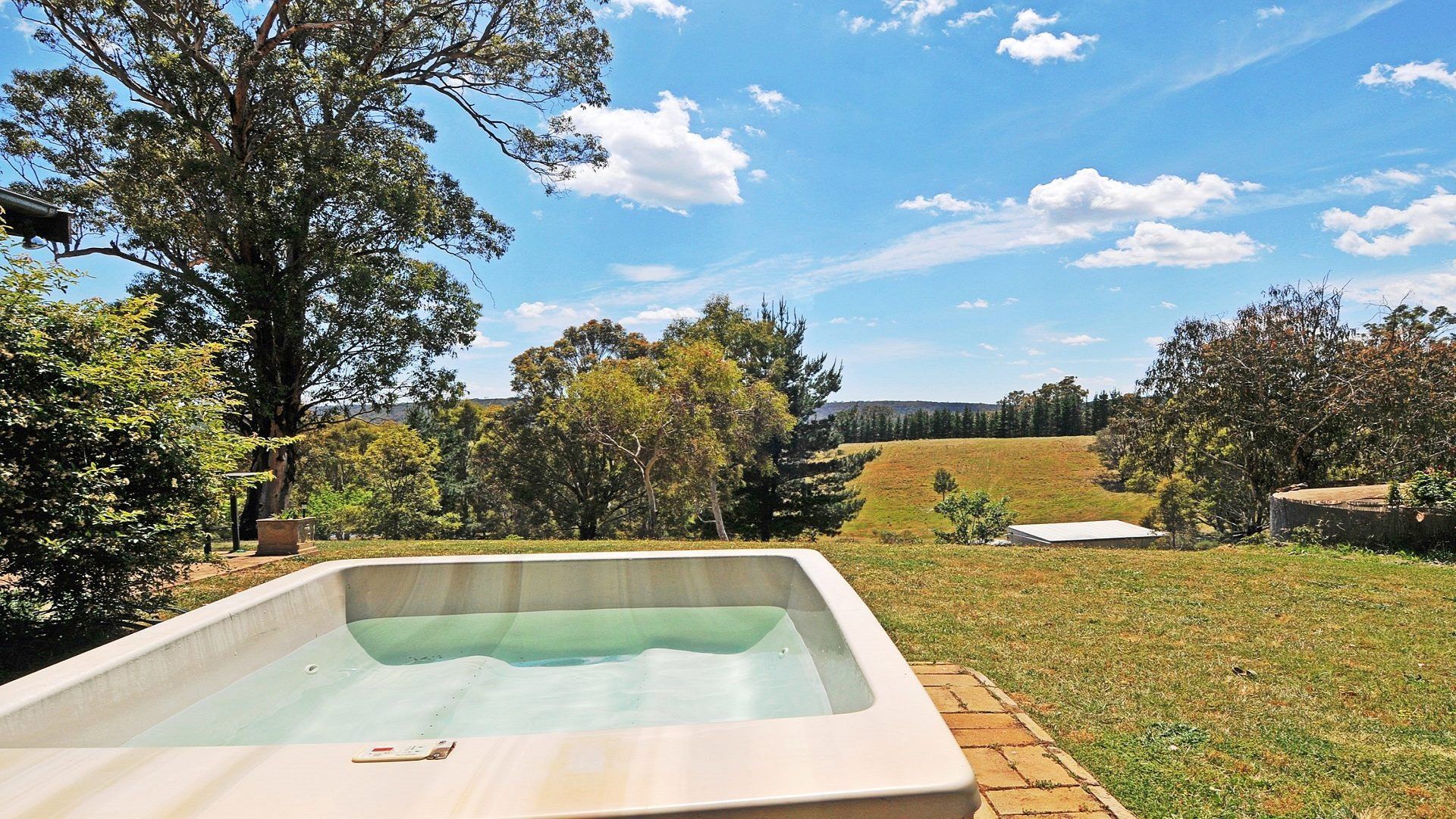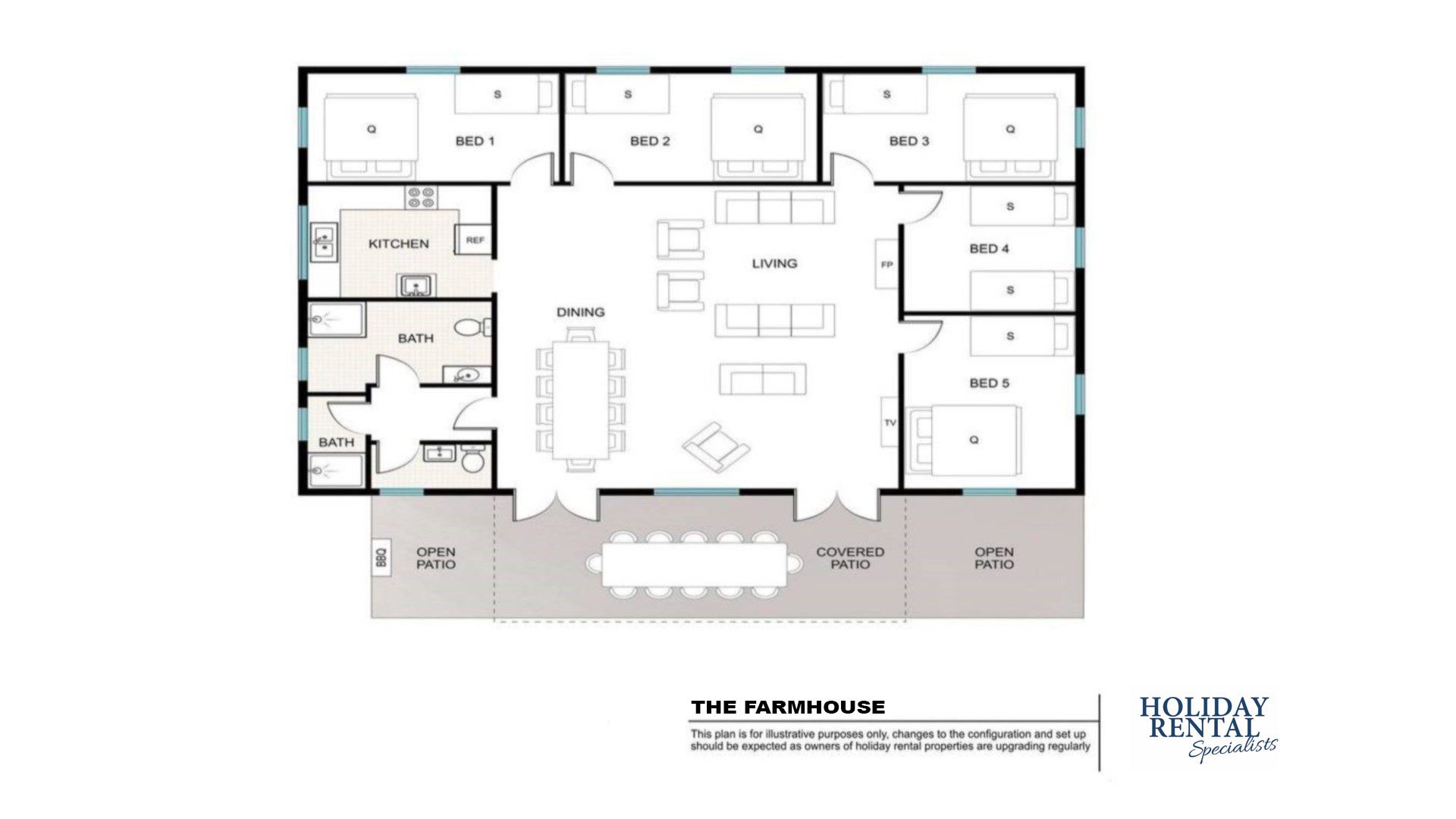 Description
Features
Reviews
Location
Description
The Farmhouse offers a stay no working city dweller could resist... No phone reception, no internet, no TV reception, no laundry... just eat, drink, sleep, relax and stay!!
Situated atop a hill overlooking 52 acres of magnificent rolling country with the sweet sounds of wild birds, the gentle mooing of cows; the heady beauty of grape vines...the perfect place to relax and catch your breath. Take a walk around the property and take in the spectacular views and wildlife.
This property will consider free early check-in and late checkout, please contact our team to confirm.
The Property Features:
• The farmhouse is a basic property for guests to enjoy simple country life
• 5 Bedrooms; 4 have a queen and a single each and one has two singles (4 queen beds 6 single beds in total)
• 2 Bathrooms
• Petite country style kitchen, coffee machine
• Slow combustion wood heater
• 6-Person outdoor heated spa with magnificent rural views
• Complimentary portacot and highchair can be provided upon request please notify our team at time of booking
• Unfenced dams
Fire Pit (for use when fire bans are not in place)
• Pet friendly
• Wifi
• Note: owners live on-site in a separate property
Bedroom Configuration:
• Bedroom 1: queen with a single bed
• Bedroom 2: queen with a single bed
• Bedroom 3: queen with a single bed
• Bedroom 4: queen with a single bed
• Bedroom 5: twin room with 2 single beds
Distances to:
• 30 mins from Moss Vale
• 40 mins from Bowral
• 1.5 hours from Nowra
• 2 hours from Sydney or Canberra
Linen:
All linen (sheets and bath towels) is supplied for your stay. For the comfort of our guests all beds have quilts with full covers, we do not triple sheet.
Property Specific Notes:
Owners live on-site in a separate property and will afford you the utmost privacy.
There is an unfenced dam and an outdoor spa tub at this property. Please supervise children at all times.
This is a working rural farm, please close all gates and do not disturb livestock.
Pets are welcome at this property. There is a surcharge of $100 to have your pet stay. Surcharge applies per pet. Please declare at the time of booking and refer to the terms and conditions regarding pets.
Wi-fi is offered as a complimentary extra. As there is no charge issues will be dealt with ASAP but cannot be guaranteed.
To ensure the comfort of our guests and the neighbours, we do not accept bookings for "Schoolies" breaks/under 21yrs groups and under no circumstances do we allow weddings or parties of any sort.
Notes:
Payment for the booking warrants you and all guests staying will abide by the Code of Conduct for Short Term Rental Accommodation which can be viewed under the Guest Information tab on our website or a link which will be sent to you in your booking confirmation email.
Terms and conditions apply for this property and payment warrants your agreement and that of all other guests staying at the property with you.
The guest limits apply at all times during the booking. Any extra guests (this includes day visitors) above those that have been booked and paid for must be approved in writing prior to the stay. Only the guests staying at the property are permitted to be present. If you wish to have visitors in addition to booked guests, you must advise us in writing prior to your stay and ensure you receive written permission. This is not possible at all properties.
If you or any other guest receives a warning regarding excess noise or excess guests, you may be asked to leave the property IMMEDIATELY with no refund of monies. Noise audible outside the property is prohibited between 10:00 PM and 8:00 AM.
This property is approved for accommodation only. No mattresses, tents, caravans or more cars than the property accommodates are allowed. Under no circumstances are the following activities permitted at any of our properties: motorbikes, dirt bikes, quad bikes, use of firearms or air rifles, fireworks.
Out of peak season stays of a week or more may qualify for a discount, please send us a message.
Information during your stay can be found in the Guest Information Folder or by calling our office 24/7.
For your added security, this property is managed by a Licensed Real Estate Agent. We will never request payments be made to an overseas bank account and your money is held safely in our Trust Account until after your departure.
If we had more properties in our management portfolio we could easily get them booked. Demand is high and supply just can't keep up. Please send us a message or call us if you would like to know more about the packages we offer for bookings and property management.
STRA Permit ID: PID-STRA-21683
---
Features
Activities/Games
BBQ
CD Player
Ceiling Fans
Child Friendly
Coffee Machine
Covered Outdoor Area
DVD Player
Fireplace
Ground Floor
Hairdryer
High Chair
iPod Dock
Iron and Board
Kitchen
Linen Included
Microwave Oven
Near Shops
Outdoor deck
Outdoor Spa
Oven
Parking - off street
Pets Welcome
Pets welcome with Surcharge
Private Entrance
Refrigerator
Smoke Detector
Stand-alone Heater
Wi-Fi
---
Reviews
Natasha Ribeiro
May 2021
We have a great farm stay, kids enjoyed feeding the horses, meeting the two local dogs that came to visit us (extremely friendly) and walking around the property. The indoor fireplace was very cosy and overall was a nice relaxing, comfortable trip away from technology with the family. Thank you for having us.
Sarah Lee
April 2021
We had a great weekend away. The place was roomy and in such a beautiful spot. We loved the hot tub, walking around the property, the horses and the dogs and the fire pit. Would very happily stay again!
Mia Hannah
April 2021
I was lucky enough to celebrate my birthday at this cozy farmhouse! Overall it was an awesome stay and the owners were lovely. We fed the horses and had a beautiful lunch on the outdoor table. We loved that there was no reception! Thank you for having us!
Nick Bruce-Smith
March 2021
The place was as described and the owner was really friendly and came by to say hi and check everything was okay. The communication was really easy, quick and helpful. It was a nice location and it was refreshing to be out of reception.
Andrew John
January 2021
Excellent space, easy to get to, nice and private. A perfect escape only 2 hours out of Sydney.
Michelle Pateman
January 2021
We stayed at the Farmhouse being a large group of 7 adults and 7 children. We had a fantastic time. The place is easily accessible from Sydney, a quick drive. It offers beautiful views, nice walk around the property, basketball hoop (bring your own ball), a spa which the children enjoyed a lot, nice space for playing. The BBQ is in good working order. The horses on the property are very friendly and loved our carrots visits! The fireplace was great and the owners provided us with firewood, and there's also plenty around to be collected. The kitchen, despite the photos not making justice, is great. Offers good appliances, the oven is large, the dishwasher is excellent. Large selection of glasses and crockery/cutlery. Rooms were clean and good layout. One of the bedrooms (single beds) currently does not have a door. There is no internet/reception on the property. You will need to drive 5-10 minutes up the road in order to get reception. Moss Vale is only 35 minutes away if you need to buy ice, provisions. There is bottleshop, IGA and Coles. There is a great bush trek turning left off Bangadilly road on Tugalong Rd that leads to a cliff edge with beautiful views. Worth a visit. We had a lovely time and would recommend this property for your next stay.
Brittany Bickford
December 2020
A nice place for a getaway from all communication. The glasses were a bit dusty but easy to clean them. Lots of room and seating for everyone
Vaylee Mckenzie-Daniels
December 2020
We had a great stay with our group of friends. The farmhouse was sufficiently stocked with enough utensils, crockery, glasses etc. It is a lovely location. Our host was kind enough to bring two bag of carrots so we could feed the neighbours horses. The kids enjoyed the basketball hoop as well. We were keen to try the jacuzzi but due to the hot weather we weren't able to. Overall a great, digital free stay.
William Villarica
November 2020
Excellent spot for a weekend getaway with friends. The kitchen is cosy but very useful for cooking meals for large groups (6 burner gas stove, large oven, all the pots and pans you could need, and a good assortment of kitchen utensils), there is a moderately sized fridge plus a small bar fridge, and there is also a large dishwasher. A basket of carrots was provided so that we could wander the property and feed the horses, which was a nice touch too. Great spot to get away from the hustle and bustle of everyday life. Highly recommend.
Chloe Gray
November 2020
Myself and a group of friends had a wonderful weekend away in the country! Plenty of space to relax, gorgeous views and cute as puppy visits!
Rebecca Morrison
October 2020
Incredible views of the countryside. Great hot tub and large areas for a big group. Highly recommend for a getaway with friends.
Asqar Emin
October 2020
Great place to get away from the busy and much screen focused city life, very quiet, beautiful area. No phone reception, no WIFI. All you need to do is eat, sleep, read a book, go for a walk, seating in front of the fireplace, feed the horses.... could be a bit better if there are more animals as it is a FARM house, especially for the kids. But, overall, a great place to stay.
Ken Burrows
October 2020
For a relaxing, quiet getaway with a few friends, the Farmhouse is perfect. The beds are comfortable enough. The place is rustic, so you don't need to be too precious with it. The big chess set is fun and the spa was relaxing. As per the listing, there is no mobile phone coverage. Nada, zilch. 2.5Km drive up the road to make calls and catch messages. Being out of touch for a few days was great. If you have little kids, take their favorite DVD's. There is aTV (no reception) with a DVD player. If you have them, an axe 🪓 and/or chainsaw would be handy if you enjoy a fire. Lots of fallen trees on the roadside in surrounding area. Take fire starters. The tank water is filtered, but take some drinking water. Also be prepared for no water pressure in the showers. We had a great weekend with family and would happily return (armed with a chainsaw 🤠).
Frances Dimartino
October 2020
The grounds for this place it beautiful, and the views are breathtaking. I wish the house itself was more updated and the showers actually had water in them. The hot tub was not hot and unfortunately we didn't use it because the water was cold. The weekend was unfortunately cold however everyone dressed appropriate to make the most of the indoor fire place.
Anonymous
September 2020
The farmhouse was very comfortable and the location pleasant. The lack of wi-fi and phone reception can be a bonus if you want complete isolation but if you need to contact anyone this can be problematic as you will need to go up or down the road until you get reception.
Alpesh Gohil
September 2020
What an amazing property ... great for a electronic diet weekend no wifi and no signal was a plus... nice house great facilities and a nice hot tub... though could do with some care.
Anonymous
September 2020
We loved our stay here - the view is stunning and incredibly peaceful. Loved being away from society! The kitchen is quite small and basic, but otherwise the property is exactly as represented on the site.
Anonymous
August 2020
This place is B E A U T-iful! I genuinely couldn't have asked for a more incredible weekend in nature with my favourite people. There is a winery about 30 minutes away which is lovely!
Anonymous
August 2020
We had a good stay, wonderful to be out of reception with no internet and wifi! A real joy. The property was a bit scruffier than the pictures suggest. Lovely location with some great vineyards nearby.
Anonymous
July 2020
Great stay! Would 10/10 recommend for big groups :)
Anonymous
July 2020
Beautiful location and great for large groups with 7 nearly identical rooms. The hot tub is super hot and great after a hike and it was so wonderful to sit and enjoy the fire and chat all night. We had everything we needed to cook up a large meal. It's a wonderful place to stay and catch up with friends. We thought it was extra special that they welcome you to visit and feed the horses on the property- they even left a basket of carrots! :) highly recommend!
Anonymous
July 2020
Such an amazing stay! We would recommend any larger group to stay as there is so many nice gathering areas and location was beautiful. The hosts were lovely and the overall trip was great. Electric blankets on all beds was also a bonus!! Dogs were very friendly as were the horses !
Niumai
House feels so homely, love everything. Definitely...
July 2020
House feels so homely, love everything. Definitely gonna be back!
Samantha
Best experience...
July 2020
Rovena
Very pleasant stay, beautiful country side...
July 2020
Very pleasant stay, beautiful country side
Raju Vamaraju
Stayed at farmhouse for 6 days, stay is good, plen...
July 2020
Stayed at farmhouse for 6 days, stay is good, plenty of room for larger families, had decent kitchen with plenty of utensils and cutlery.Views in around property were exceptional, we've watched sun rise, sun set, plenty of starts in the sky at nights.Special mention about hosts, Karen and Nick were attentive and gave us additional carrots to feed horses.Large living area with sofas, plenty of board games, cards, DVDs provided. There're two basket ball hoops with basket ball.Jacuzzi is special attraction for kids, water is warm.
Anonymous
The Farmhouse was beautiful, with amazing views ov...
July 2020
The Farmhouse was beautiful, with amazing views over the country. We stayed the weekend with 5 couples, we all fit comfortably. We had an excellent time exploring the property. Karen was an attentive and nice host who allowed us to check out late which was great. It was a great property!Kushal
Floorplan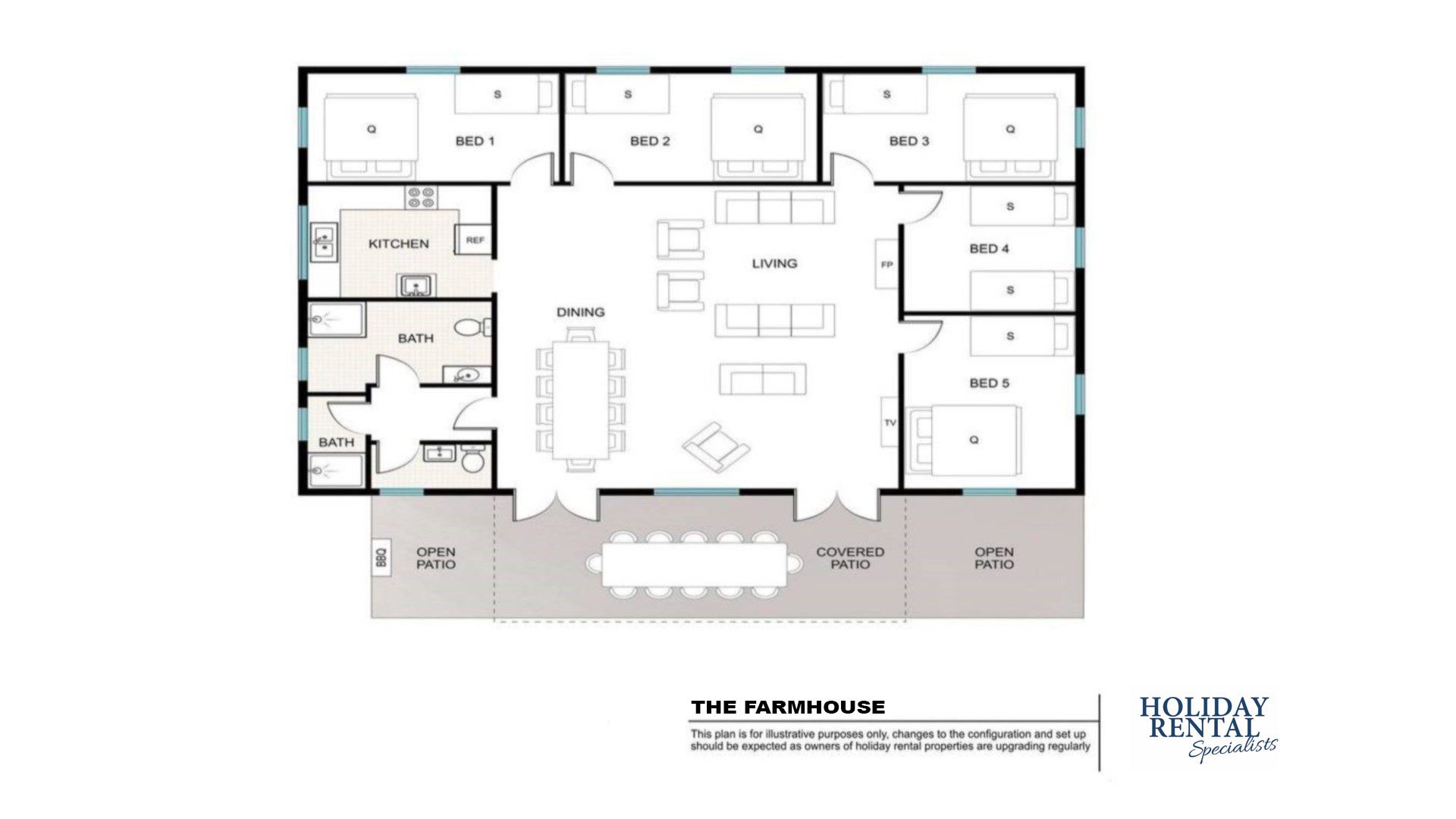 The Farmhouse
5 Bedrooms,
2 Bathrooms,
14 Guests
Area
Canyonleigh
Features
Fireplace
Outdoor Spa
Pets Welcome
Wi-Fi
---
Bedding Configuration
Bedroom 1
Queen Bed x 1
Single Bed x 1
Bedroom 2
Queen Bed x 1
Single Bed x 1
Bedroom 3
Queen Bed x 1
Single Bed x 1
Bedroom 4
Queen Bed x 1
Single Bed x 1
---
Linen
Linen Included